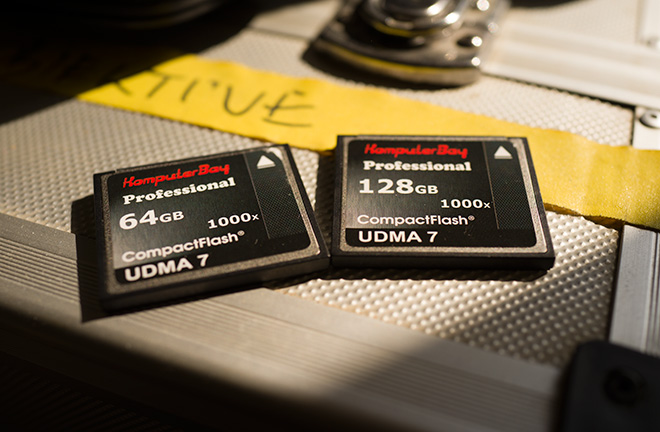 Shooting spectacular raw video on the 5D Mark III requires UDMA 7 compact flash cards. Ideally you need a 1000x 64GB or 128GB card and certainly more than one for anything but very short shoots.
Here's my guide to which ones to go for.
There are a lot of 1000x compact flash cards out there, with big variance in performance and price. Personally I have had the best results with the KomputerBay 64GB 1000x card, which only cost me 89 Euros on Amazon. Some KomputerBay and Lexar cards have been able to achieve 120MB/s sustained write speeds in Magic Lantern's benchmark test, in theory enough for a Blackmagic Cinema Camera rivalling 2.5K 2560 x 1152 which requires 118.1MB/s at 24fps. That's also fast enough for slow-mo 1720 x 672 at 60fps.
However at the moment sustained raw video write speeds on the 5D Mark III whilst recording are lower than the benchmark scores. The best I've been able to do relatively reliably is 1920 x 1080, 1720 x 1280 and 2880 x 720. Pretty great but I'd love to be able to get my 1920 x 1280 reliable for anamorphic, currently it stops after around 10-20 seconds, go for even higher vertical resolutions in 2.8K 1:1 crop mode and get reliable 25p plus 48p at lower resolutions for slow-motion work.
Is the 4GB file size a limitation? Thankfully no, with future build of Magic Lantern you can go until the card is full as the 5D Mark III supports the more modern ExFat file system for larger files than 4GB. Already people have recorded long takes of raw video in a single 12GB file!
[vimeo]http://vimeo.com/66467750[/vimeo]
Work by the Magic Lantern developers is being done to optimise the way the code handles the buffer and card writing to improve speeds. I've also found that the first couple of clips you record tend to start off slowly before gradually climbing, so the risk of dropped frames is higher when you first turn on the camera and start recording. It is sensible to leave some margin and not push resolution or frame rate right to the limit. 1920 x 720 at 24fps (as in James's video above) is a sweet spot for most of the 1000x cards.
Here's the full benchmark chart from A1ex at Magic Lantern –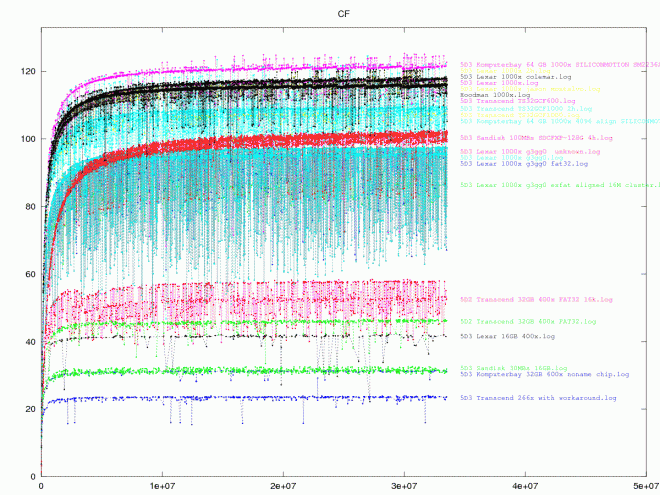 (Click to enlarge)
Below is the benchmark for SD cards. As you can see the card controller on the 600D and 550D seems to top out at 20MB/s regardless of card speed but the Canon 6D is twice as fast. Both cameras are still a long way from the 5D Mark III but the SD card slot on that also suffers from much slower performance than the CF card interface does.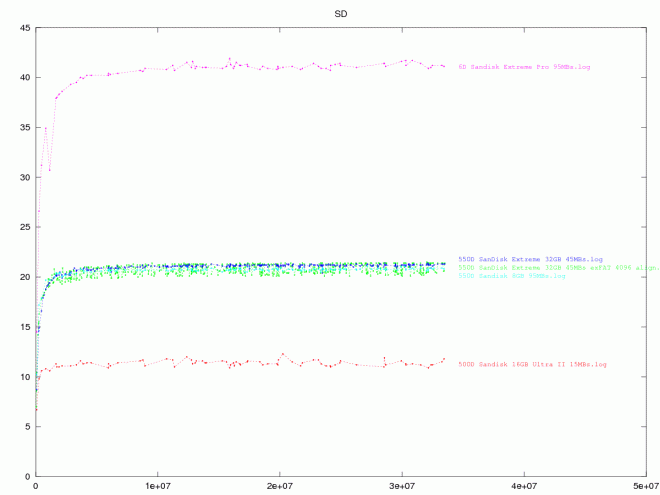 So which are the current best cards for the 5D Mark III?
Here's a guide…
KomputerBay 1000x
128GB – $189 – Buy It Now
64GB – $106 – Buy It Now
What IS the story with KomputerBay? They appeared from nowhere and offer very good performance for very small prices. Well the truth has been outed. These are quality control failed memory chips. Is this a bad thing? Actually no. In the same way that Red offer Q/C failed Epic parts in the form of the much cheaper Scarlet, rather than dumping the hardware altogether, KomputerBay card just has more variance in performance. Reliability seems unaffected. Thanks to a happy coincidence reported here at DVXUser we now know the memory inside was destined for the much more expensive Lexar 1000x cards.
"Interesting fact I learned today that affects anyone currently buying 1000x cards at the moment for the ML raw hack. I set out this morning to buy Komputerbay cards via Amazon. I wanted them overnight. After ordering I noticed they werent coming until Wednesday. I canceled the order, then tried contacting Komputerbay directly. I noticed it was a 770- area code. 770 is my area code as well. Turns out they are 15 mins from me. I contacted them and picked up locally. I had a long talk with the senior manager and he told me the FULL truth about these cards. These cards have the IDENTICAL components as the LEXAR 1000x cards. He even went as far as slicing a few open to show me the identical Micron chips inside same as LEXAR. He was very matter of fact about this info. He went on to tell me exactly how and why this was possible. He said the only difference was slight QC variance from Lexar. Keep on mind these cards come direct from Komputerbay with a 100 percent guarentee. Meaning that if you get a card that was missed in the QC variance then return and get a different one. Rest assured I am only a filmaker and not a CF card seller. Please take this information as a gift as I see it as VERY reliable having seen and heard with my own two eyes and ears."
Indeed this backs up exactly what I am seeing with my own two KomputerBay cards.
The 128GB 1000X tops out at around 73MB/s write and 122MB/s read. The chipset is SiliconMotion SM2236AC.
However my 64GB 1000x does 95MB/s write and 120MB/s read. Same chips.

When buying a KomputerBay card, some capacities will likely have greater variance than others. The 64GB cards certainly seem to be achieving the better results. Make sure you purchase from eBay or Amazon where you have the best return policies in case of a slower card.
When you get a good one, you get a total bargain.
Lexar 1000x
128GB – $654 – Buy It Now
64GB – $309 – Buy It Now
If for an urgent shoot you need to guarantee a good card without having to take a chance on KomputerBay parts and return them you can spend more money to solve the problem. The thing which discourages me from spending so much money on memory though, is that prices are notoriously volatile and constantly decreasing over time.
Toshiba 1066x
64GB – $299 – Buy It Now
Now here's a genuinely exciting option – Toshiba quote actual write speeds on the card label. They claim 150MB/s!
Will it live up to expectations? Nobody has tested the card yet. As soon as the scores come in I will update the blog.
I am very tempted to buy one of these myself as $300 isn't bad should the card live up to Toshiba's spec.
My feeling is that the 150MB/s is a peak burst rate not sustained. In the little video clip logo on the card they quote 65MB/s sustained and reliable. However the Transcend 1000x cards quotes 20MB/s for this video standard, yet achieve sustained raw video at 80MB/s with Magic Lantern. It's a VERY conservative figure.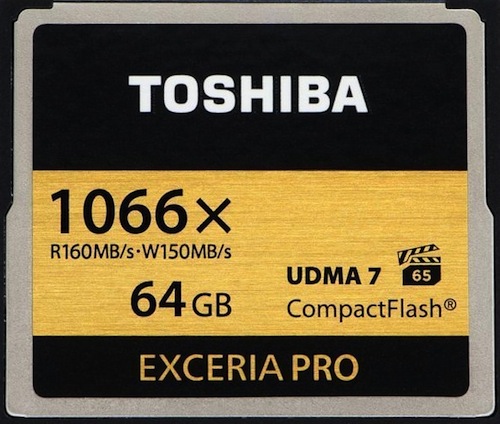 Sandisk Extreme Pro 100MB/s
128GB – $832 – Buy It Now
64GB – $339 – Buy It Now
Andrew Wonder has tested the 128GB card and isn't quite getting the raw resolutions I am getting with my KomputerBay 64GB.
I can't really recommend SanDisk right now. They do a premium 100MB/s 128GB card and a much cheaper 90MB/s 64GB card and both frankly are absurdly overpriced. Why so much more than the 95MB/s Extreme Pro SD cards? The 128GB 100MB/s model does basically what it says on the box – 100MB/s write speeds – that is a full 20MB/s off the KomputerBay 64GB on the Magic Lantern benchmarks for 5x the price. Hardly value for money OR top performance. I think Sandisk need to up their game here. The cheapest card I found in the US was over $1000 and the cheapest genuine one from Hong Kong is linked to above.
Hoodman Steel 1000x
64GB – $350 – Buy It Now
The Hoodman Steel is advertised as having SSD NAND flash chips inside to get as close to the 167MB/s limit of UDMA 7 as possible. However the Hoodman Steel seems to perform identically to Lexar's 1000x cards. I think they are pretty much a Lexar reseller or using the same chipset. Pricing is also very similar.
Transcend 1000x
64GB – $250 – Buy It Now

128GB – $450 – Buy It Now
The 32GB card is right up there on the benchmarks for a low price but the KomputerBay card offers double the capacity for less money. Considering they are both El Cheapo brands that is a big difference. Another big discrepancy with the best is that Transcend only guarantee sustained video rates at 20MB/s whilst Toshiba guarantee it at 65MB/s on their 1066x – though it doesn't seem to have much of a bearing on the pretty nifty benchmark results.
[vimeo]http://vimeo.com/66480704[/vimeo]
What about attaching an SSD to the 5D Mark III?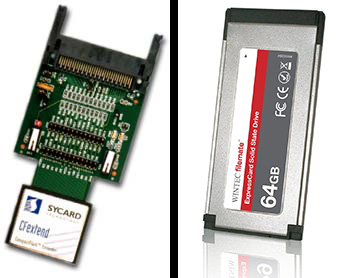 There is actually a way to connect an SSD drive to the 5D Mark III's card slot, but it is currently untested. The adapter in question is the Sycard CF Extend 165. This goes from the CF card slot on your camera to a PCIExpress interface with ExpressCard slot on the end. However as it is a very niche hardware developer's tool, I'm having a hard time finding one in Europe.
Various options exist for ExpressCard slots. There are ExpressCard SSDs like this one which top out around 256GB, though whether it will be any faster than the best CF cards remains to be seen. There's also the question of power draw and whether the CF card slot can provide enough power to the SSD.
You can even attach the super fast 2.5″ SSDs for PCs and Macs to the ExpressCard slot via an E-Sata adapter and caddy, though I very much doubt the CF card slot on the 5D Mark III can power it all. You'd very likely need an external power source for that and a E-Sata adapter that would allow you to connect one.
Watch this space