New cameras from Sony!
A6500 finally gets a touch screen for direct AF control
RX100 V shoots 5K RAW 24p in 6 second bursts
In a surprise announcement the Sony A6500 and Sony RX100 V have been launched today, coming off the back of zero rumours (for a change) these cameras were kept a secret, presumably because if A6300 owners knew their camera would be superseded WITHIN 6 months, nobody would have bought the A6300!
As a fellow A6300 owner, I feel your pain. Yes we had a few months of romance where things got quite heated. Some might say over heated. The A6500 although more expensive than the A6300 which remains on the market adds some significant new features. Let's sum them up –
5 axis in-body stabilisation
Finally touch screen AF point selection! (And LCD becomes a touch pad even when using EVF)
New auto-white balance setting to maintain warm tone of incandescent light
AF works whilst live-view is magnified, for pinpoint precision placement of AF point
Faster image processor (front end LSI)
There's no mention of course in the press release whether the A6500 reduces the overheating and rolling shutter issues of the previous model. I really do hope so. Apparently with the new LSI there might be a chance it runs cooler, as well as faster – maybe it can clock the sensor readout faster for reduced skew too, but that is all speculation until I get to shoot with it.
The camera still has the same S-LOG 2/3 profiles as the earlier model and S-Gamma assist. The 24MP sensor and 4K from 6K output remains as does the Hybrid-AF system (425 on-sensor phase-detect points) which is nice to have but not at the same level of reliability or performance as Canon's Dual Pixel AF which has millions of phase-detect AF points as every pixel is a phase-detect sensor. What is odd is that Samsung have Dual Pixel AF on their S7 smartphones and it works incredibly well even in low light on a small chip. And don't Sony provide that chip? I would like to see Hybrid-AF step up to full Dual Pixel AF at some point as it is clearly not a Canon exclusive patent.
It will be interesting to see if the 5 axis stabilisation works better on this camera than it does on the A7 series. The sensor is smaller and not as heavy to move around. It has more space to move behind the mount and more margin with the image circle from the lenses certainly when full frame lenses are used.
I feel that although the A6500 is $400 more than the A6300 it is the better buy, for the stabilisation, touch screen and new menus alone – although I have doubts the menu redesign goes far enough in the right direction, the rest looks extremely useful and if it doesn't overheat during long 4K shoots, it will make it even more of a must-upgrade for A6300.
The price is $1400 / 1700 euros and the US will see the model first in late November followed by Europe in December.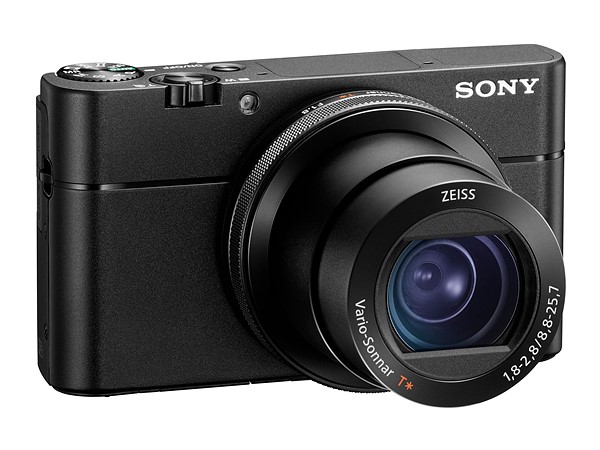 Sony RX100 V with 5K RAW video – sort of
Already on iteration number 5 is Sony's popular 1″ / Super 16mm 4K compact with some of the best slow-mo you can get for the price and a built in EVF on a jeans pocketable size camera.
The main upgrades over the Mark IV are phase-detect Hybrid AF on the sensor and a new image processor / LSI.
Also quite amazingly the continuous burst rate for 20MP stills has been bumped up to 24fps with full AF in JPEG and RAW mode. Ah – so close to that 5K 24p RAW compact isn't it!! At least for a few seconds!! It can shoot an impressive 150 frames in JPEG and RAW (6 seconds at 24fps). Hopefully more in just JPEG or just RAW mode. Of course these frames can be sequenced in post for full on 5K video.
This camera maintains a $1000 price tag when it is released in October.