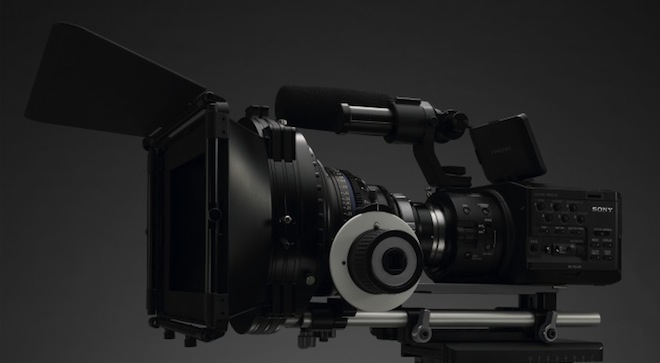 Above: the current FS100 (pictured) will get a 4K companion at NAB
At NAB 2012 next month, Sony will shake the digital cinema market to its core. Sony's answer to the C300 is a 4K Super 35mm update to the FS100. It will be available in June for a provisional $8000.
My source (based in Taiwan) says that the FS700 does 4K via 3G HD-SDI to an external recorder. The FS700 is said to include 3 internal ND filters yet retains the NEX E-mount. Looks like they found some space for those missing FS100 NDs after all!
The slow mo function of the FS100 has been ramped up to a massive 960fps. This is at a reduced resolution. Other slow motion options includes 120, 240 and 480. It isn't clear whether the camera records internally to 1080p or the full 4K. It is possible internal 4K will come with a paid firmware update. Another question mark is over who will provide the external 4K recording box. As far as I know, one doesn't even yet exist.
Gamma curves are as the F3. It also has a stills mode (4K is 8MP).
The Canon C300 in comparison to this seems inferior on paper and is more expensive. I wonder how Canon will react with the EOS 4K DSLR also due at NAB. This is one almighty battle. The mooted price of the FS700 is between the Canon 1D X and Canon C300, which is where the 4K EOS DSLR is also expected to fall.
The Canon C300 is a superbly cinema designed camera. But in my opinion it is let down by a price which is too high and specs which aren't aggressive enough. It is a very expensive way to acquire 8bit 1080p! Sony is pushing hard into the cinema market, indeed the imaging market all-round. Sony recently took a 3 pronged approach to their overall global business, making the imaging division one of these.
I can't help feeling that the FS700 will be a massive success and a real motivation for Canon to become more gutsy. Sony are the ones showing the spirit of a samurai at the moment. I like risk takers. It pays off.
Summary
Model: NEX FS700E
List price: $8000 / €8000 (provisional)
Release date: June 2012
Specs: 4K, 3G HD SDI, Super35mm Exmor HD CMOS