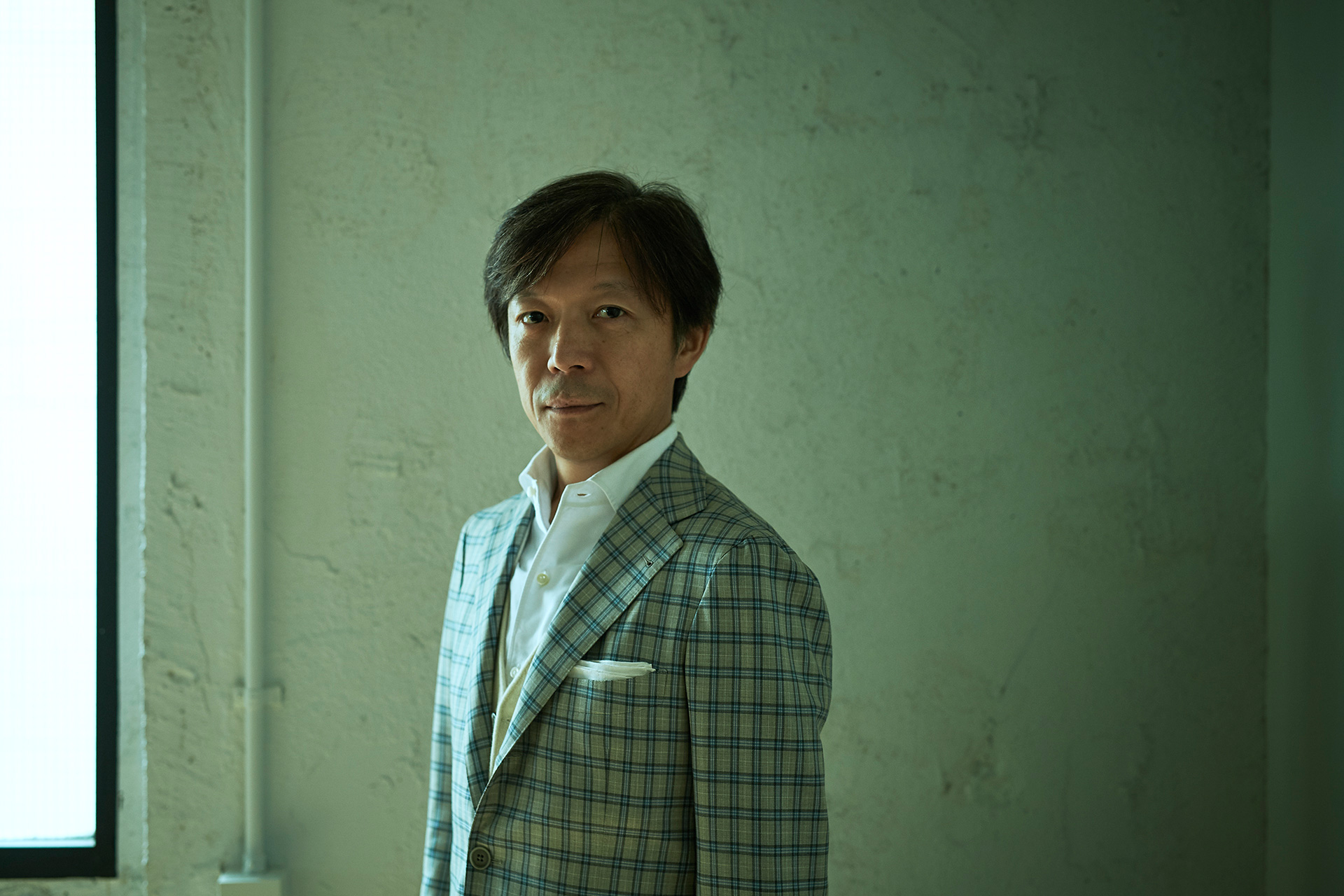 I'd like to welcome Kazuto Yamaki, CEO of Sigma and the product manager of the Sigma Fp and Cinema lenses, Takuma Wakamatsu to the pages of EOSHD for this long interview!
I have recently been shooting in cinemascope anamorphic with my Sigma Fp – the video you can see above is shot with the Rapido Technologies FVD-16A focus module housing a tiny Bolex Moller 8/19 anamorphic. I'll have more on this soon, as well as how ProRes RAW performs on the Sigma Fp attached to Atomos Ninja V.
Ever since the Sigma embarked on the high quality ART lenses the company's factory has output higher and higher quality products, even industry leading lenses in fact. Now the Sigma Fp marks their entry into filmmaking cameras too with internal 4K RAW recording, external ProRes RAW and even BRAW – as well as being the smallest interchangeable lens full frame camera available on the market.
Along with the Sigma fp, I recently also bought the Sigma 35mm F1.2 DG DN ART and have been using it a lot. It is one of my favourite ever Sigma lenses along with the highly rated 18-35mm F1.8 APS-C zoom. As a preview of the full review, here are some shots wide open at F1.2 – the corner sharpness is outstanding for such a fast aperture wide angle lens and the rendering is beautifully realised.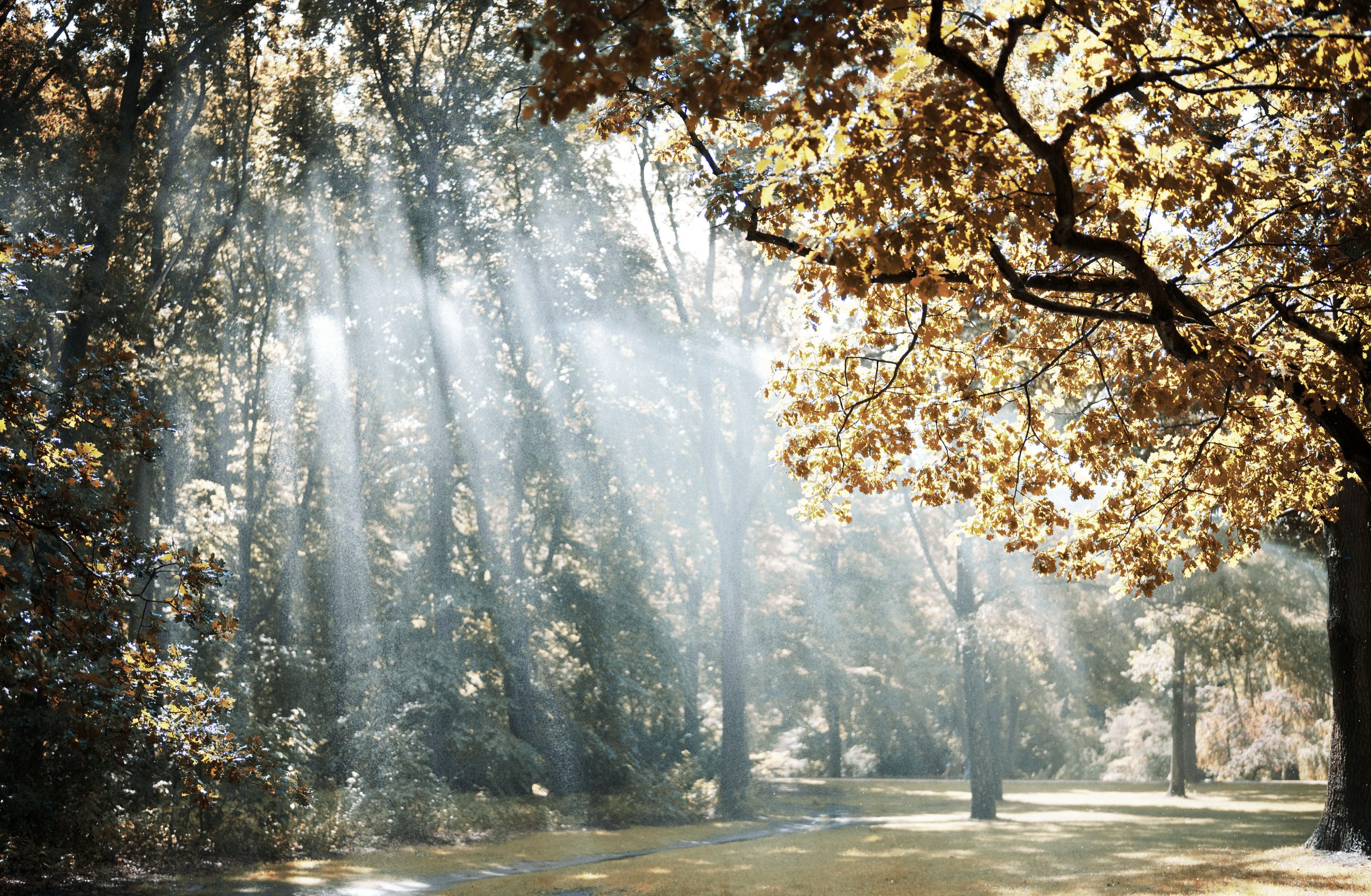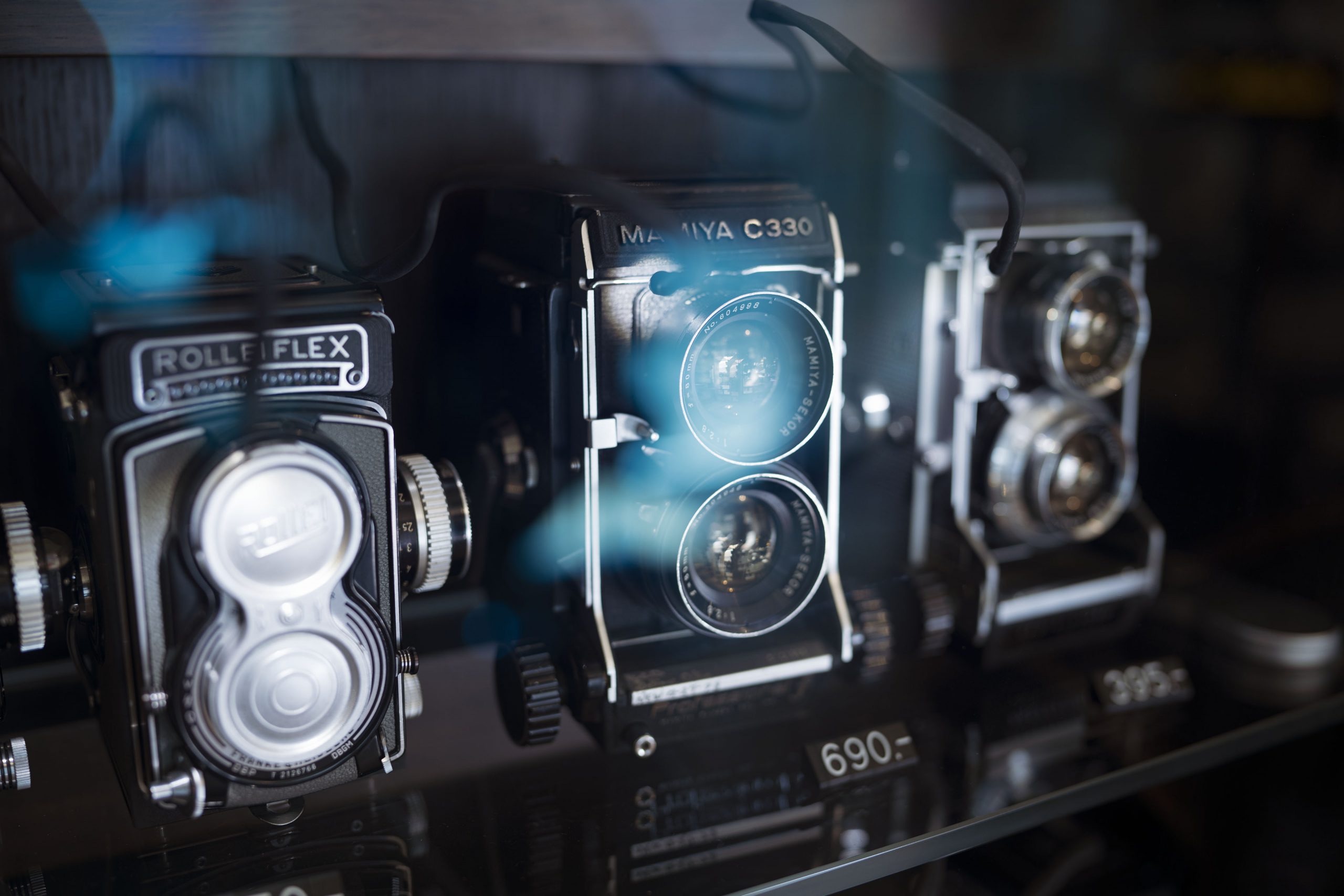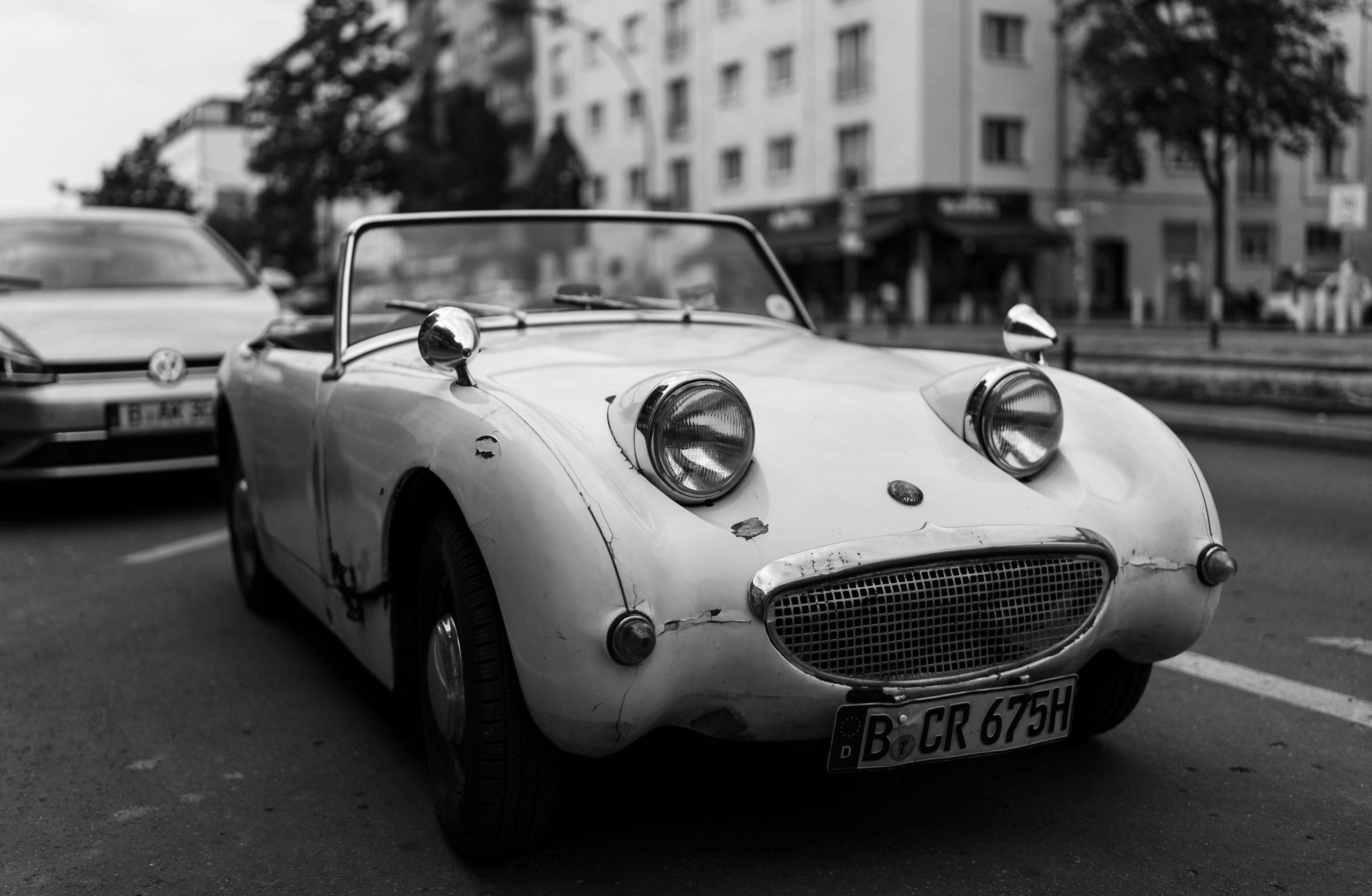 Above: The Sigma 35mm F1.2 DG DN ART is a full frame mirrorless lens available in L-mount and E-mount
I last met Mr Kazuto Yamaki san at IBC last year, and was hoping to catch up again at future shows this year such as Photokina before the COVID situation placed limits on most of our travel plans! These camera shows would normally take place in Germany in the Autumn around beautiful trees, crisp sunlight and some refreshingly pure beer!
Founder of Sigma Corporation Michihiro Yamaki used to attend Photokina right from the beginning of the engineering-orientated family run lens business – and now it is Kazuto who leads the company in the modern era. One of the great legacies of Michihiro Yamaki was Foveon DSLRs and I know Kazuto is proud to continue the push further into cameras and innovative technologies like Foveon sensors. One day, Sigma may even be the market leader.
With so many full frame cameras on the market, the Fp is different. It stands out and has been one of the most interesting and useful cameras I've bought recently.
Whilst the autumnal feel of a poetic Köln in September is missing from our diaries this year (and Amsterdam for IBC!) I decided to try and bring some of this atmosphere to Kazuto and Takuma instead through his own camera (and my anamorphic shoot in Berlin)! So I hope you like it Kazuto and thank you to all at Sigma for creating such a unique artistic tool with the Fp. So without here without further ado is the in-depth interview!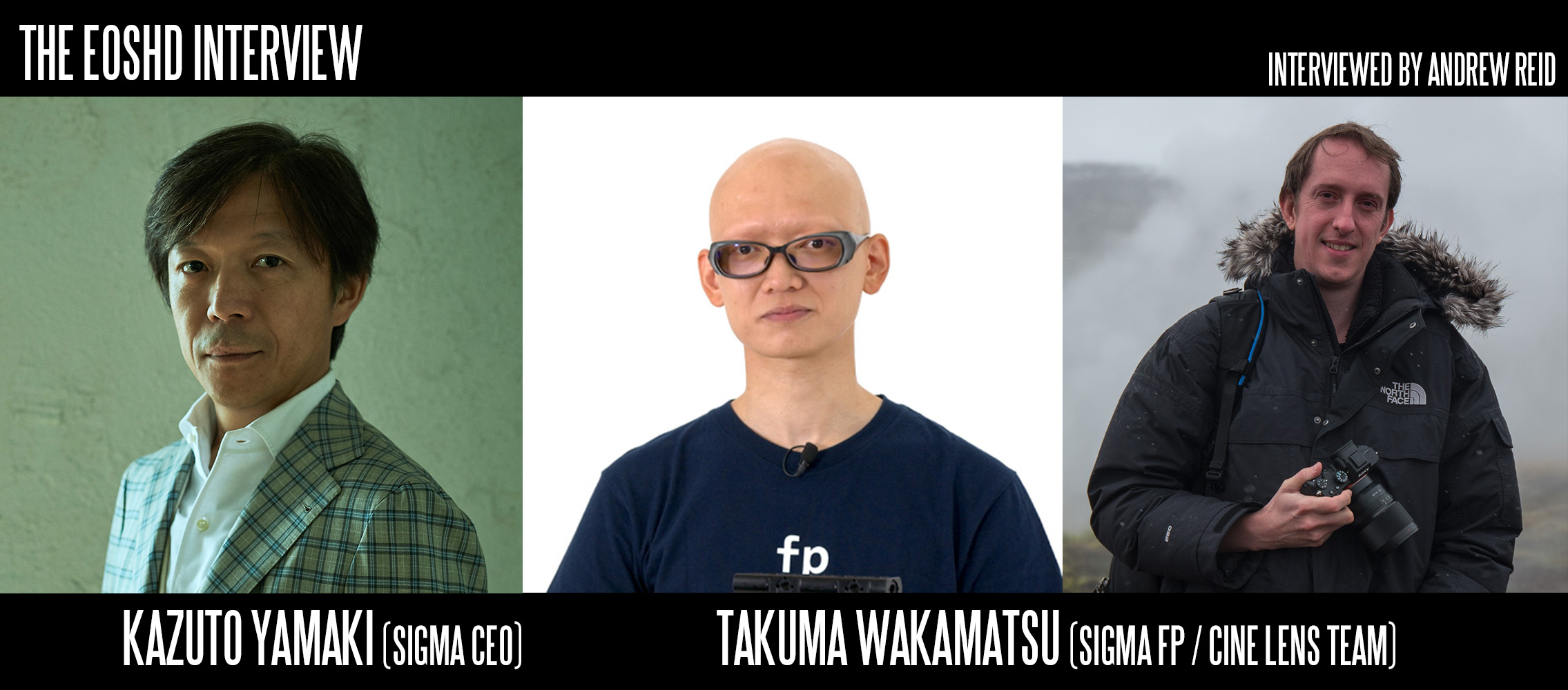 Andrew: Mr Yamaki-san, can you share with us your daily routine at SIGMA? I see that you have been publishing on Twitter a photography series 'Tokyo Suburb' in wide aspect ratio from the fp. Are you aware of the demand for wide-aspect ratio cinemascope anamorphic lenses for videographers and could it be economical to make an affordable anamorphic for enthusiasts? 
Kazuto Yamaki: In April and May, I was working from home. Before and after the work at home, I took a walk with my fp camera around my house. "Tokyo suburb" images were taken during this waking. Those images were nothing special, but I wanted to be connected with SIGMA camera users and also encourage them to enjoy photosduring such a difficult time. 
With regard to the wide aspect, simply I found it interesting. I hope more still photographers enjoy this wide format.
I'm aware of the demand for the anamorphic lenses, but it's not our highest priority project simply because we have many other projects that we need to work on.
Andrew: Mr Wakamatsu-san, please can you tell me about your role at SIGMA? How is it possible to implement 4K RAW video in such a small body (which uses the same small economical battery as the Panasonic GH2?) It is very impressive!
Takuma Wakamatsu: I'm in charge of product planning of cameras and optics especially for cine products.
SIGMA fp has a well designed heat exhaust structure that enables 4K RAW recording.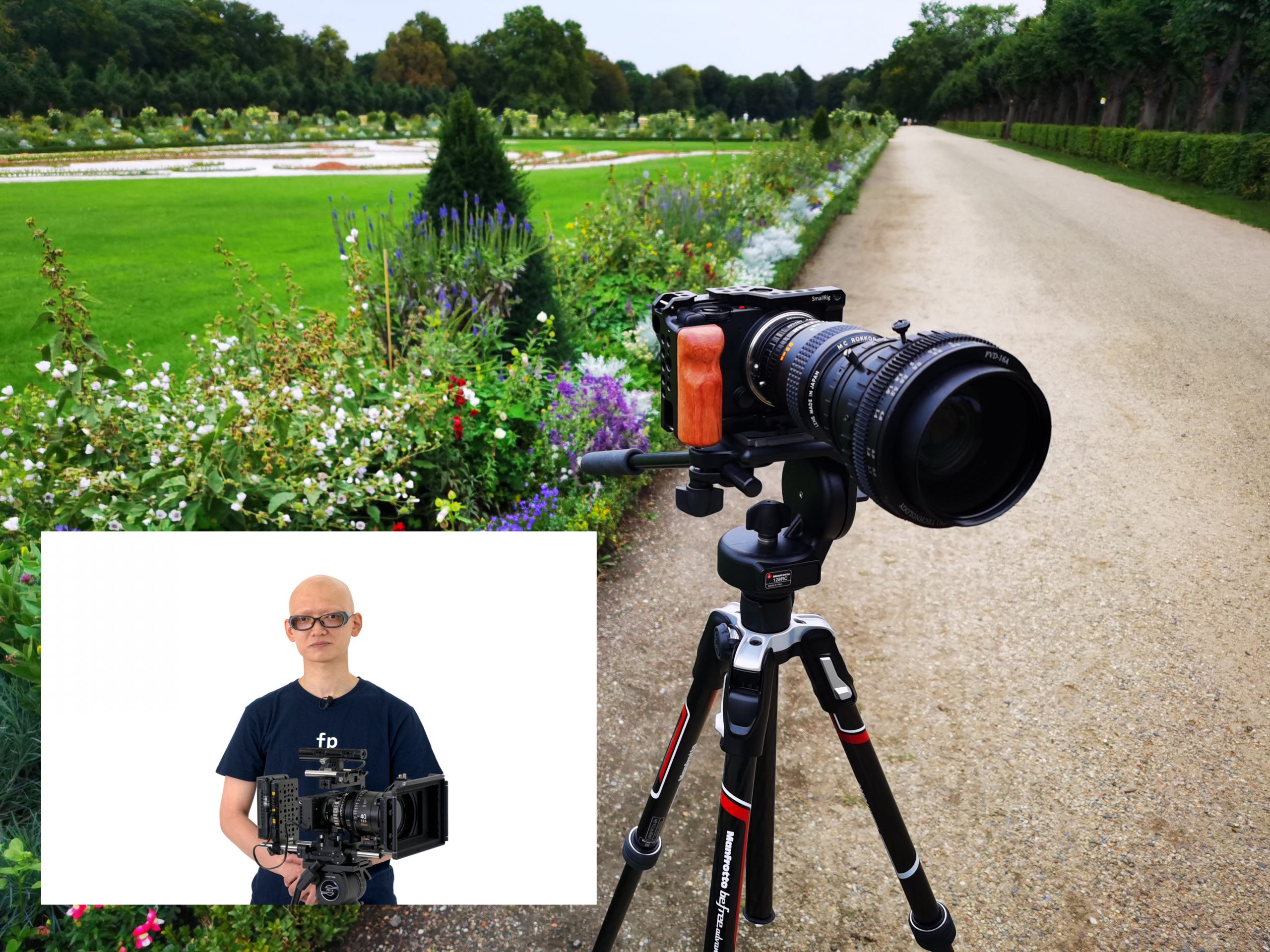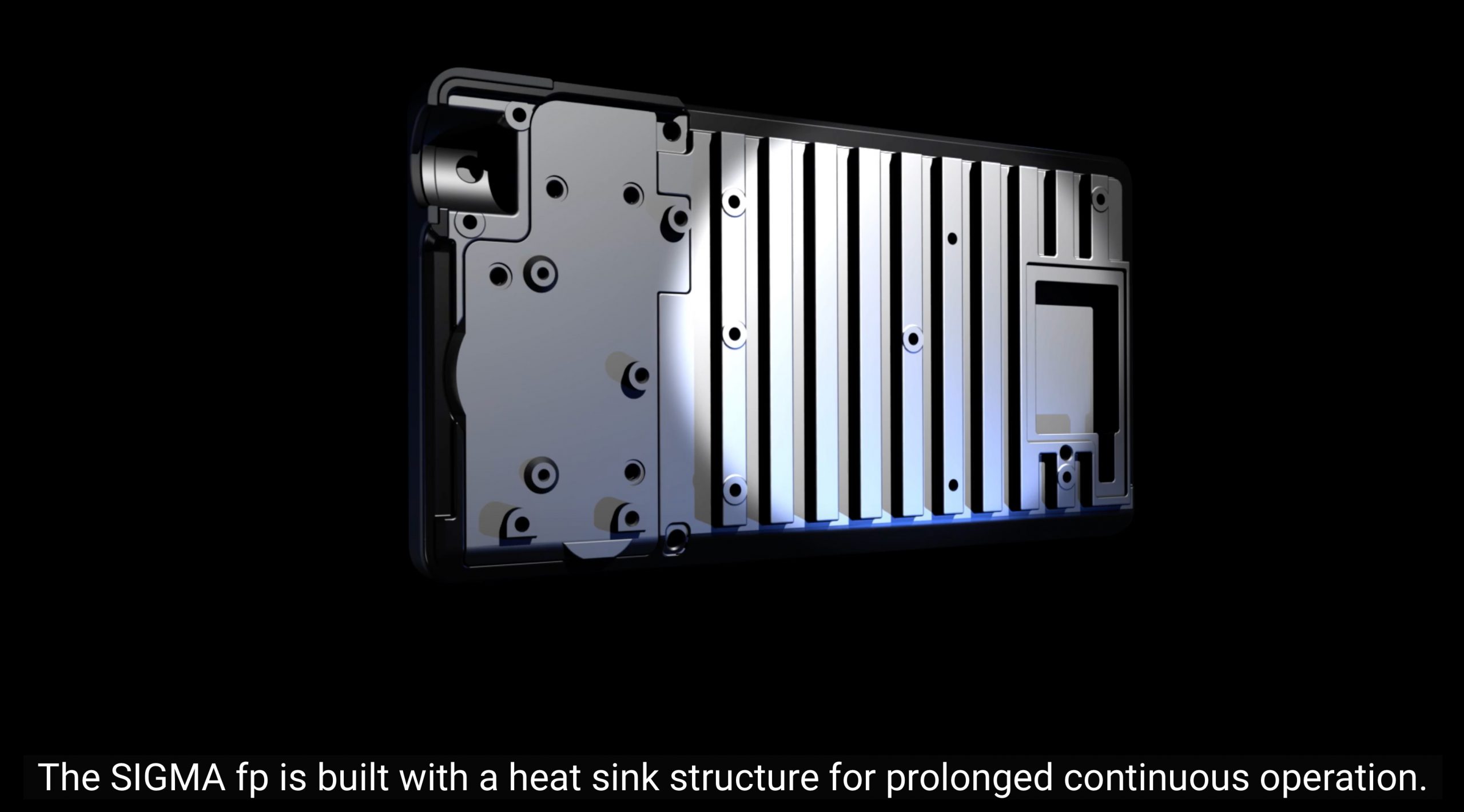 Andrew: How did the idea and design of fp evolve from the beginning? Was a larger camera prototype with EVF & IBIS ever considered too?
Takuma: The idea of fp comes from the concept of being "Scalable" that embodies a small core and expansion possibility.
Andrew: Was a Foveon sensor ever considered for the fp and do you think it will be possible for a Foveon sensor to one day shoot 4K video?
Takuma: We considered Bayer sensor is more proper for this camera of which concept is Pocketable FF and Seamless between Cine and Still. At this moment, Bayer sensor is superior than Foveon sensor on video recording function.
Andrew: In theory, is 10bit CinemaDNG RAW (4K 24p) recording possible to SD card? Or could 2.8K 10bit 4K be a solution to reduce the data rate?
Takuma: 10bit CinemaDNG RAW (4K 24p) recording to SD card is difficult under the current technology because it needs 2000Mbps=250MB/s constant recording capability.   
Andrew: Mr Yamaki-san, my next question is actually more of an "idea"! I have been reading about the origin of L-mount and the start of the L-mount alliance. This began with Panasonic revealing to SIGMA that they would make a full frame mirrorless system, and Leica too.
SIGMA is fully committed to L-mount. However, if Fuji X-T4 or Canon EOS R users want to use the latest mirrorless lenses from SIGMA, they have to wait for the company to produce Fuji X or Canon RF mount versions of each lens. In the filmmaking community, we are used to mixing different mounts, cameras and lenses. Canon EF lenses are popular because they can be adapted to so many different mirrorless systems such as Sony E-mount with the SIGMA MC-11 adapter…
However the older Canon EF lenses are not really designed for mirrorless cameras or video. They have older autofocus technology, slower lens mount protocols, larger optics and very long flange of 44mm. What if SIGMA could design a new "SA2" range of lenses with 25mm or 30mm flange based on the ART series with a "universal mount"? These would connect to mirrorless cameras via a range of adapters for all the modern mounts. There would be $300 "MC-U" adapters for L mount, Canon RF, Nikon Z, Fuji X, Sony E and so on… Then I could use these modern "SA2" mirrorless lenses & SIGMA's latest optical designs and fast autofocus on so many different systems.
This way, your customers could even hold onto their investment in universal mount "SA2" lenses if they move from a Sony E-mount camera to a SIGMA L-mount camera! I feel that such a range – even if limited to a few primes and one zoom – could compliment the main L-mount range of native mirrorless lenses very well by offering that "multi-platform compatibility" as the unique selling point.
Kazuto: Thank you very much for your suggestion. I think it is a good idea and it's quite possible to make it technically. However, when it comes to the business, it's not that easy. To make such a wide range of brand new lenses with the different flangeback, it requires lots of investment. I hate to say this, but it's quite risky decision for the manufacturer to make a brand new mount.
Andrew: SIGMA now has a presence in Burbank, California – in a beautiful old castle-style building. Have you had any famous visitors so far? Is there a schedule of workshops and seminars available online?
Kazuto: We have been very thankful to be visited by several ASC DoPs: Stephen Lighthill, ASC; Roy Wagner, ASC; David Mullen, ASC; Steven Poster, ASC and many more. Due to the rules in California, the showroom in Burbank is open by appointment only. This will include demos and product testing.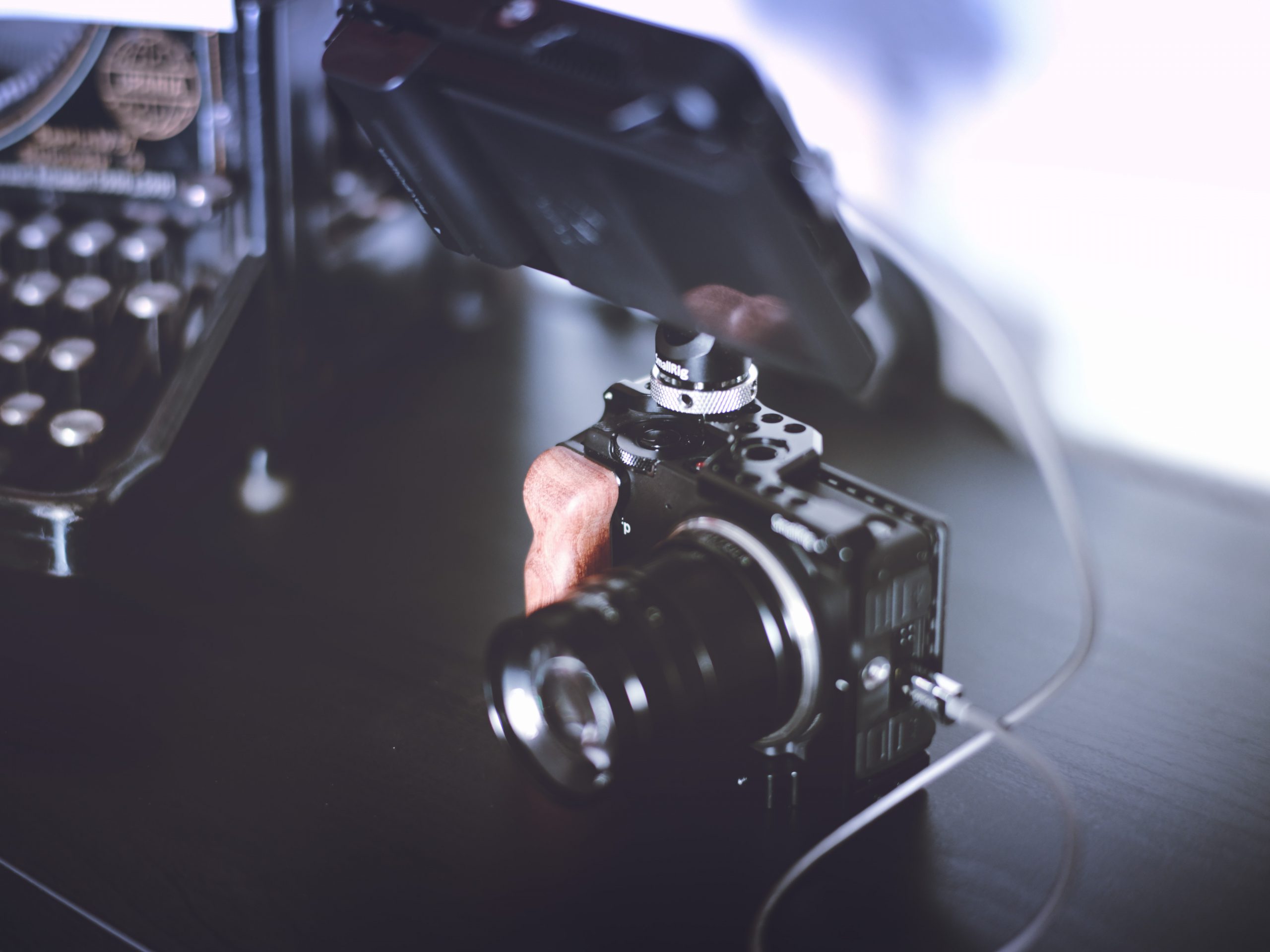 Above: The Sigma Fp recently gained ProRes RAW with the Atomos Ninja V – but not only this – It is unusual in that it also shoots BRAW to the latest Blackmagic View Assist.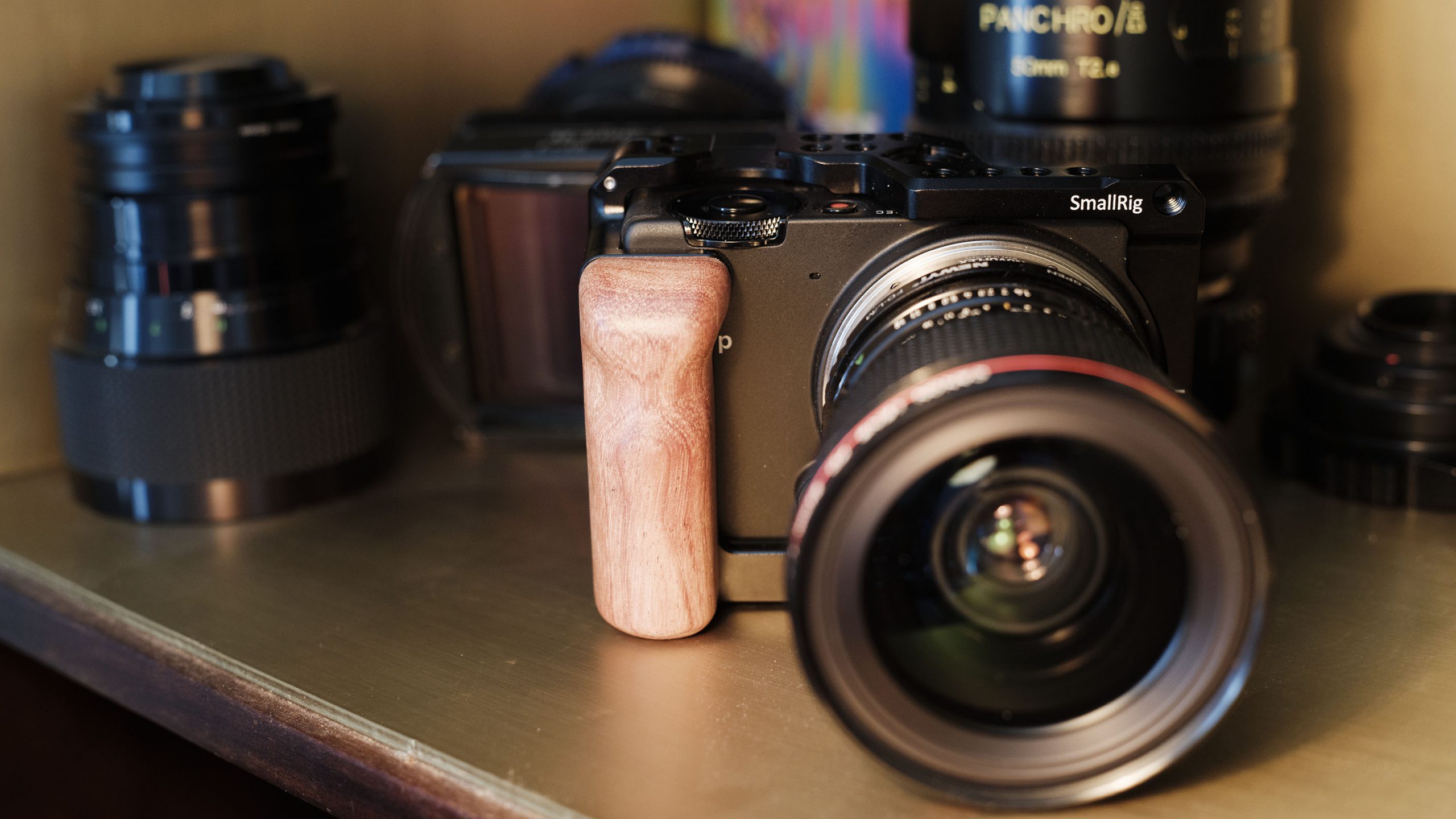 Above: The modular Sigma Fp, is almost as small as the Sony RX1 and very adaptable. Here it is with my SmallRig cage, which features a wooden handle for extra grip, and the vintage Canon FD 24mm F1.2L (the basis for a certain famous K35 cine lens).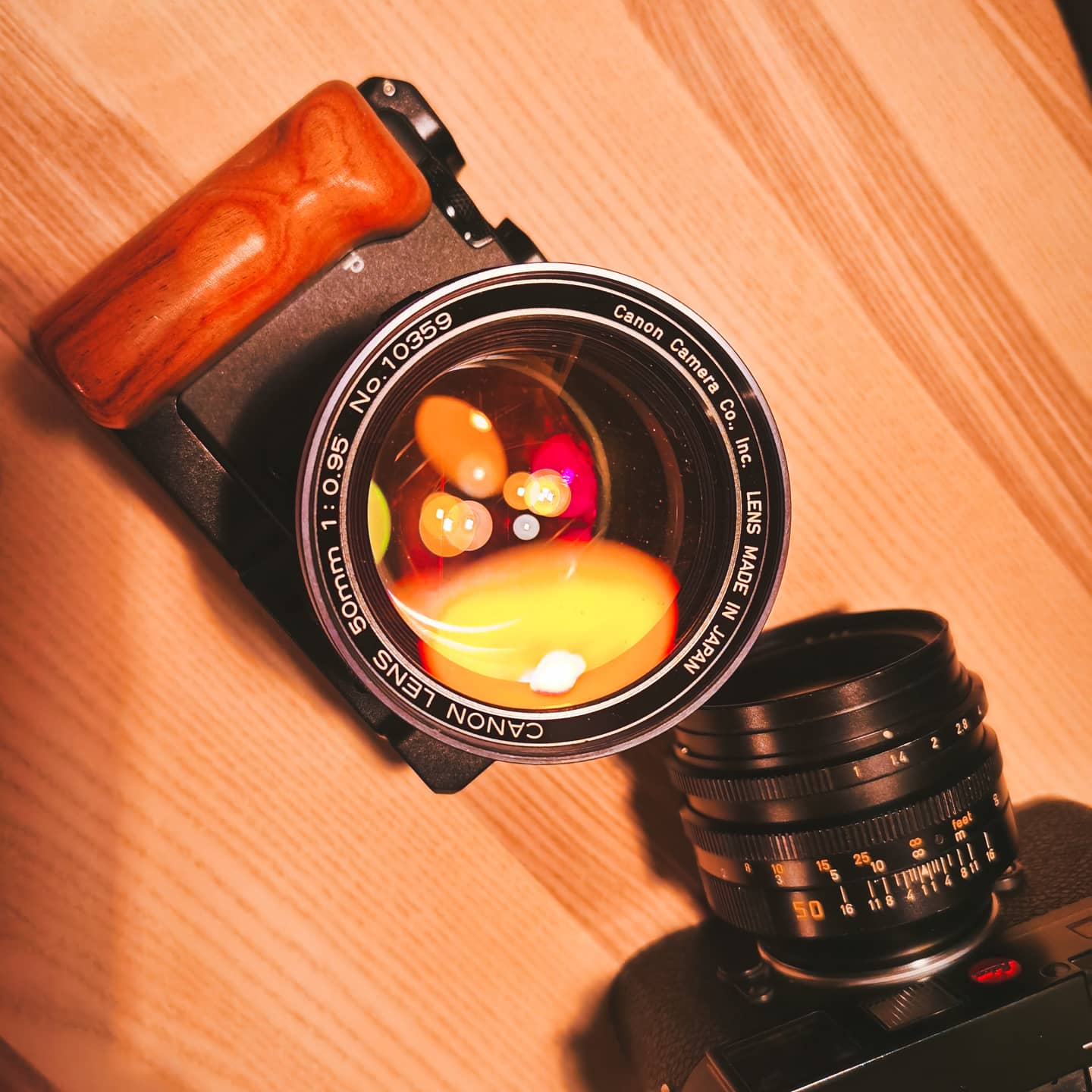 Andrew: What is the long-term plan for SIGMA's physical presence in our cities?
Kazuto: We will continuously strive to provide the best customer service for our customers all over the world through the local office. In U.K. SIGMA  U.K will continuously take care of our customers.
Andrew: How does the hobby of photography differ in Japan to other countries? Is video also growing in popularity in Japan?
Takuma: The hobby of photography in Japan is very conservative. The average age of them is quite higher than other countries. Video is considered as a minor and difficult hobby in Japan.
Andrew: Yasuhiro Ohsone san, a senior product planner and engineer, has been with SIGMA for a long time and is a very talented technical manager and engineer. I follow Ohsone's Anecdotes on the Sigma SEIN magazine for his tales of interesting lens engineering stories. I particularly liked how Ohsone san described the development of the SIGMA 45mm F2.8 DG DN | Contemporary with the emphasis on bokeh, and his anecdote about taking apart Panasonic's first Lumix G1 lens, the 14-45mm zoom to study it mechanically. If more full frame DN lenses are planned and will these be in the ART or Contemporary range? Is it possible to keep the size of the primes close to the 45mm F2.8 DG DN or Leica 50mm F1.4 Summilux – even with very fast apertures and autofocus?
(The build quality of the SIGMA 45mm F2.8 DG DN | Contemporary is absolutely remarkable for the price and it has a beautiful rendering. I would love to see more lenses like this for L-mount where the priority is not the ultimate technical performance with large size, but also artistic rendering, fast apertures, small size and enthusiast-level price!)
Kazuto: Yes, we will continuously enhance the lens lineups like 45mm F2.8 DG DN | Contemporary. Most of them will be Contemporary series because we aim to make it compact, but it doesn't mean that we compromise on quality. Highest quality in a compact package is the concept of Contemporary series.
Andrew: Mr Yamaki san, your father Michihiro Yamaki san founded SIGMA and left a great legacy. On the SEIN blog there is a quote from your father which I really enjoyed – "People take pictures in their happiest and moved moments." After reading this I realised why I have so many lenses and cameras! I must have an emotional attachment to cameras.
Many of my happiest moments in life are when I'm trying to create images. I talk a lot about the "feel" and "soul" of a camera and lens on EOSHD – and I have realised that engineering is not just about technical performance. Does SIGMA recognise the demand for unique, personalisation of cameras? Do you have any ideas on this and about creating new niches?
Kazuto: I'm very happy to know that we share the same feeling on the photography and the equipment for it. We take pride in working in such a wonderful industry with the culture and enjoy it. Most of our engineers are also enthusiastic photographers and camera lovers. They make our cameras and lenses with their personal passion. 
I'm aware of such demand for "personalization of cameras", that's why we got an idea for SIGMA fp. Compact, lightweight, but high quality body can be personalized based on the customers' preference or for some specific occasions. 
Andrew: Mr Yamaki san, did you ever visit Photokina with your father in the earlier days of SIGMA? What are your proudest memories from your time working together as father and son at SIGMA?
Kazuto: Yes, I did. I think I visited Photokina with my father 5~6 times. I have too many memories with him, so it's impossible to pick up one. When I work at our office and factory, I will feel the soul of my father. Ancient Japanese did not distinguish clearly between life and death, so they thought the souls of the ancestors are still with them. I share the same feeling.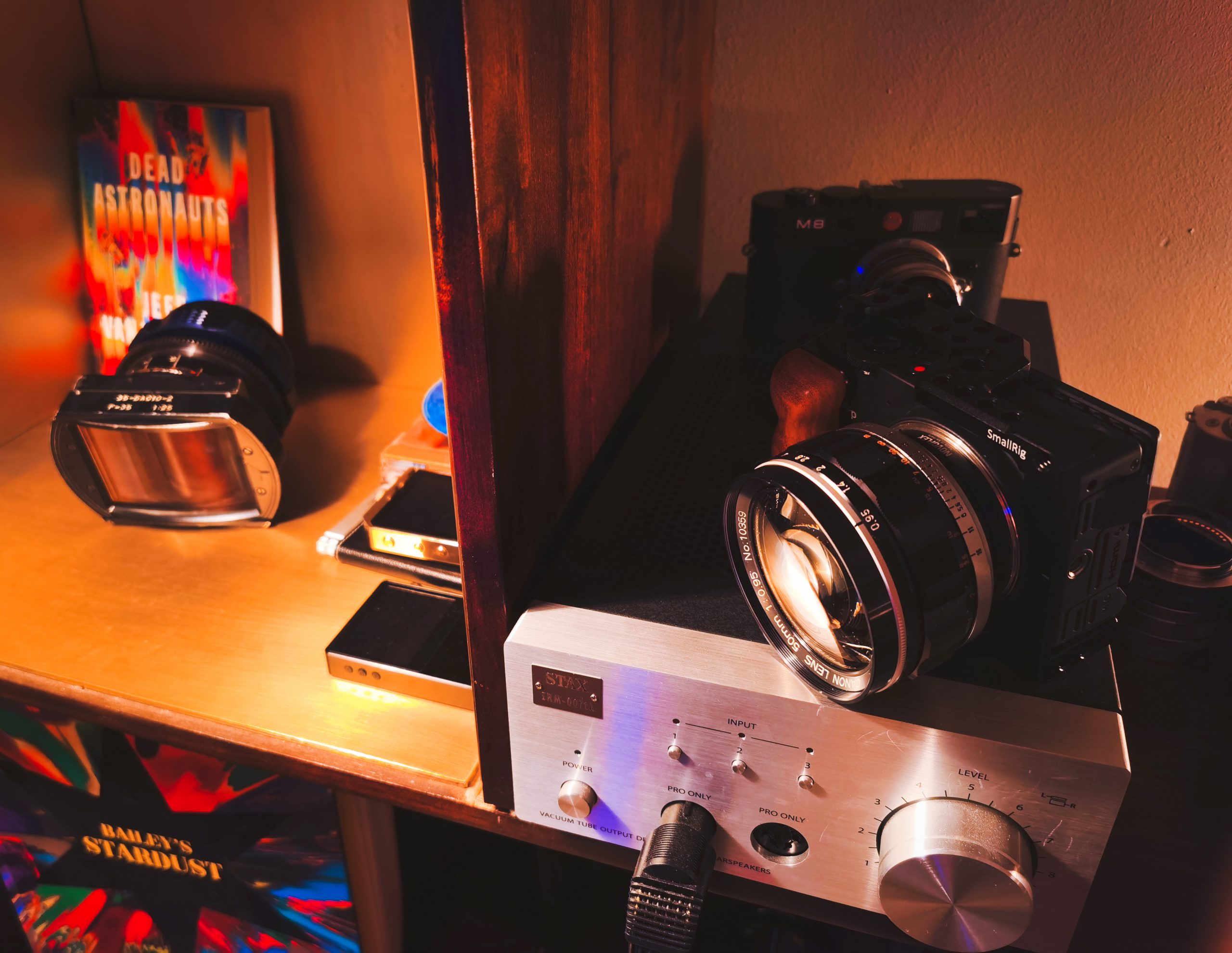 Above: Thanks to L-mount, the Sigma Fp is very adaptable – here it is with the Canon "Dream Lens" (sample photo below)…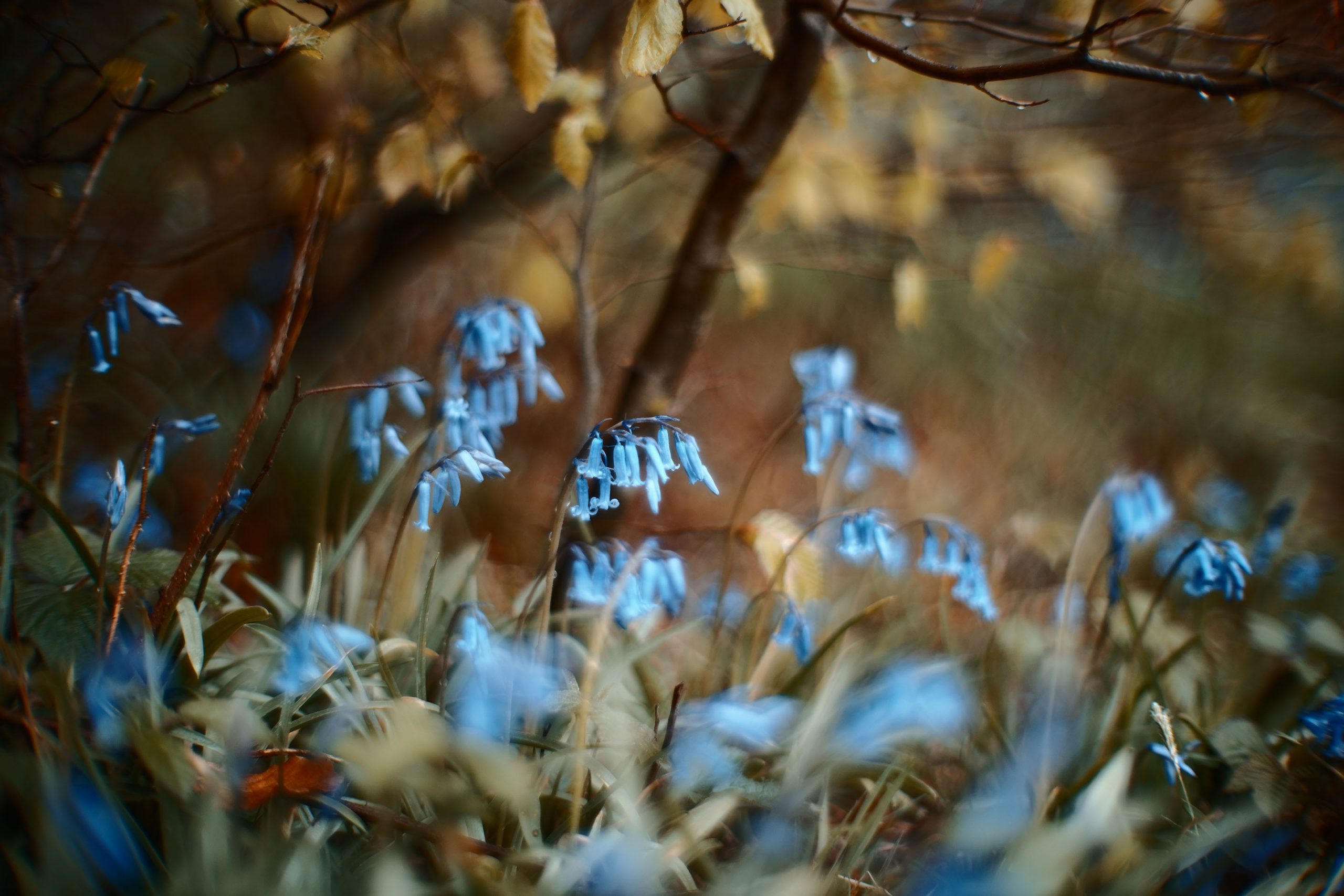 Andrew: Global shutter has the potential to make all mechanical shutter cameras obsolete. Do you think this technology is close to ready for the stills and mirrorless camera market? What are the challenges in terms of image quality? Is it better to implement a global shutter sensor or to use a very fast rolling shutter with stacked DRAM buffer technology?
Takuma: We think it needs time to spread global shutter technology in this market. At this moment, we couldn't find an ideal sensor that can be procured and has enough specifications. We cannot answer  to your questions because we don't compare these sensors concretely.
Andrew: With the new SIGMA fp Firmware 2.0, picture profile "off" seems to be a nice "Flat" look for more dynamic range. Is this a good replacement for LOG and is there a reason a full "LOG" profile was not implemented?
Takuma: Yes, the color mode OFF would be the alternative of LOG. We couldn't implement LOG due to hardware limitations. 
Andrew: How helpful are Canon and Nikon when it comes to ensuring compatibility with SIGMA lenses? Do Canon and Nikon work with SIGMA before the launch of a new DSLR for example, to make sure of reliability? Or do Canon and Nikon only see SIGMA as a competitor?
Kazuto: We believe it's our mission to support as many camera systems as possible. We'd like to continuously do our best to satisfy our customers' needs.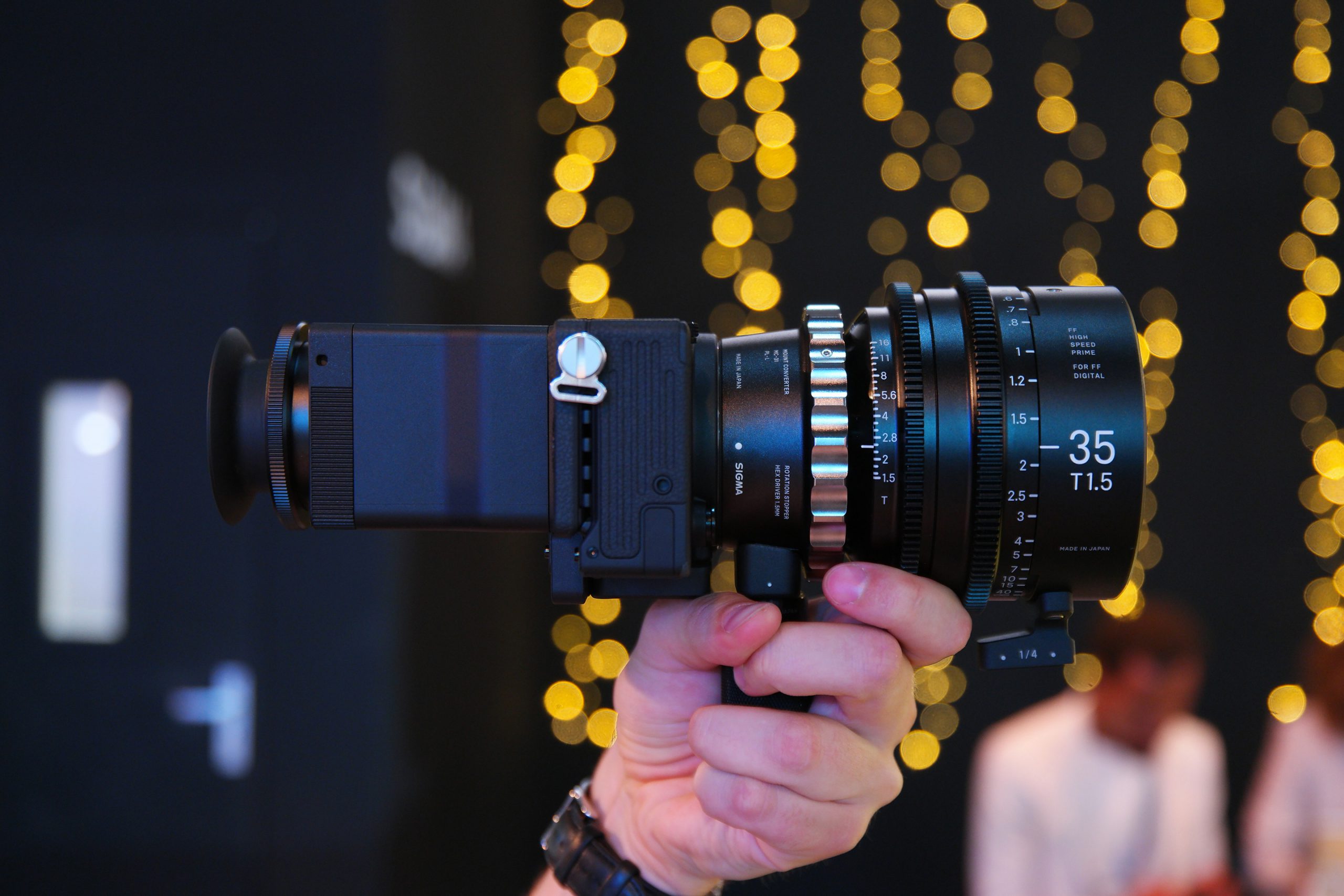 Andrew: I feel happy that SIGMA is a camera company run by camera enthusiasts and engineers – a privately held enterprise, and not publicly listed. Does SIGMA intend to stay a private company and what are the advantages of being a privately owned family business when it comes to the camera market – such as a longer term outlook and emphasis on engineering?
Kazuto: You're absolutely right. By being a privately owned company, we can stay with our long-term goal, which is to make the best cameras and lenses for all the photo enthusiasts all over the world. Also, no pressure from the investors makes us possible to protect our employees even under the tough circumstances if our financial situation allows us to. Therefore, we'd like to be a private company in the future, too.
Andrew: Is it true that Canon once-upon-a-time tried to buy the SIGMA Corporation?
Kazuto: As far as I know, it's not true.
Andrew: SIGMA currently has one factory in Aizu, Japan and it is very busy! Meanwhile, sadly the Olympus camera division is being divested. Did SIGMA consider taking over the Olympus camera lens factories? Or hiring some more engineers from Olympus? Or, does SIGMA prefer to extend the Aizu facilities within Japan?
Kazuto: Coronavirus hit our business severely, too. Our first priority is to recover from such damage and make sure all the current employees are protected.
Andrew: Autofocus technology (stepping motors) has progressed a lot – would it be possible to design a "wireless follow focus" for video users for control of L-mount focus manually in a film-style way, without focus gearing? (Can focus pulls be very smooth electronically or does the L-mount lens protocol only allow a finite number of steps throughout the focal range)?
Takuma: Yes, it would be possible to design. About L-mount protocols, no comments.
Andrew: One of the favourite lenses for filmmakers and enthusiasts is the SIGMA 18-35mm F1.8 DC HSM | Art. Will there be a smaller mirrorless version and would SIGMA consider a full frame 35-50mm F1.8 zoom? (Smaller in size than the Canon 28-70mm F2.0 for RF mount?) I feel that 35mm is wide enough for a lot of compositions and now with such high resolution sensors, 50mm can be suitable for both portrait and telephoto with a crop in S35 mode!
Takuma: No comments! (But I know our 18-35mm F1.8 DC HSM | Art  is really popular for video shooters.)
Andrew: Have you noticed any demand for 2.8K recording (like the ARRI Alexa) from people who wish to step up from 1080p? I feel this could be very useful for people who don't need the extra resolution of 4K but prefer smaller, easier to edit files.
Takuma: I never heard 2.8K would be a step up candidate from 1080p.
Andrew: Would SIGMA consider a high-end L-mount cinema camera for professionals? Or even an enthusiast cinema camera like the Blackmagic Pocket 6K?
Takuma: No comments! (But I love cinema cameras including film cameras.)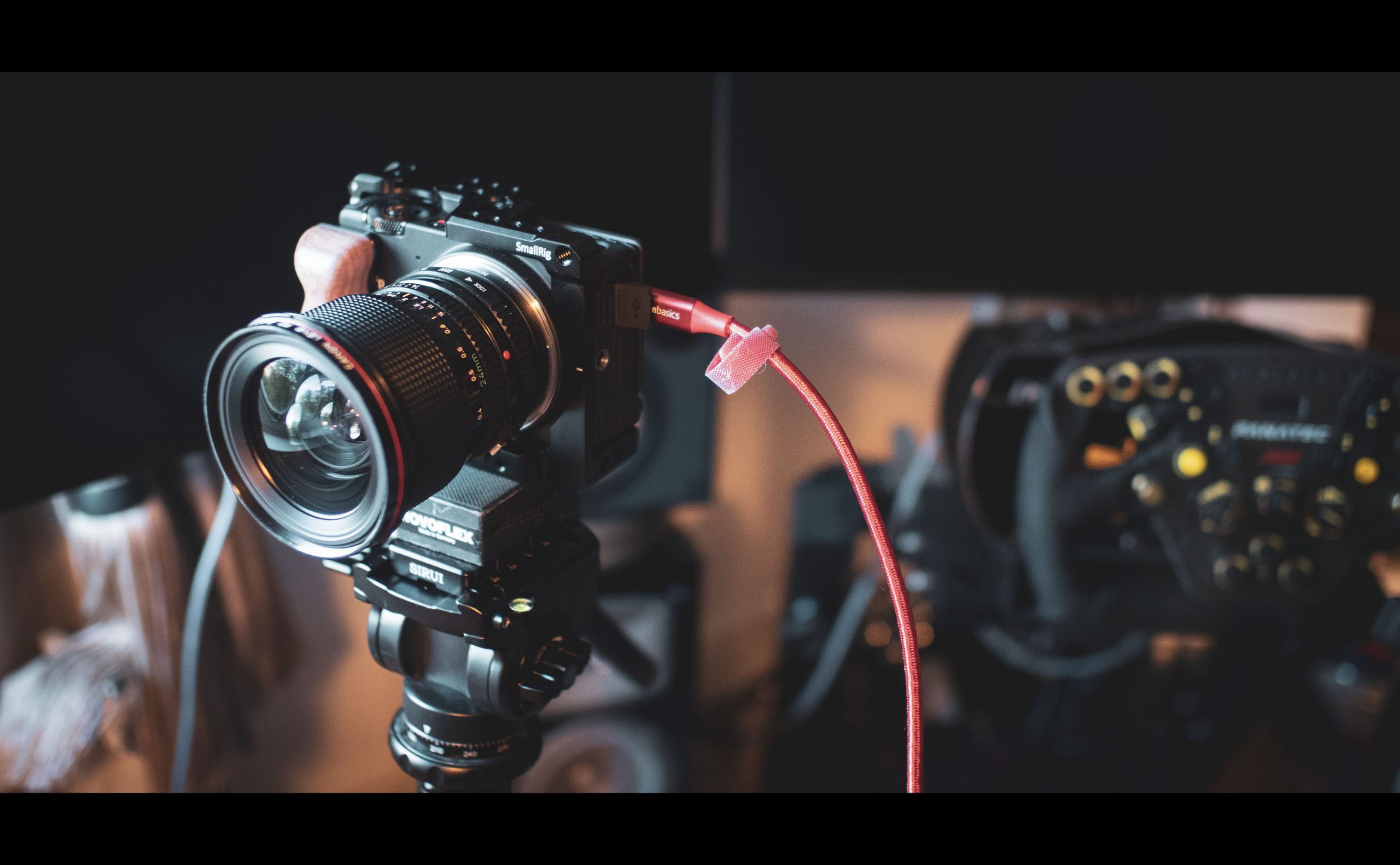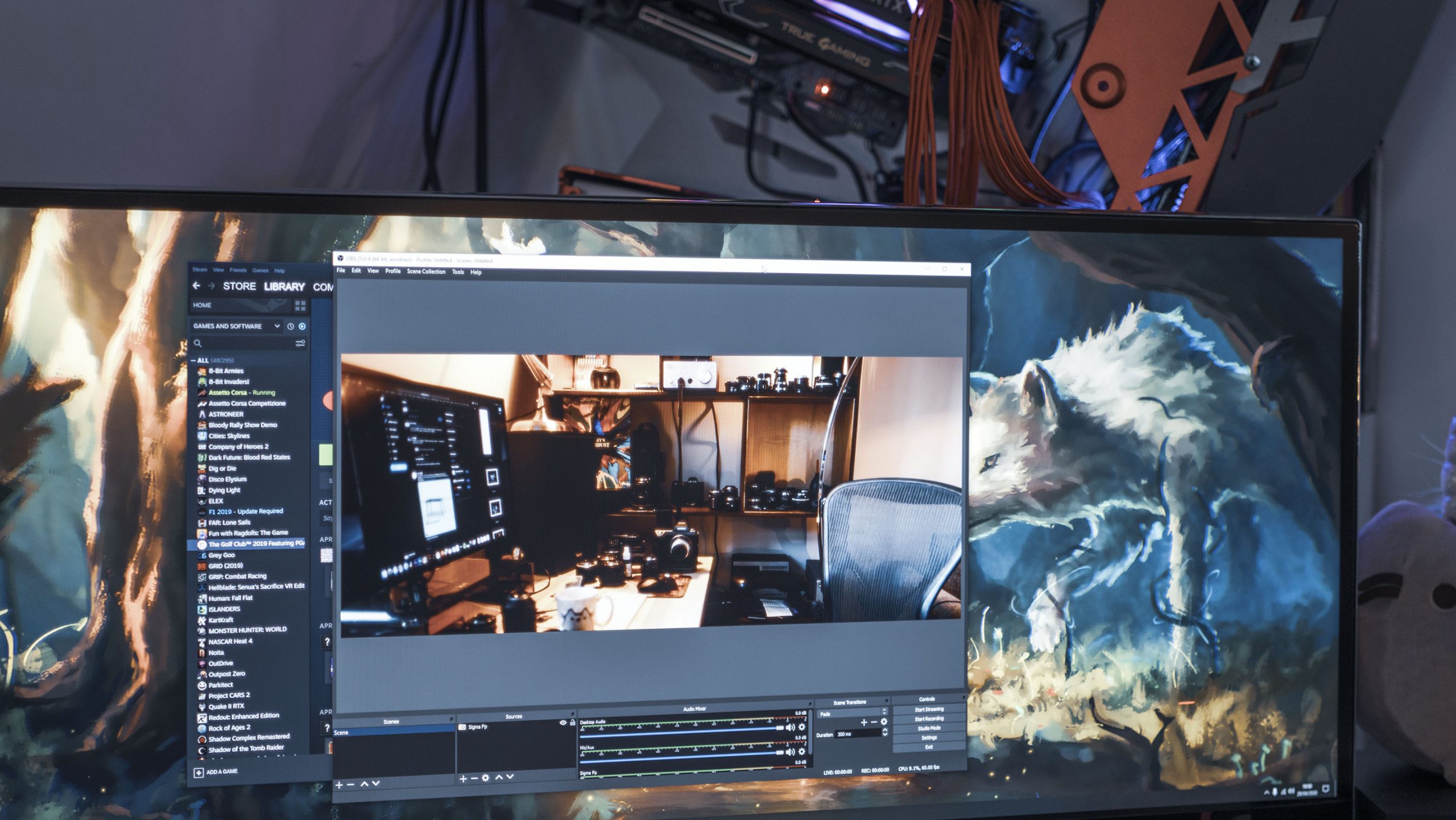 Above: The Sigma Fp saw success thanks to built in USB webcam protocols, allowing it to be used for ZOOM video conferencing for example. One of the few "plug and play" full frame cameras that do not need extra software from the manufacturer to be used as a webcam.
Andrew: How has the Classic Cine lens range with some uncoated elements and more flare been received so far?
Takuma: The Classic Art Primes have received nice feedback from the market.
Andrew: How does demand for SIGMA's full frame cine lenses compare to traditional SIGMA Super 35mm cine lenses?
Takuma: The demand for SIGMA FF Primes is getting larger than the cine lenses for super 35mm cameras.
Andrew: The SIGMA 16mm, 30mm, 56mm F1.4 APS-C lenses seem very popular. Would it be possible to make a Cine range of these as they are perfect for Super 35mm cine cameras?
Takuma: It's technically difficult because these lenses have a short flange back and cannot be attached to Super 35mm cameras.
Andrew: With the Foveon design, can we one day expect to see high ISO performance match traditional bayer CMOS sensors? So that even ISO 6400 can perform well?
Kazuto: Theoretically, it's tough. We can't change the characteristics of the silicon and the cross-talk of each channel. A Foveon sensor can produce factastic quality images because of such characteristics, but at the same time, it suffers from the noise at high ISO.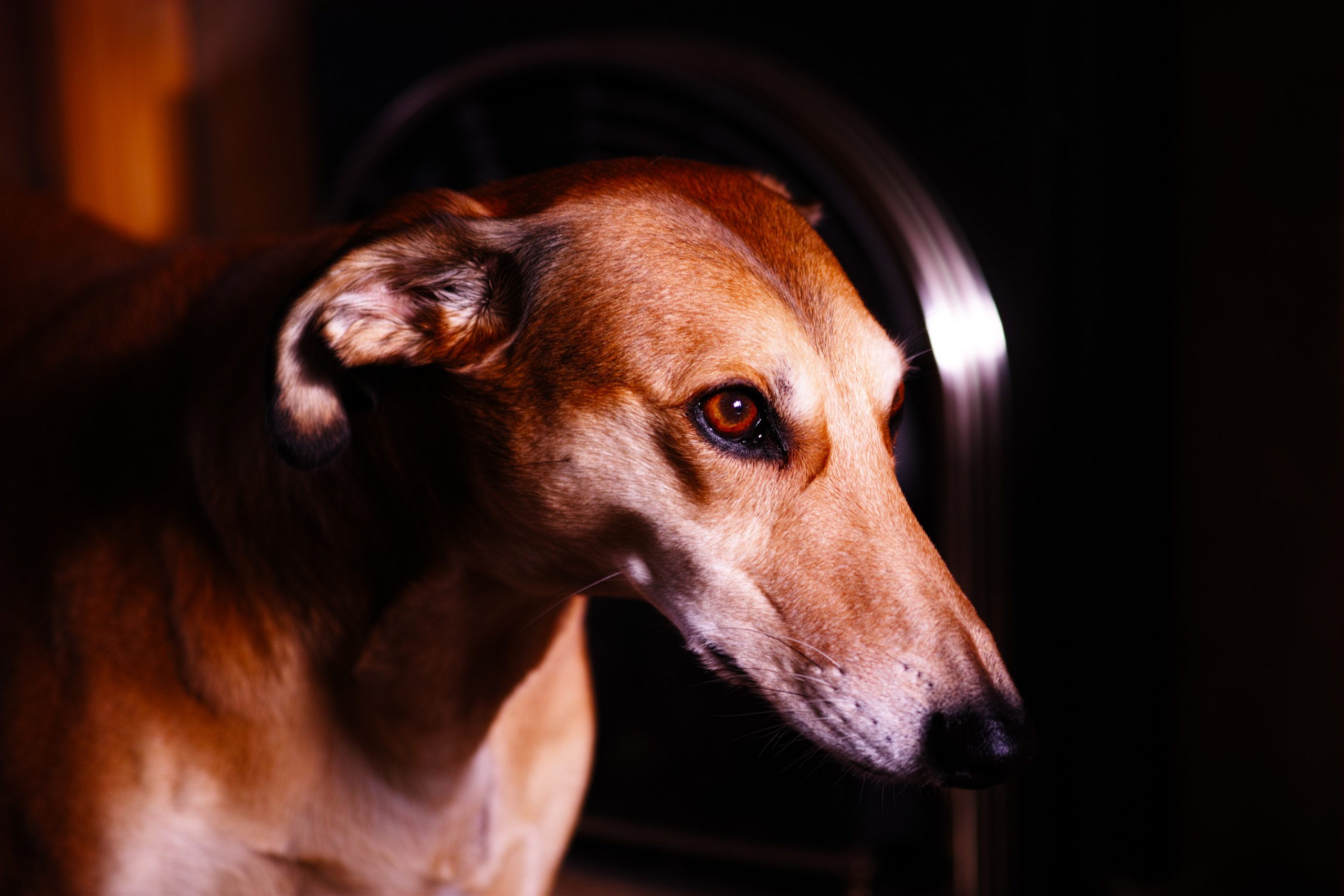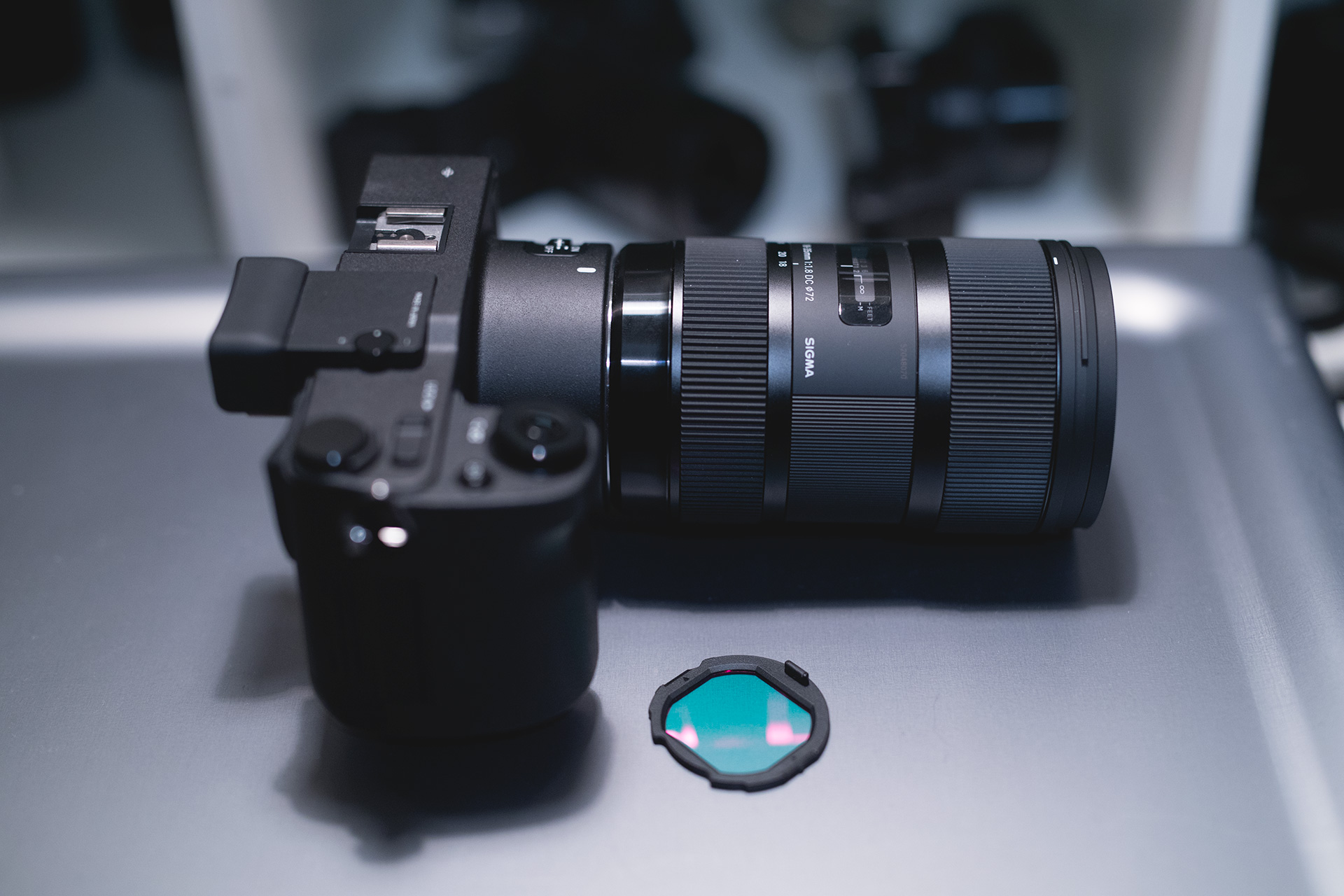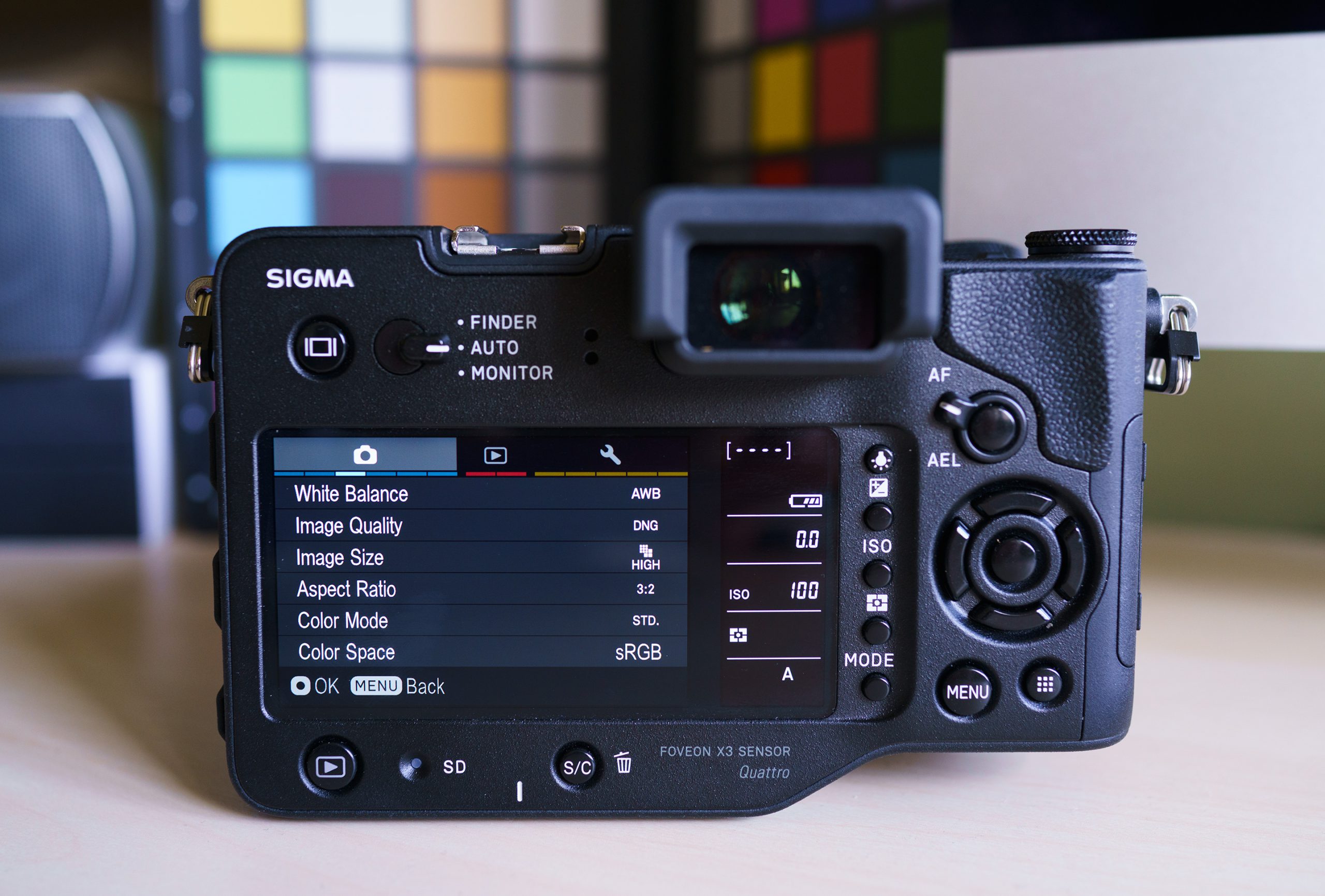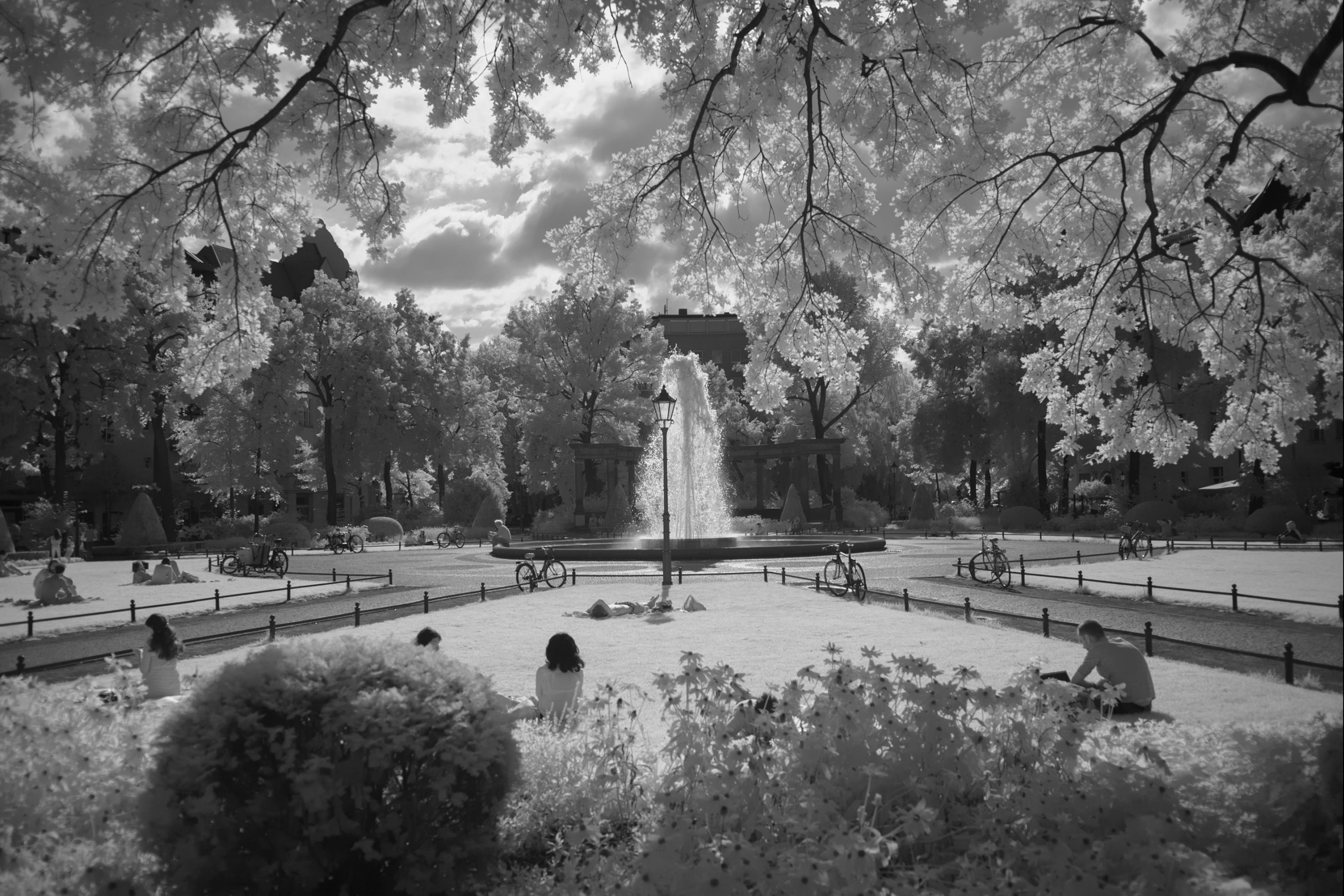 Above: The Sigma Quattro SD is a favourite in my collection for the tonality, colour rendering and detail at low ISOs, as well as the easily removable Infrared cut filter. With a visible light filter in front of my Sigma 18-35mm F1.8 I can easily shoot infrared without special hardware mods or costly adaptations!
Andrew: Is there a reason ProRes RAW to Atomos Ninja V is 4K with SIGMA fp, rather than the full 6K resolution of the sensor? In theory, could this come later in a firmware update?
Takuma: The sensor of fp cannot output 6K resolution video. The SIGMA fp can record up to 4K UHD. But we could achieve 4K DCI output only available on HDMI RAW.
Andrew: How does Sigma recruit new designers and staff? Do people come to SIGMA directly from university? And from other camera companies?
Takuma: Most engineers enter SIGMA directly from university or graduate school.
Thank you to both Kazuto Yamaki-san and Takuma Wakamatsu-san for your time taken to answer my epic novel "Lord of the Questions"!