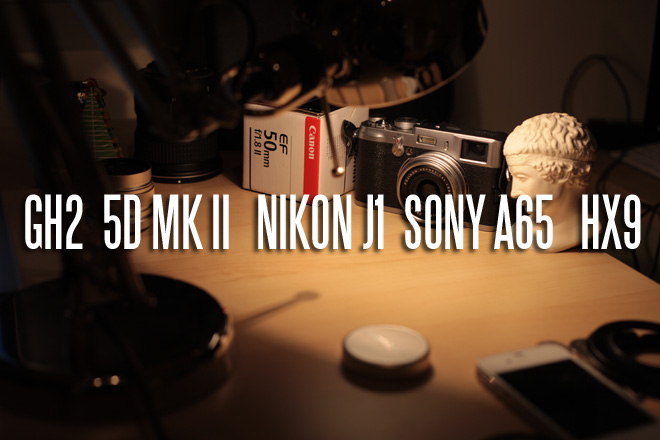 You might remember last week Philip Bloom posted shots from the C300, F3, GH2, 5D Mark II and 4 other cameras as a prelude to the test he is doing and that is the inspiration for this bit of Christmas fun. Here I've put 5 cameras up against each other for how well they resolve detail and the clarity of their video output. The results may surprise you.
And not only am I challenging the cameras I'm challenging you to figure out which is which! Good luck!!
These shots are 1:1 crops and not scaled down to fit your screen, so they show you quite clearly exactly what you get when you hit record on the following cameras. (Just bare in mind that things look much better when you watch a full frame on a decent screen or projector).
The gear in no particular order:
My main cameras the GH2 (hacked) and 5D Mark II (also representative of 7D, 600D, etc.) running Magic Lantern in 100Mbit mode
The GH2 is using my Intra-esting patch for 88Mbit i-frame AVCHD and Vitaliy Kiselev's hack.
The Sony A65 (which has the same image processor as the A77, NEX 7 and NEX 5N – very little to choose between video wise with these)
The new Nikon J1 which I am reviewing at the moment
A compact thrown in to confuse you all – the Sony HX9 which does 1080/60p.
The HX9, J1 and A65 are in 24Mbit mode, the maximum for 24/30p on those cameras. All the shots were in 1080p mode and the focus was set to the X100's dial and viewfinder lever with the lens stopped down to around F4-5.6. All ISO 200.
See if you can get all 5… Post your guesses on the comments here