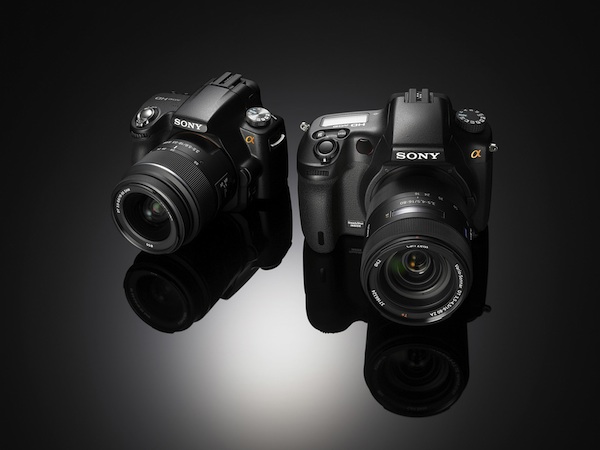 The mirrorless E mount NEX 7 will follow Sony's next release above – HD video capable Alpha cameras.
In February when rumours of the NEX series first trickled in, we also had information about a NEX 7 as well as the 5 and 3 series. The numbering appears to mirror the Alpha range. Can we also expect a 9 series NEX camera?
Today I received more info from the same source as last time, who got the NEX 3 and 5 specs bang on right.
There is no NEX 9 planned but there is a NEX 7.
The NEX 7 addresses the missing enthusiast features from the NEX 5.

• Full manual control
• 1080p@60
• 1080p@24
• 720p@120fps and 60p
• Revised sensor design
720p at 120fps will be absolutely must-have. The faster sensor is not a global shutter design like the GH2, but allows 120fps in 720p mode for super slow-mo, mirroring what's possible with current compact CMOS sensors at 640×480. This is a great achievement for an APS-C sized chip. The codec will not be XDCam as rumoured in February, instead sticking to AVCHD at a higher 24mbps bit rate.
Remember this is still a consumer grade camera, so XDCam is 'not a suitable format' according to my source. Oh well.
In body stabilisation returns – the larger body enables this to fit, whilst the main aim for the NEX 5's body was thinness and a consumer orientated sexy design.
Next question – why no simultaneous release with the NEX 3 and 5? Well, two reasons were stated – Firstly, Sony want to equip it with a more capable sensor, which is not yet ready. Secondly, Sony want to get the new Alpha HD range out of the door first – these are traditional mirror-box DSLRs, continuing the existing Alpha 5xx and 7xx series but with the addition of AVCHD HD video and a better sensor – the new 'Exmor HD'.
I think that also there is a third reason Sony are keeping the release date of the NEX 7 under-wraps, which my source was a bit too coy to mention! There is a bit of brinkmanship with Panasonic. An early release date means development has to stop and the camera has to ship. Whoever has longest to spend on development, has a good chance of winning the technical race, a bit like in a Formula One off-season. So whilst Photokina in September is the rough target for both companies, both are trying to 2nd guess each other as to exactly when they will pull the trigger and finish development on the NEX 7 and GH2.
These cameras are as exciting as the race is close.
Although an announcement and prototype is expected at Photokina, the release date will more likely be November and affected by last minute changes to Panasonic's final GH2 schedule. Sony are in the position to react because the GH2's development has very aggressive targets, and global shutter may result in the schedule slipping. The NEX 7 is simply more of an evolution of the existing cameras, with the 2nd generation of Sony's Exmor HD sensor.
So will Panasonic drop the global shutter for the GH3 and shove the GH2 out of the door with a tweaked GH1-style sensor to compete with Sony? I certainly hope not, plus a lot of work in planning media strategies to market Progressive HD has already been done in Asia. ('Global shutter' is a tech term much harder for the general public to digest, so Progressive HD it is)
Ergonomically, the NEX 7 is quite different to the 3 and 5. According to my source it has the overall appearance of a mirrorless A550, much smaller with an e-mount and yes – EVF! As to be expected really. Same AF system as NEX 5, that is to say – contrast detection based.
Sony also have new E-mount lenses in development but my source would not be drawn on what they are. There is however some 'very good reasons' for the silent OIS and AF in the new e-mount lenses – the primary one is video. Iris control is also provided by a silent stepper motor in the E-mount lens series, just as with the Panasonic HD optimised 14-140mm for the GH1.
So don't worry – Sony has the future in mind for this system, and the disappointing video mode found on the GF1-a-like NEX 5 is not the end of the story where 2010 is concerned.
Good news!
PS – if you're wondering where Canon are in all of this. They have technology under development, but are waiting to see where the cards fall elsewhere. Panasonic and Sony – to big rivals, have now shown their hand. So the path is now a bit clearer for Canon and Nikon to respond with better products, ahead of time. Look for Canon announcement around October, if not earlier!