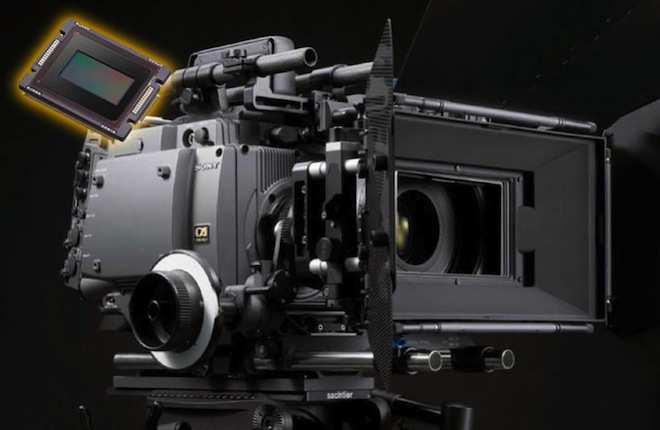 Now we know much more about the Sony F65's sensor. The design of the new 8K CMOS sensor in the leading edge Sony CineAlta F65 takes technology first developed for consumer camcorder hardware.
According to the Film & Digital Times the sensor has a 45% degree angled pixel grid which is developed from Sony's consumer R&D on 'ClearVid', seen in the small Exmor CMOS sensors in Sony consumer camcorders.
The 45% rotation fits photosites closer together to avoid a reduction in photosite size over traditional 4K bayer sensors. The gaps between the photosites have also been reduced, similar to the gapless micro lens design of Canon's 7D / 600D sensor.
Where the sensor differs to consumer hardware is it's speed and colour gamut. It's capable of a much wider array of colour information and sends this information in a 20MP 16bit raw stream to the image processor at up to 120fps. That is much faster than what is possible with current DSLR sensors which can send 18MP raw data in 14bit form to the image processor at up to 10fps. To achieve 24p and 60p in video mode DSLR sensors bin pixels and downscale the 18MP sensor (almost 8K) to under 2K.
The sensor is read at 20 gigabits per second. Most of the manufacturing costs of the new CineAlta is in the computer hardware to support such a fast sensor.
The sensor has a widescreen aspect ratio as you'd expect, which is 24.7mm by 13.1mm. For reference the APS-C sensor in the Canon 600D is 22.2mm by 14.8mm (with a crop to 16:9, so more like 12.5mm) and the Micro Four Thirds multi-aspect sensor in the GH2 is 17.3mm by 13mm – so the F65's sensor is the same height as the GH2's sensor but slightly wider. It also supports cropping for different aspect ratios.
The sensor is manufactured in Japan by Sony on a 300mm wafer divided up into 24.7mm x 13.1mm chunks. Each wafer takes a humongous 90 days to process (i.e. manufacture).
It does show how advanced consumer electronics manufacturing now is if they are using similar technology in such beasts of imaging products.
This bodes well for the future of DSLR video. The trick is to mass produce it faster and on larger wafers.
Source – Film and Digital Times [PDF] via ImageSensorsWorld