I feel that Sigma are now one of the most innovative of Japanese manufacturers, certainly the most adventurous. Just look at the products.
There are 3 Sigma creations I've invested in recently that have blown my socks off and bazooka'd the tea out of my cup…
Up until now I had considered the Canon 24mm F1.4L my favourite wide angle lens. The combination of fast aperture and wide focal length on full frame is a unique look. Add to that the lens has charm. Lovely bokeh and rendering.
The Zeiss Batis 25mm F2.0 for Sony FE also has a unique look to it, but it's not as versatile as a Canon mount lens if you have multiple camera systems. The Sigma 20mm F1.4 ART takes everything that is good about the Canon 24mm and turns it up to 11.
I am astounded by the performance of this lens. On full frame it gives me a wide field of view in low light along with an impossibly shallow depth of field which looks like medium format.


On a 1.5x crop Super 35mm camera it remains wide unlike a 24mm or 28mm. 20mm is just such a fantastic focal length when you have so many sensor sizes to deal with. It is also way sharper and brighter than the older Sigma 20mm F1.8 – which by the way already had bags of charm to begin with.
The Sigma 50-100mm F1.8 ART is also a very interesting prospect. Although this isn't a full frame lens, it covers close to full frame in 16:9 4K on the Canon 1D C (1.3x crop). It doesn't have the powerful stabilisation that the Canon 70-200mm F2.8 IS Mk2 has but it's cheaper and a stop faster. I hope to bring you a review of that lens soon.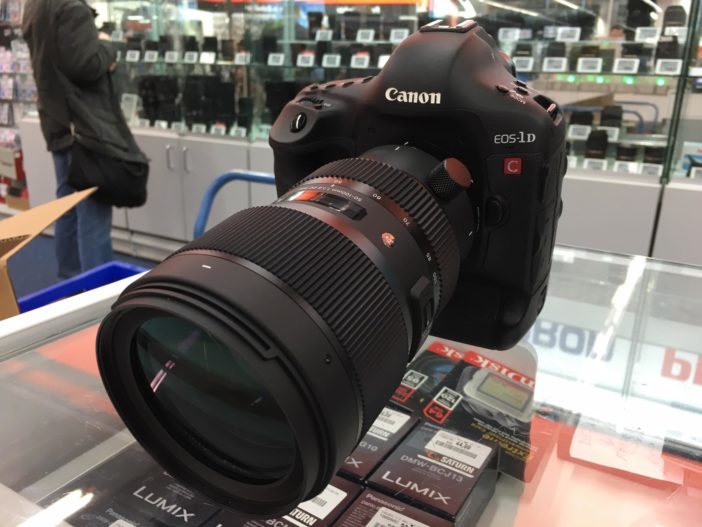 Another Sigma product is worth mentioning at this point if we're talking about innovation.
The Sigma DP3 with Foveon sensor. I am using this as a reference point for colour in my LUT creation and for 8K timelapse. In my opinion, the bright light stills quality of this camera beats every bayer sensor on the market, including the A7R II. The colour reproduction of the new Foveon sensor makes Fujifilm's admired film simulation modes look fake by comparison. Needless to say it isn't a 'do everything' camera. It has a creatively narrow operating window which forces you to STOP AND THINK rather than go trigger happy and hope for the best. I have plenty of cameras that are fast, that can do high ISOs, that are good at video – whatever. This is different. It's the most film like organic image I've ever seen from any digital format and I have no idea why all the internet is not raving about it. You can check out my review of the DP3 and DP0 soon on EOSHD.
The last wide angle prime I'll ever buy?
The biggest threat to Sigma with the 20mm F1.4 is the 20mm F1.4 itself, because it will be really hard for them ever to sell another fast wide angle prime after it.
It is utterly tack sharp wide open at F1.4 with minimal distortion.
   
AF is very fast on the pro 1D C body.
Maybe in 10 years when everything is mirrorless they will have another crack and put some new-fangled AF motor in it and video-optimised OIS, but I get the feeling that this is a classic long-term optical formula which will still be in use 40 years from now.
The 20mm F1.4 is so versatile it is hard to see how anybody can come up with a new 24mm or 28mm which appeals to me more.
On my Canon 1D C in APS-H 4K mode the Sigma 20mm F1.4 gives a 26mm equiv. field of view. On a Super 35mm camera like the Sony FS5 it is either full frame with Speed Booster or 30mm without, so still wide. Even on the Blackmagic Micro Cinema Camera with the BMPCC Metabones Speed Booster (reducing a 3x crop Super 16mm sensor to 1.74x crop) it is a 35mm equiv. wide angle. A 24mm or 28mm simply would not be this versatile as a wide lens on so many different formats. My Zeiss 28mm F2.0 for example is probably going to get sold now, even though it's one of my favourite wides. On Super 35mm this turns into a 42mm and on Micro Four Thirds it's more like a 50mm portrait lens. Kind-of defies the point of a wide angle lens doesn't it?
As a final note, I am really happy that Sigma continue to be run for the benefit of their customers rather than for the delight of shareholders. The company isn't publicly listed so they don't have to compromise on a vision to maintain their stock price. Makes a big difference I think. All that money Sigma earned with the affordable pre-ART series lenses appears to have been invested in some absolutely incredible manufacturing and design technology.
I think Sigma will go on to be a real giant in the photography industry.
Pros
Superb image quality
Extremely sharp wide open
Minimal distortion
Very high contrast
Crisp bokeh
Medium format style look to wide angle shots
Affordable given the performance
Future proof, a classic optical design which will last decades
Extremely fast and reliable AF
Very good build quality
EF version adapts to Sony and Micro Four Thirds bodies
Cons
Very large front element prevents use of screw-on ND filters (no filter thread as hood is built-in)