Samsung have just released a photo showing new prototype cameras.
Last year I reviewed Samsung's NX10, shooting the video above and found it to be a good stills camera with a good sensor. It has a few quirks though and the movie mode was terrible, with severe moire issues, a lack of manual control and a rather stupid implementation of its auto mode which had me shooting at 1/400 with an unnecessarily high ISO level indoors! But the stills side was pretty good and so was the build, screen, and overall design.
Well Samsung are once again showing promise, and are being surprisingly open about what they're working on. There is a 2011 roadmap out (more on that in a minute) and Samsung just posted an interview on their official site which Digital Rev's blog picked up on here.
The most interesting part of the article is a picture showing a number of Samsung prototype cameras.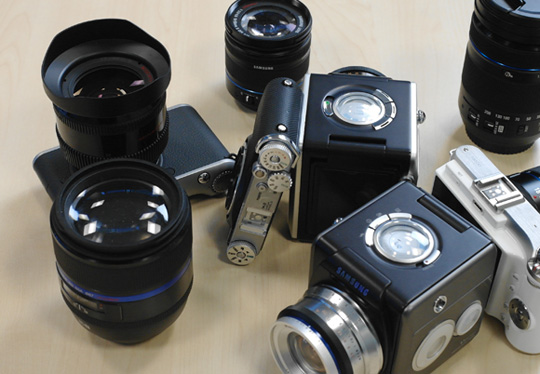 There is a Leica / Fuji X100 inspired body, and a second similar one which is thinner and has few manual controls on the top plate – but is equally as attractive.
There's a Sony FS100 / Hasselblad style camera with a blue Samsung logo clearly visible. It has a Samsung lens on the front like the other prototypes, but judging by the size of the lens mount and non-NX lens design stylings it really does look like a mirrorless medium format camera of some kind.
According to a roadmap posted at DPReview.com here. Samsung recently told us they are also working on both a video optimised lens and a high end GH2 competitor 'NX+' product.
The lens on the left is the soon to be released Samsung 85mm F1.4 and on the far right looks to be the new video optimised lens, similar to Panasonic's 14-140mm. The roadmap has that as a 'movie optimised 16-80mm' and a 'movie pro 18-200mm'.
The camera in white is probably that GH2 competitor and looks to be the most developed of the prototype cameras. It looks like a beefed up NX100, with more manual control and better build.
Whether this image is an intentional posting or an unintentional leak isn't yet clear and the interview itself is rather dry and sheds no light on what exactly is in the photo!
Some shots from the roadmap now…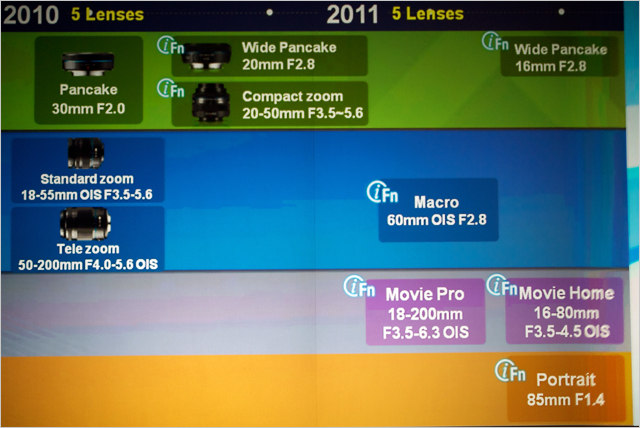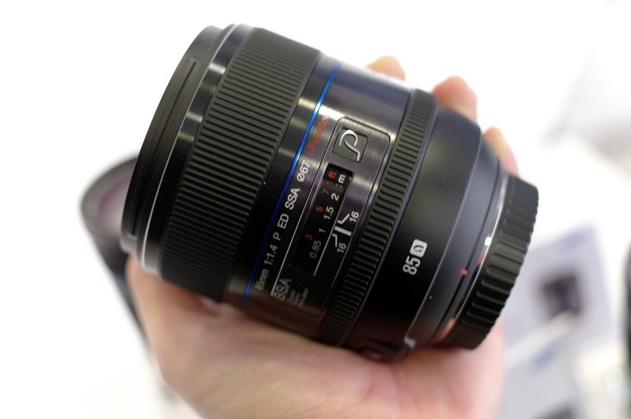 Samsung hold great promise, they don't have the conservatism and heritage that Nikon and Canon have, and they have the broad range of A/V expertise to take on even Panasonic and Sony. They make their own sensors, they own screens, even their own microprocessors and memory chips.
The roadmap shows the NX line going up to a future as yet unannounced pro product. Let's hope it is as good as it could be knowing Samsung's manufacturing capabilities.