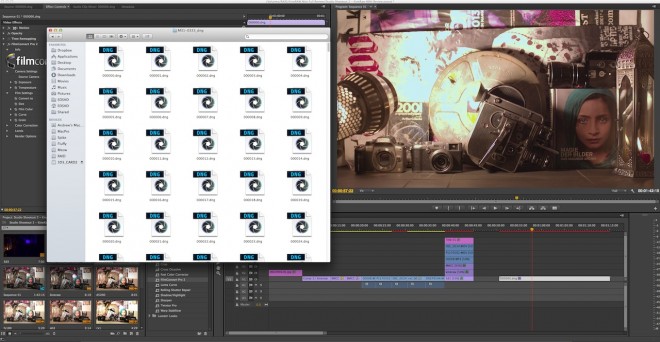 Adobe have the best debayer for raw around. I still convert my 5D Mark III and Blackmagic Cinema Camera raw files from DNG to an editable format in Adobe After Effects because the end result looks better than DaVinci Resolve.
Well as of today with Premiere CC update 12.1 Cinema DNG raw video is an editable format, directly in Premiere – dramatically speeding up the workflow for video shot with Magic Lantern on Canon DSLRs and the Blackmagic cameras.
Good news
First the good news – GPU acceleration has been enhanced with the update and is used to edit Cinema DNG. Playback and editing is really fluid, and this is with the raster set to 'Full' resolution on the timeline.
I have done a test edit of 2.5K Cinema DNG raw in Premiere CC on a modest Mountain Lion system.
Key to that modest system is a $150 NVidia GeForce GTX 560 Ti – and it's buttery smooth. You do however need to edit off a RAID array of 3 hard drives to keep up with the data rates and large files sizes (similarly with Resolve) but again we're talking standard 2TB HDDs not expensive SSDs. (For the best reliability with paid work, it is recommended you buy slightly more expensive NAS performance HDDs).
More headline features of the 12.1 update –
Sony RAW and Phantom CINE native file support
Improved MJPEG support for Canon 1D C
Improved Sony XAVC and Panasonic AVC Ultra long GOP codec support
XAVC export up to 4K
64 bit ProRes decoding (Mac OS X Mountain Lion 10.8 or higher only)
GPU debayering for Cinema DNG
For the highest resolution, RED Dragon 6K is also natively supported, with full RED color science built in.
If a high-powered system isn't available, improved capabilities for relinking from proxy media back to full resolution, combined with brand new editable sequence settings
Bad news
Now the bad news… Clearly third party app developers and Adobe need to refine Cinema DNG support especially on the Canon side.
5D Mark III raw footage converted to Cinema DNG in Raw Magic shows up with a very heavy pink bias to the blacks and is unusable.
Interestingly standard DNG sequences (the non-Cinema stills variety) do import so great to see both stills and cinema type DNG sequences supported. These standard DNG sequences generated using Magic Lantern's own Raw2DNG app work better, without the pink cast. However it seems debatable whether these are imported at the full 14bits or if they are being graded at 8bit – because the quality doesn't look as good as in Adobe Camera Raw for stills. Lots of stair stepping (even when played back at full resolution), funky colour, crushed blacks and white balance won't go cool without green or blue highlights. Adobe need to clarify exactly how they handle Cinema DNG.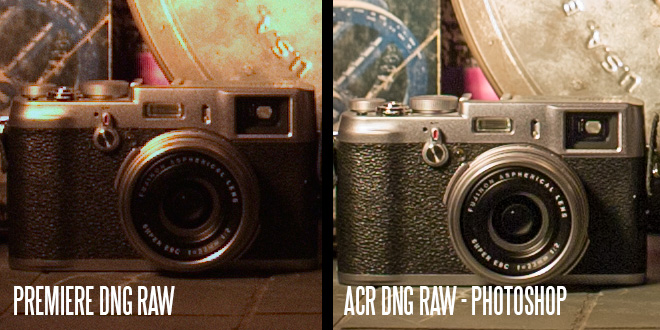 Click the image below to see the full 1080p frame exported directly from the 5D Mark III DNG sequence in Premiere CC –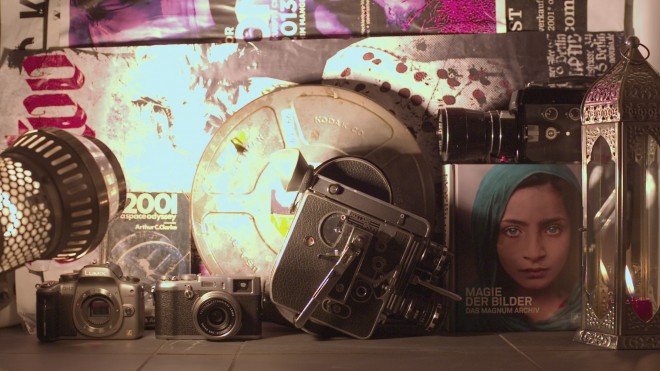 In the highlights you can really see how blue-green seem to clip later than the red channel causing that colour shift. Green-ish tint when a warm white balance is applied, blueish green when cool.
Usability has issues too. You have to drag the first frame of the DNG sequence into Premiere. If you drag the whole folder it will import every DNG frame as a separate clip rather than a sequence and the import will freeze Premiere for ages. That is really silly on Adobe's behalf and I hope they address it quickly, because at the moment you have to enter each clip folder individually and import a frame. If you have a lot of material this is a laborious and tedious procedure.
Also double clicking a standard DNG sequence in the project viewer does not display it in the source window. You have to drag it instead. I remember the Ginger plugin having a similar issue and that was fixed quickly so Adobe with their resources should have done the same BEFORE releasing it to the public. We are not beta testers in this case, but paying customers.
Audio from the WAV file worked from my Blackmagic Cinema Camera clip. But other files in the Cinema DNG clip folders of my KineRaw MINI footage were not handled correctly such as LUTs. What exact parts of the Cinema DNG does work in Premiere and what doesn't? It's a mystery.
The other thing which is needed are direct controls on the raw metadata like ISO, white balance (K), etc. Hopefully these will be added via a Cinema DNG raw metadata effect filter by Adobe. Film Convert Pro has a colour temperature control in kelvin but it did not work in the same way Adobe Camera Raw's does in Photoshop with the 5D Mark III DNG raw. It never achieves white – giving a blue-green cast to highlights even at 4000k. This isn't a Film Convert problem, more an Adobe one.
So a very shaky start for Cinema DNG in terms of usability and image quality, but a promising one in terms of playback performance and GPU acceleration.
Overall it must be said this is a great step for Cinema DNG and 5D Mark III raw, having assumed support of it by Adobe was dead.
It is sure to be the start of a rapid upward curve in terms of how easy and convenient it is to edit powerful raw video in its pure, undiluted form.
Right now though – I'm sticking to Resolve and After Effects.