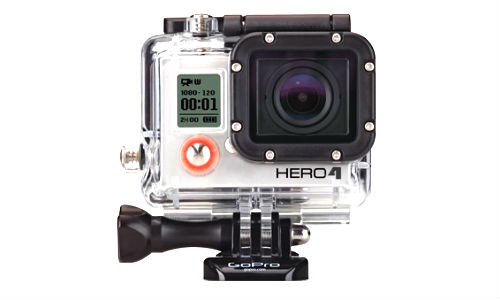 Here's a rumour of the latest GoPro specs. Source is not known to me so take it with a pinch of salt until it goes official!
The GoPro 4 is expected to shoot 4K and sure enough judging from this rumour it will, at up to 30fps. But perhaps of more use to GoPro users will be higher quality 1080p at 120fps for slow-mo and 720p at 240fps.
The following is from the supposably leaked press release:
GoPro Hero 4 is really capable of recording video in 4K resolution at a speed of 30 frames per second, 1080p at 120fps and 720p at 240fps, which became possible with the advent of the new SoC Ambarella A9 chip (dual A9 ARM Core ® CortexTM-A9 processor 1 GHz and FPU acceleration ) for advanced applications, wireless connection, and streaming video in social media.
GoPro Hero 4 will also come with a 13-megapixel photosensor and a completely new lens for shooting in dark. Multi-Exposure and HDR WDR tone mapping, electronic image stabilization, also improved MCTF. Dual sensor interfaces 12-lane SLVDS/HiSPiTM/subLVDS, 4-lane, remote viewfinder playback which is extremely easy to use. You shouldn't to have special technical knowledge or skills to do it. GoPro Hero cameras are amazing because they have a waterproof housing with a flat lens for shooting under water (up to 60m). Built-in Wi-Fi module, USB & HDMI – the only thing that brings it closer to homeliness. The camera has the ability to capture still images during video recording and perform encoding H.264/ BP / MP / HP Level 5.1 and MJPEG.
GoPro Hero 4 will hit shelves in the summer of 2014. Action Cameras of GoPro have become extremely popular as an excellent way to capture high-quality video at high speeds relative to the price that usually is $340.