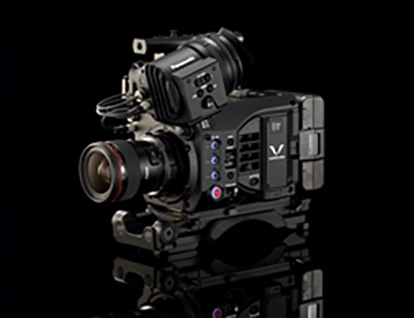 Panasonic now provide a smaller version of the VariCam S35 which is aimed squarely at the high end cinema market. The VariCam LT is Panasonic's answer to the Alexa Mini and also competes with the Canon C300 Mark II and Sony F55 although at $18k for the body-only is a world away from the Sony FS7 pricing when it comes to the wider pro market for b-cameras and drones.
The VariCam LT looks to be a lovely Super 35mm 4K ProRes body for renting. Fantastic colour science, fantastic 14+ stop dynamic range with V-LOG and great codec. I like Panasonic's professional cinema cameras. Sadly the VariCam line has not yet made the big splash in terms of attention that the RED cameras routinely enjoy. Very few big names use them and compared to Arri (a name synonymous with cinema) the Panasonic name is more associated with broadcast and video.
So the VariCam LT certainly has a few obstacles to overcome but I wish the cute camera well. And it certainly is cute.
If only Panasonic could have stripped it down even further and competed head on with the FS7 in the wider market under $10k.
The camera has an optional OLED EVF with optical zoom viewfinder piece, a nice touch.
The camera can record low res proxies to SD card for easier editing of 4K, though most machines can handle 4K ProRes these days.
The EF mount is swappable and a PL mount can be fitted to the camera instead.
Here's what Panasonic have to say about the new camera –
"14+ stops of dynamic range with V-Log, and the esteemed cinematic VariCam image quality and color science, as well as the VariCam 35's breakout innovation, dual native ISOs of 800/5000.

"Weighing just under six pounds and having superior capability to similar sized cameras, the VariCam LT will be the ideal camera for handheld, SteadiCam, jib, crane, drone, gimbal and overall cinema verité work. The VariCam LT is likewise tailor-made for owner/operators, independent filmmakers, documentary makers and corporate production creators.

"The VariCam LT delivers superb image handling in multiple formats ranging from 4K, UHD, 2K and HD, and like the VariCam 35, is fully capable of High Dynamic Range (HDR) field capture. The new 4K camcorder offers Apple ProRes 4444 (up to 30p) and ProRes 422 HQ (up to 60p) support for HD recording, as well as Panasonic's AVC-ULTRA family of advanced video codecs.

"New codecs introduced in the VariCam LT include AVC-Intra LT and AVC-Intra 2K-LT, both designed to offer capture rates up to 240fps in imager crop mode, ideal for sports and other fast motion footage.

"Powerful color management capabilities combined with VariCam's extended color gamut and support for the Academy Color Encoding System (ACES) workflow allow for full fidelity mastering of original source material. The VariCam LT offers in-camera color grading, with the ability to record an ungraded 4K master along with all on-set grading metadata. A new color processing feature is 'V-LOOK,' which acts as a blend of V-Log and video, and allows filmic documentary acquisition without the same need for intense color grading."