WATCH: Panasonic S1 V-LOG Upgrade Test Reel – 10bit 4K 422

This is a Grade A cinema camera image.
Regarding the Panasonic S1 with V-LOG upgrade, it's as if somebody flicked a switch named "BANDWIDTH" and suddenly a fuller, porkier spectrum of light comes flooding in through the window and onto the card, with just about all the dynamic range, fine detail and colour that you could ever need. It's a Blackmagic ProRes style image but from a much larger sensor than the Pocket 4K offers.
It is also the first mirrorless camera, full frame or crop, that has a 10bit 4:2:2 image that plays in the big league with professional cinema cameras.
Other consumer or prosumer priced cameras have got close, but there's no stripped back 10bit 4:2:0 here, there's no 'lite' LOG profile or TV-based BT.2020 gamut. This is full V-LOG with the full cine V-Gamut space. It's the real deal, a Hollywood specification image. This is not a consumer codec, in the way that Sony's XAVC-S 8bit is… it's a filmmaker's one.
The only substantial difference to 10bit ProRes is that it's a more efficient compression method, so the file sizes are smaller. It's Long GOP. It'll be interesting to compare the motion cadence with an ALL-I codec. Typically, I don't notice a lot of difference. Don't let the 150Mbit fool you versus the much higher bitrates available on the Pocket 4K camera in ProRes. An ALL-I codec like ProRes in 4K needs at least 400-500Mbit to maintain the image quality per frame. Long GOP needs around 150Mbit for the same quality. Any higher, and you just get a larger file with no extra image quality.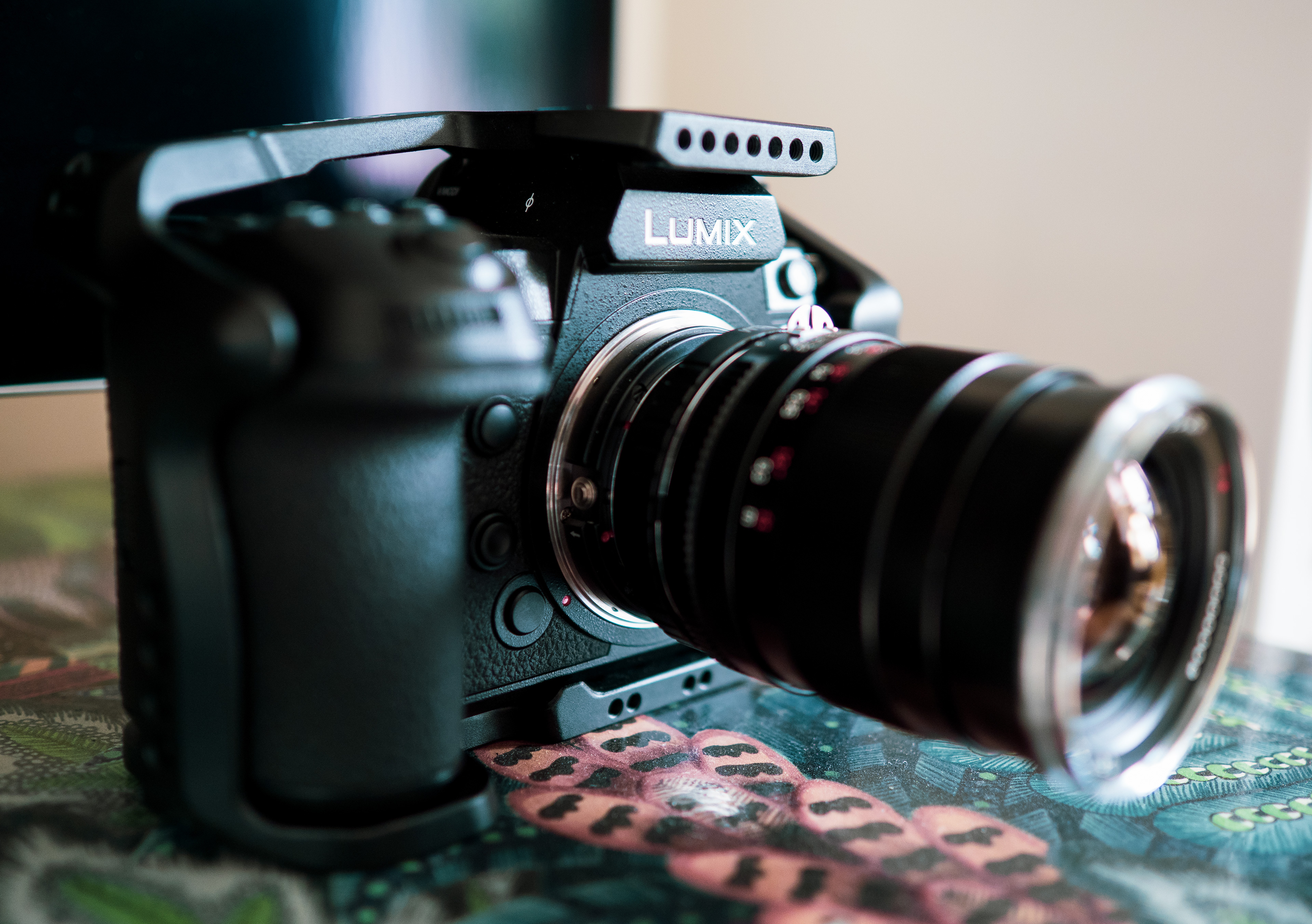 Modern H.264 encoders are incredibly good. The hardware gets better with time, and not just in-camera. For instance in the DaVinci Resolve, you can now export 4K at a very low bitrate like 10Mbit (yes TEN!) for YouTube and it looks astonishingly good compared to when the technology was new.
An image of this calibre deserves a cinema workflow…. I recommend Davinci Resolve ACES and Panasonic's tutorial here. For now, I used a simple built in Panasonic LUT to convert the footage. I am currently researching afresh the topic of V-LOG LUTs and will be talking more about that on the blog in coming weeks.
In the EVA1 white paper we're reminded the colour gamut exceeds even the Rec.2020 standard and it's the same here.
Building on the film colour science of the Varicam, we have here a camera for skin tones which levels-up on Canon's extremely well respected film-like colour science.
The bitrate of 150Mbit is the same as the 4K 10bit of the EVA1 with V-LOG.
The only downside to this codec is the inevitable compatibility issues because of Apple, Microsoft and various app developers. Panasonic need to get better at talking to them. There are no thumbnail previews in Mac OS. There are gamma and skin tone shifts between players. In addition some pro users like Daniel Peters have experienced macro blocking and banding when transcoding the H.264 to ProRes using EditReady on a Mac. It remains to be seen how this plays out. I've had fewer issues on my system, and Resolve handles the files well but clearly there is work to be done in this area… Especially at Apple.
The minimum ISO is 640, and any lower is an extension. I recommend stronger than average NDs. Most variable NDs will not be enough in very bright sun if you're aiming for fast apertures (faster than F2.8) and 180 degree shutter. Still, the minimum ISO is lower than it is with S-LOG.
Low light performance is superb. On a well exposed image at ISO 12,800, there's only a hint of fine noise. When you apply a normal gamma curve to V-LOG, the noise in the blacks pretty much disappears. ISO 3200 is fine, but less noise reduction is applied by default, compared to the Sony A7 III with S-LOG. The shadows in V-LOG are definitely not designed to be raised any further than they are already. They are designed to be pushed down.
Underexposed shots can be rescued without much degradation in quality and there's a real smoothness to the image. In 8bit there's that clipped feel to the highlights, a sudden roll off. It doesn't happen with the S1 in 10bit V-LOG.
I also like the lack of over-processing, the low micro-contrast and high detail – without hard edges.
To benefit from the new 10bit 4:2:2 internal 4K codec, you don't even have to shoot V-LOG. The full range of Picture Styles are available to use in 10bit, including Like 709, Cinelike D and the new Flat profile, as well as the usual Standard, Natural, etc. all with their fine tuning controls over contrast, sharpness, saturation and hue.
All in all, this is an extremely generous feature for a prosumer camera. It is something Sony have taken ages to deliver and in the end still not done so. Panasonic is again raising the bar first of all the manufacturers, when it comes to video quality in the mirrorless and DSLR world.
In the next article I'll look at the other extended features of the V-LOG upgrade… Such as in-camera LUT support and more.