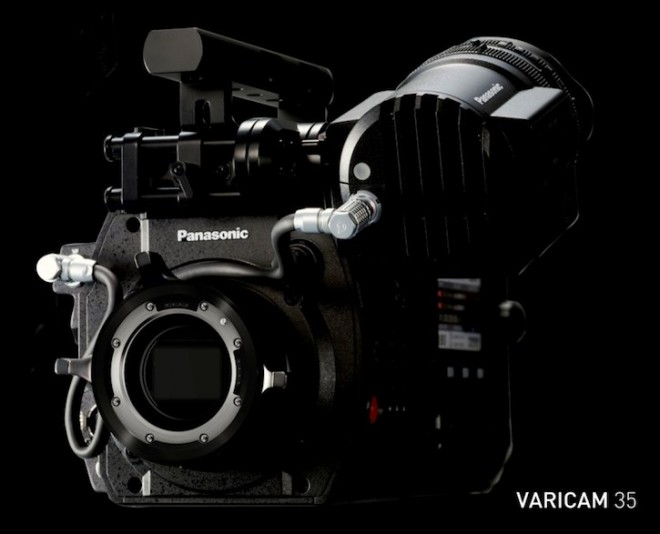 Aimed at the broadcast market but just as well equipped for high end cinema, the VariCam 35's secret weapon is an efficient codec developed afresh – AVC Ultra 444 – and an industry standard Super 35mm sensor with PL mount.
Panasonic were a bit early with the AF100 and it was quickly overtaken as Sony and Canon debuted their cameras on the market later. This time Panasonic have bided their time and put down a much stronger marker. It's not an AF100 replacement, it's far more high end and I'm expecting Panasonic to aim this squarely at the kind of work the Sony F55 and Canon C500 are used for. If the image is as good as the specs imply it will be a credible Alexa rival as well, certainly in the TV industry.
I am currently shooting with a Blackmagic Production Camera. Oh how I wish it had a PL mount and a more efficient codec like AVC Ultra. For the price it's an absolute bargain and it's not realistic to expect these features for £1925 + VAT, but if Blackmagic ever made a higher end version with the same Super 35mm sensor and global shutter, those two features would be absolutely top of my list of priorities. File sizes with 4K are enormous if you have a codec which records at 880Mbit/s as on the Blackmagic Production Camera just to maintain quality. The VariCam doesn't have to do that, it can record at a more sensible 240Mbit/s and still maintain quality, in 10bit 4:4:4.
A PL mount to EF adapter severely limits what PL lenses fit but that hasn't stopped the Canon C300 from being such a popular rental option for pros. Compared to most PL mount cameras it's a lot cheaper and everyone has the glass. I didn't appreciate the benefits of PL mount until relatively recently when I had the good fortune of coming across some used Cooke S4 Mini (Panchro/i) cinema lenses, and believe me once you go Cooke, you want all your other lenses to walk the plank. The PL mount on the VariCam is a statement of intent. It's a high end product, likely with the price to match unfortunately.
The VariCam is made of a camera head and a processing / recording unit. These can be as integrated as if using one piece, or they can be separated and linked together via a cable so you can position the recording unit anywhere on your rig. Unfortunately the recording media is Panasonic's proprietary P2 and no other option is available. This media is widely admired in the broadcast industry for performance and reliability but it's yet another sign of the very high positioning of this model and likely expense of using one.
The form factor is really small, especially when you consider the camera head is only half the overall unit size.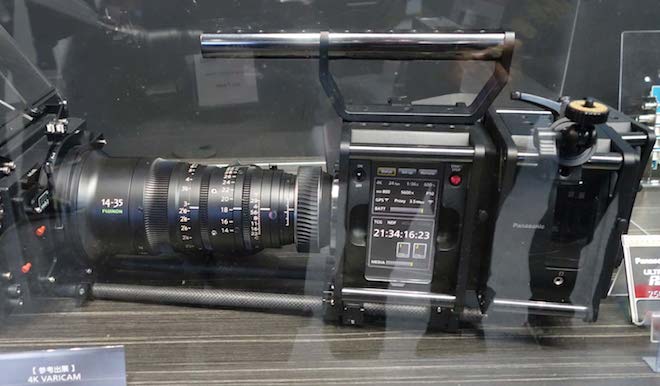 In terms of brute imaging power we have 4K AVC Ultra, 4K raw (likely output via 6G-SDI), 120fps slow-mo, 14+ stops dynamic range (according to Panasonic) and Super 35mm size sensor. Panasonic dub this a 'MOS' sensor rather than CMOS and Panasonic have a track record of using NMOS technology which gives colour like a CCD chip but with the speed and low light abilities of a CMOS. So due to it being referred to as 'MOS' it's highly unlikely Panasonic are simply reusing a sensor from Sony or an other manufacturer and that it's an original newly developed part. No mention of global shutter though!
Rounding out the spec is an OLED viewfinder, another camera head with a smaller 2/3″ sensor for ENG work and for use with ENG broadcast lenses and the ability to record proxy files simultaneously for faster editing turn-arounds. The proxies will be especially useful if trying to edit 4K footage on-location with only a laptop at your disposal. News crews will love it. By comparison my first 45 minutes of footage shot on the Blackmagic Production Camera in 4K took up 256GB of drive space and the Canon 1D C isn't much better.
I really think this is a camera that will make Canon and Sony sit up and take notice. I like the direction Panasonic are taking lately. First with reversing their losses, then with the pro-orientated GH4 and now with the impressive VariCam spec. However I'll be reserving judgement until we see what Canon and Sony have up their sleeves for 2014 and NAB. Panasonic are once again in the unenviable position of being the first to lay their cards on the table.