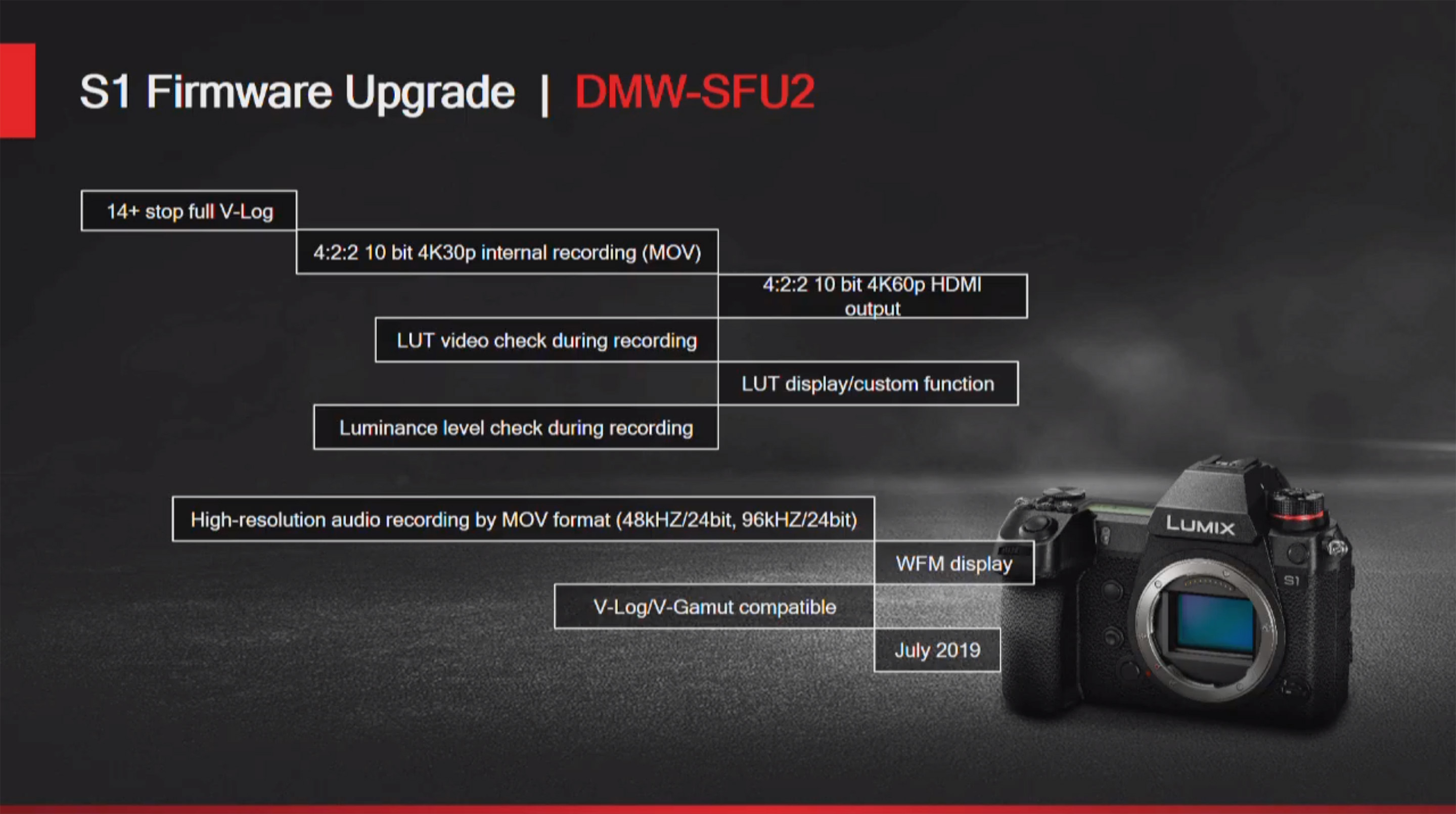 Panasonic have unveiled the S1 Filmmaker Update pack at the launch of the big brother camera, the S1H. The good news for S1 users is that it's better than anybody expected. An extremely generous array of upgrades as well as V-LOG, for just $199.
The slide above shows just how extensive this is. I had expected V-LOG and a higher bitrate in 10bit, but to get LUT functions, high resolution audio codec support and waveform monitoring is superb.
According to B&H the upgrade key will be released in July for $199.99, in a similar way the GH5 key was handled.

What isn't yet known is the bitrate for the 10bit 4:2:2 recording internally and oddly enough it doesn't mention whether this is H.264 or H.265. I don't yet have any information on whether the upgraded codec offers ALL-I as well as LONG GOP recording but will update this post when I find out.
The V-LOG upgrade is the full VariCam format gamma curve and wide colour gamut "V-Gamut".
Of course the 10bit 4:2:2 is full frame, at 24p, 25p and 30p. 4K/60p is offered in 10bit via HDMI. It'll remain 8bit in-camera.
The anamorphic mode remains the preserve of the S1H, which arrives on shelves in October/November… This allows 6K recording in 3:2 for anamorphic lens users (6000×4000), and a 5.9K mode with a small 1.1x crop. The S1 also records in 3:2 / 4:3 at 5.9K but only at 30p, as it's meant as burst mode for photographers.
With the S1 already coming so close to the spec of the S1H for just $2700 including the fancy codec upgrade, I'd say it's the bargain of 2019.