The strange saga of 4K on the Olympus E-M1 continues!
Both myself and 43Rumors have independently received proof the 4K firmware update actually exists, despite other sources claiming it doesn't.
Initially claims of 4K and 240fps on the E-M1 just seemed too outlandish to give any credit to. How can you take a camera that does relatively poor 1080/30p to a very basic low bit rate codec with hardly any options and add 4K along with 240fps at low resolutions?
For a few months now 43Rumors have been reporting that a major video firmware update is coming, only for this to be debunked by their most trusted sources.
I even ran an article with the technical reasons I saw as making the whole thing impossible.
Recently I emailed directly the source of the previous rumours and received a very genuine and sensible reply. Now today, 43rumors has seen photographic proof the firmware update exists.
The source is a professional in the film industry, not a direct participator in the beta-test programme. You may remember that when Canon tested firmware updates (such as 24p) on the 5D Mark II they had the camera on the set of Iron Man 2. Camera companies do test major video firmware functionality high up in the film industry, because they can. They are getting a professional testing environment and the best advice from high up. What makes me believe this 4K E-M1 rumour more and more is that our source previously worked as an assistant on Iron Man 2. He claims to know the person who has tested this new firmware for Olympus. This is not some entirely anonymous 'bedroom source' making stuff up. This is a fully paid up member of the professional filmmaking community who actually has links and friendships, essentially someone who is actually likely to be a conduit for privileged information. Now whether he should really he be sharing gossip of it with rumours sites and even on Twitter I don't know, but at no times has he revealed the main source or the identity of the actual beta testers and Olympus engineers.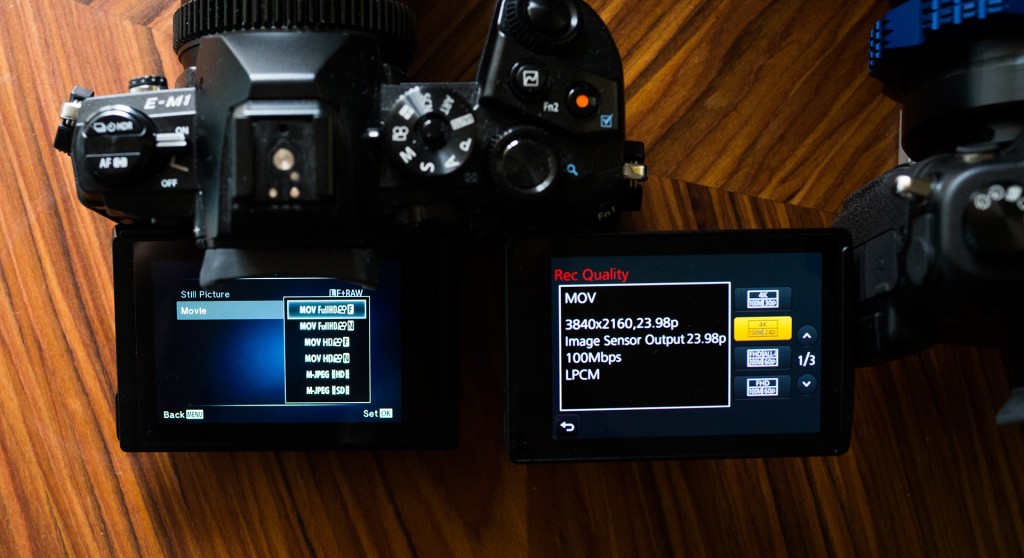 Obviously Olympus themselves can't say anything until the official release and until that official release happens, they can veto it for any reason be it technical or marketing based.
The source also says Olympus want to make cine lenses. Whether these will be the full-monty – PL mount and Super 35mm or merely revised Olympus Micro Four Thirds optics with focus gears remains to be seen.
Now for any of this to be possible it means the E-M1 is essentially based on the core innards of the GH4 supplied by their partner in the Micro Four Thirds format, Panasonic. The same sensor and image processing hardware, but adapted to a different chassis with different firmware and mechanical design along with the fantastic stabilisation system the E-M1 is famed for. Despite the GH4 only going up to 60p in 1080p and then at reduced detail for 96fps, Panasonic's own whitepaper for the GH4's sensor claims it can go up to 240fps with heavy line-skipping, so that backs-up the claims of our source for 240fps slow-mo in the Olympus firmware update too. Initially I thought the sensor went to 120fps but the extra mode is actually in there. Whether it will be any good or not remains to be seen! But since even the iPhone can now shoot 240fps at reduced quality, it's not completely beyond the sensor technology we have in 2014 like it would have been a few years ago.
A complicating factor in the mix here is Panasonic.
For the sensor supply and other electronic parts there must exist a contract or agreement between the two companies and it isn't known what stipulations Panasonic have in it. Presumably it would make sense for Panasonic to gain as much video market share with the GH4 as possible, over a worthy competitor such as the E-M1 and that may explain why the GH4 had a headstart with 4K, with the same hardware features disabled on the E-M1. It would have also have given Olympus time to do market research to see if it was worth the extra R&D costs and associated effort to enable 4K in their firmware. Or maybe it just wasn't ready for launch. Either way it seems we are now going to get it.
According to 43rumors the 14/15th September will be the launch date of the firmware, which happens to coincide both with the start of Photokina 2014 in Germany and the launch of the silver E-M1.