[vimeo]http://vimeo.com/71179151[/vimeo]
It's been a busy weekend in the DSLR community, so here's a round-up of a bunch of the more significant news. The Canon 70D is to be released in August and represents the first proper revamp of the Canon APS-C line since 2009's Canon 7D. Canon make grand claims over the new video and live-view optimised AF system but is the new sensor able to deliver the goods when it comes to image quality?
According to BBC freelance cameraman Johnnie Behiri the Canon 70D's video images are "extremely soft, a bit noisy and moire & aliasing are everywhere".
"My expectations were high, after all it is Canon's first APS-C sensor VDSLR camera equipped with the new DIGIC 5+ engine [same as 5D Mark III]. At present time there is not much to rave about the video quality coming out of that [beta] sample 70D camera."
Source: Cinema5D / Johnnie Behiri on Vimeo
Canon DSLR sales drop
New financial results reported at CanonRumors see a 19% drop in digital cameras sales worldwide in the second quarter of 2013, compared to the same period last year. Usually healthy demand for interchangeable-lens cameras fell 4%. Despite the drop in customer appetite for Canon's products, profits rose due to wider margins / cost cutting.
Canon still have not made a statement or offered any support to their saviour in the DSLR video enthusiast market, Magic Lantern. It is as if Canon have zero will to improve video on their consumer cameras, their core business.
New Hasselblad products "have no merit"
Meanwhile there are strong views on what many see as another profit-before-customer scheme by Hasselblad at Luminous Landscapes by Michael Reichmann.
"I maintain that the Hasselblad Lunar has no merit whatsoever at its almost $7,000 price point. The Lunar offers some $6,000 worth of glitz… none of its ornamentation can be said to increase or enhance functionality. One can only hope that the company's current management come to their senses before becoming the laughing stock of the whole industry and rendering this once great brand scorned irrelevant."
Michael reveals that he originally declined to publish the article after jotting it down but the release of the most cynical product in the Hasselblad range yet, a rebadged Sony RX100 dubbed 'Stella' retailing for nearly $2000 forced his hand… I for one don't blame him.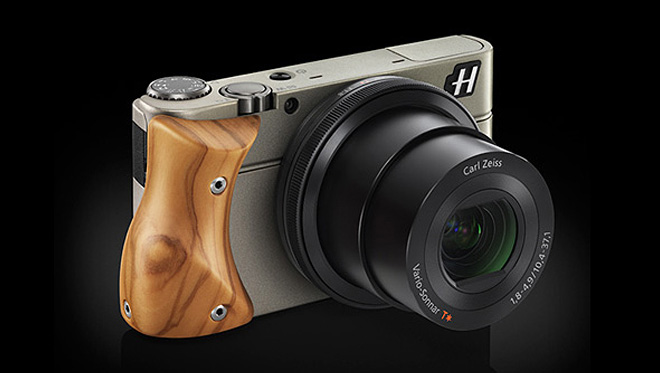 Above: old $500 Sony camera with $1500 piece of wood.
MoVI performance equalled for cheaper
Onto some better news now.
Perspective Aerials, the company behind some of Andrew Wonder's aerial work and the first to lift the 4K 1D C as featured on EOSHD here, have built a MoVI competitor. However, unlike a lot of the cheaper imitations which have sprung up in the last few months, they claim it matches the MoVI's performance blow for blow.
Units will at first be available only to rent but at a much lower day rate than the MoVI. They are targeting a $250 day rate and for the added production value the rig adds I'd say that was worth it even for low budget shooters.
Check out the rig in action below…
[vimeo]http://vimeo.com/71064821[/vimeo]
Pro A/V clearance at CVP
London dealer CVP are running a clearance of mostly ex-demo professional video gear. They have a Canon C100 for £3250 + VAT and £2000 off a Sony FS700, aside from cameras there's also a bunch of accessories such as stabilisers and monitors so check it out to see if there's anything that may suit you.