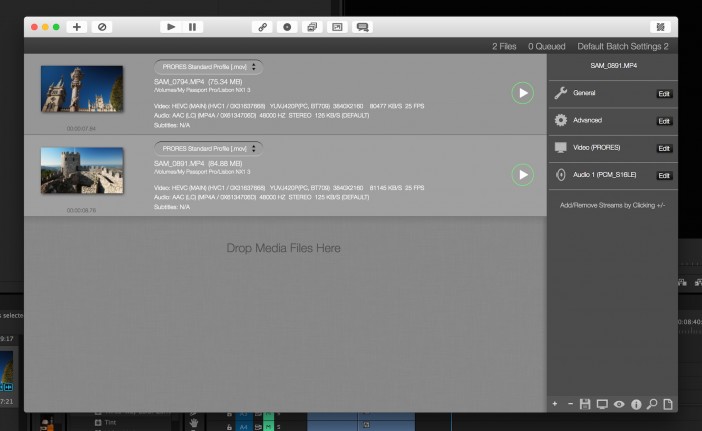 Samsung NX1 user? I strongly recommend you try this.
One thing the Samsung NX1 shares in common with the much more expensive Canon 1D C is that both produce files which are tricky (or impossible) to edit natively on most current hardware and software. The 1D C's MJPEG is sluggish to edit on anything less than a powerhouse of a machine and the H.265 from the NX1 also needs transcoding to ProRes 4K which is editable even on a reasonably specced Macbook Pro.
iFFMPEG replaces Wondershare Video Converter as my tool of choice for this.
iFFMPEG is a Mac graphics user interface (GUI) for the FFMPEG engine underpinning so much video software, like VLC Player. It provides a huge level of advanced settings but also makes it simply to do the basics, and it's incredibly fast too. I'm getting a great image from it in double quick time. The image is not too flat and not too crushed. It does not crush the blacks on default settings like Wondershare does.
Highly recommended for all NX1 users you can get it here.
This is a Mac only tool but Windows users get their own exclusive. There's now a media player for PCs that supposably can playback the H.265 files fluidly where VLC Player fails. So if you can't yet edit the H.265 at least you can enjoy watching them straight off the card.
I will also be using iFFMPEG to convert my 1D C MJPEG 4K files to ProRes LT. That will save space, likely without degrading image quality and make the files smoother to edit on my 2013 iMac & Macbook Pro Retina. To edit the MJPEG 4K files natively you really need a Mac Pro and a very fast RAID array of SSDs so this app is going to get a lot of use. A bargain for 17 euros.
Thanks for the tip off, GMaximus on the EOSHD forum