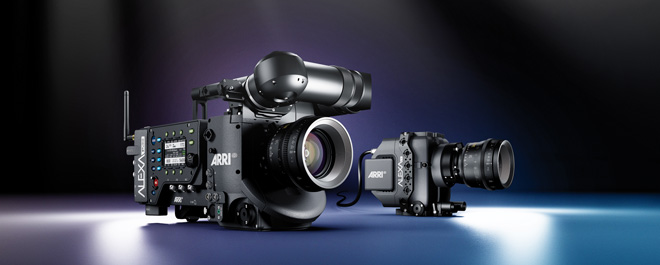 Interview with James Cameron at IBC 2011 – "Sterographers and 3D convergence pullers are history"
It's interesting that at the highest level of digital cinema hardware two DSLR video trends have become the cornerstone of the new Arri Alexa designs.
Downsizing and anamorphic.
The first, Alexa M is an attempt to get the part of the camera immediately around the sensor and lens mount as small as possible, so it can fit into tighter spaces and be used in 3D rigs. James Cameron recently took delivery of the prototypes and have been closely involved in its development.

The M stands for modular and the image processing unit is connected to the head of the camera via cabling. It is like an Alexa chopped in half.
"We love 3D. We sell two of everything" jokes Arri's product manager Marc Shipman-Mueller recently. Which I suspect rather summarises what 3D is all about doesn't it?
The second, the Alexa Studio is much more my bag – wow – exceptional. It is the version of the Alexa with the big motion picture studio trimmings. Arri have finally brought two staples of 35mm Hollywood production back into the digital world. Anamorphic lenses and an optical viewfinder. Great!!
No 3D crap here. The camera has a 4:3 Super35 sensor, meaning that 2x anamorphic lenses can be used to produce Cinemascope. The sensor is Super35 sized but taller than most digital sensors.
As we know from our DSLRs, a 2x anamorphic is designed for 35mm film not the wider 16:9 of modern HD video. Although in my opinion 3.55:1 looks pretty cool, cinema productions have standards to adhere to and 2.39:1 or 2.66:1 are the more common widescreen aspect ratios of cinema.
The GH2 can do 4:3 with an anamorphic thanks to Vitaliy's hack. (The original Alexa will be getting a firmware upgrade to enable a 1.3x or 2x anamorphic de-squeeze, as it happens).
Like the recently announced Sony F65 the Alexa Studio has a rotary shutter to illuminate the artefacts of a stand-alone electronic rolling shutter.
Both the Alexa M and Studio are currently on display at the IBC show in Amsterdam.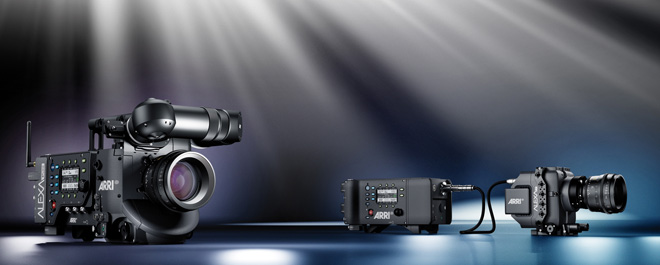 Meanwhile – RAW video becoming more affordable
The Easylook Modular Baby MkII does 10bit 2k 4:4:4 RAW with 1080/60p and a global shutter. Incredible specs. The price is around $6k. The camera is absolutely tiny and actually resembles a CCTV camera. There's also a 17 stop high dynamic range mode in 24p. It is designed in Germany with a 2/3″ sensor (RED Scarlet sized) but initial images from it are a bit disappointing to my eye – very electronic looking and over-sharpened.
What this camera does show however is that the processing power for RAW video and new CMOS technology like global shutter are not far now from prosumer price points.