Rule number 1 of the camera industry – you don't make a brand new 24MP full frame sensor without using it yourself, or in as many cameras as possible.
Rule number 2 of the camera industry – Leica must extract massive profit margins from rich customers.
Rumours have been circulating for a while now that Panasonic have provided Leica with the fundamental technology underlying the Leica SL which was finally announced today.
At first glance it might be easy to mistake the 24MP full frame sensor in the camera as being a Sony chip, from the A7 II. However it isn't, since the Leica SL has a completely different ISO range, is capable of 4K video and 11fps continuous shooting. This sensor screams Panasonic – a fast running CMOS which as a result doesn't quite deliver the high ISOs of the Sony sensors but which roars along at 11fps.
Another very strong hint that this is our first glimpse of a full frame Panasonic sensor with Panasonic image processing is that the camera does 10bit 4K 4:2:2 over HDMI, just like the GH4. Internally it also records 4K – in 8bit 4:2:0 format. It also has 4096 x 2160 – something the GH4 has, but Sony haven't implemented on any of their full frame cameras yet. Interesting there's also a V-LOG style gamma curve labeled "L-LOG" in the menus.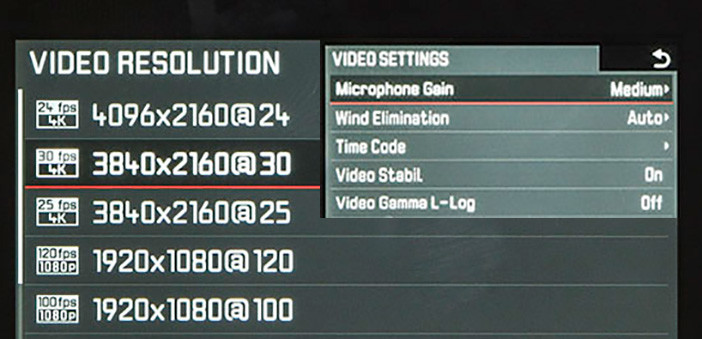 1080p at 120fps is another welcome option, but I am not sure yet whether this comes from a 2.2x centre crop of the sensor like with the A7S II (no binning) or if it is full frame and pixel binned.
The 4 million dot EVF is another strong point and again Panasonic along with panel supplier Epson were pioneers in this field. It is hard to imagine Sony providing this kind of stunning EVF to Leica before having used it themselves.
Leica SL and an EOSHD "first impressions" opinion
Despite the powerful new technology under the hood and 4K video there are early reports of serious ergonomic design flaws with the SL from a photography perspective. In video terms the camera doesn't look like a great handler either, especially for nearly $8k – you can buy a Sony FS7 for that!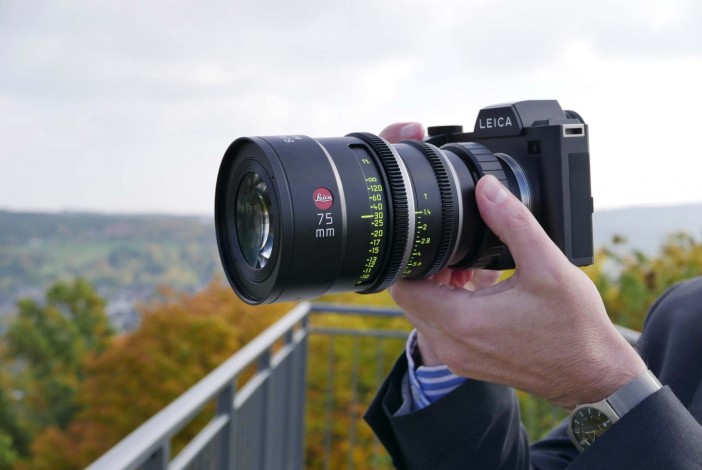 Above: a hands-on Leica SL picture from FDTimes at Leica HQ. PL lens adapter in action with one of Leica's own cinema lenses.
The lack of physical controls and reliance on a touch screen on a camera of this kind is oddly 'consumer'. The enormous size of the body and lenses (by mirrorless camera standards) bucks the trend of the pro mirrorless market so far, where an emphasis has been placed on smaller & lighter bodies vs competing DSLRs. Then there's the lenses. Leica had not a single L-mount prime at the launch of the SL! The 50mm F1.4 is coming next year, although the SL's mount is adaptable to existing Leica manual focus glass. The 28-90mm F2.8-F4 zoom doesn't even have a constant aperture for your $5000. Leica need to decide who they want to be. Are they just a brand, whose intent is to leverage as much margin as possible out of gullible rich customers or are they a serious imaging firm?
Meanwhile, will the very appealing (Panasonic?) guts of this camera turn up in a full frame mirrorless Lumix for under $3000 come 2016? For the GH series to go full frame, or at least branch off into high end territory is absolutely the right strategy for Panasonic.
The Leica SL body at $7450 however just doesn't make sense to me versus the Sony A7R II and A7S II under half the price with arguably more features (such as in-body stabilisation, better low light performance and full frame 4K), especially since the SL only shoots 4K from a Super 35mm size crop of the sensor. You can put a range of Leica M lenses on the Sony too.
More to come tomorrow. In the meantime you can read all about the camera at DPReview, Film & Digital Times and even a very interesting early review at CNET here.