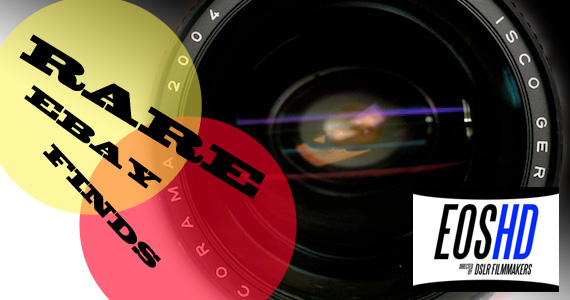 Over the course of EOSHD.com nearly all my kit has been sourced from eBay. Not for me these super expensive gear lists. I find it much more interesting to find unique treasure online – the stuff which hardly anybody else is shooting with and lenses with a unique look.
My eBay searches have served me very well over the year. Unfortunately I can't buy every gem I see so now it's over to you.
See the latest Editor's Picks
With the masses flocking to use DSLRs for video, it is becoming more and more important to stand out. Gear is one way to separate yourself from the crowd if you want a certain look, or just want to grab a bargain. Furthermore – the rarer the gear, the harder it is for others to imitate.
The Iscorama is a good example.
Gear can also be a great investment. Those that bought into the Iscorama craze early on are now sitting on lenses worth 10 times what they paid.
Since Rare. eBay. Finds. is updated in real-time, directly linked to eBay's search engine – new stuff crops up all the time and you will see it here first.
You may even beat me too my own search listings. If an Iscorama pops up at $400 do feel free to let me know before snapping it up (joking).
Here are some of the gems I've been enjoying and shooting with so far.
Canon FD 35mm F2
Radioactive lens with super good bokeh and warm tones, also excellent in B/W
Zeiss 85mm F1.4
Contax mount and every bit as good as the $$$ modern ZE, etc. but with added ninja star style bokeh!! Inky contrast and colour too. My all time favourite lens.
Isco Centavison anamorphic
Comes into it's own with a diopter, extremely sharp and easy to focus
Panasonic LA7200
Almost a permanent fixture of eBay, these can still be had – great value for money, beautiful flare, true 2.35:1 cinemascope and even AF compatible.
Zeiss Flektogon 35mm F2.5
Extraordinary close focussing, sharp and high resolving glass made in Communist ruled East Germany during the 60's and 70's. Beautiful on the 5D Mark II – almost perfect in fact.
Hacked Panasonic GH1
With new GH1s being encrypted, second hand is the way to go for GH1 bargains. The red models in particular are guaranteed to be hackable since the production run finished way before the hack was blocked off. Black models – always ask seller for serial number and compare against the information on the EOSHD.com Wiki.
Cheaper Canon 5D Mark IIs still under warranty
You wouldn't pour $200 down a drain, why buy new when you can get the same thing used for much less?
Lomo russian anamorphic (Tarkovsky style)
Square-fronts have tricky mechanics but cannot be beaten for cinematic gusto and lens flare. Round-fronts are expensive but there are bargains to be had. I know, I've seen them!
Buy with care and if you are not sure about an item, do feel free to ask my advice on the comments below the search listings page on Disqus and I'll offer my opinion. I'd prefer this to a PM since more people can see the question and answer if they're out in the open.
I'll be adding sections for Germany, France and Australia in the coming weeks, as well as more searches for c-mount lenses, lovely old Nikon AI glass, Canon DSLRs and Panasonic bodies (i.e. hacked GH1s).
And remember to check by often, because first come, first served.