Anamorphic lens users and fans of 10bit might want to look very closely at their Panasonic S1 menus, and even the manual on page 143.
It appears Team Lumix has ramped up the quality of their 6K Photo Mode considerably since it first appeared in the GH5. Along with the unique 4:3 and 3:2 aspect ratios, a huge video frame of 5184 x 3456 is available for continuous recording up to 10 minutes in 10bit.
The surprising thing is, it has a 200Mbit/s bitrate. That's the quality you get from H.264 at 400Mbit.
Thanks to the EOSHD Forum user Jimmy G for the tip-off. I really had no idea the 6K Photo Mode shot at such a high bitrate and colour depth.
Here's how the internal 10bit modes compare at the moment:
5184 x 3456 (3:2) – 10bit – 200Mbit (400Mbit*) – 30p
3840 x 2160 (16:9) – 10bit – 72Mbit (144mbit*) – 24p/25p/30p
* H.264 equiv. quality.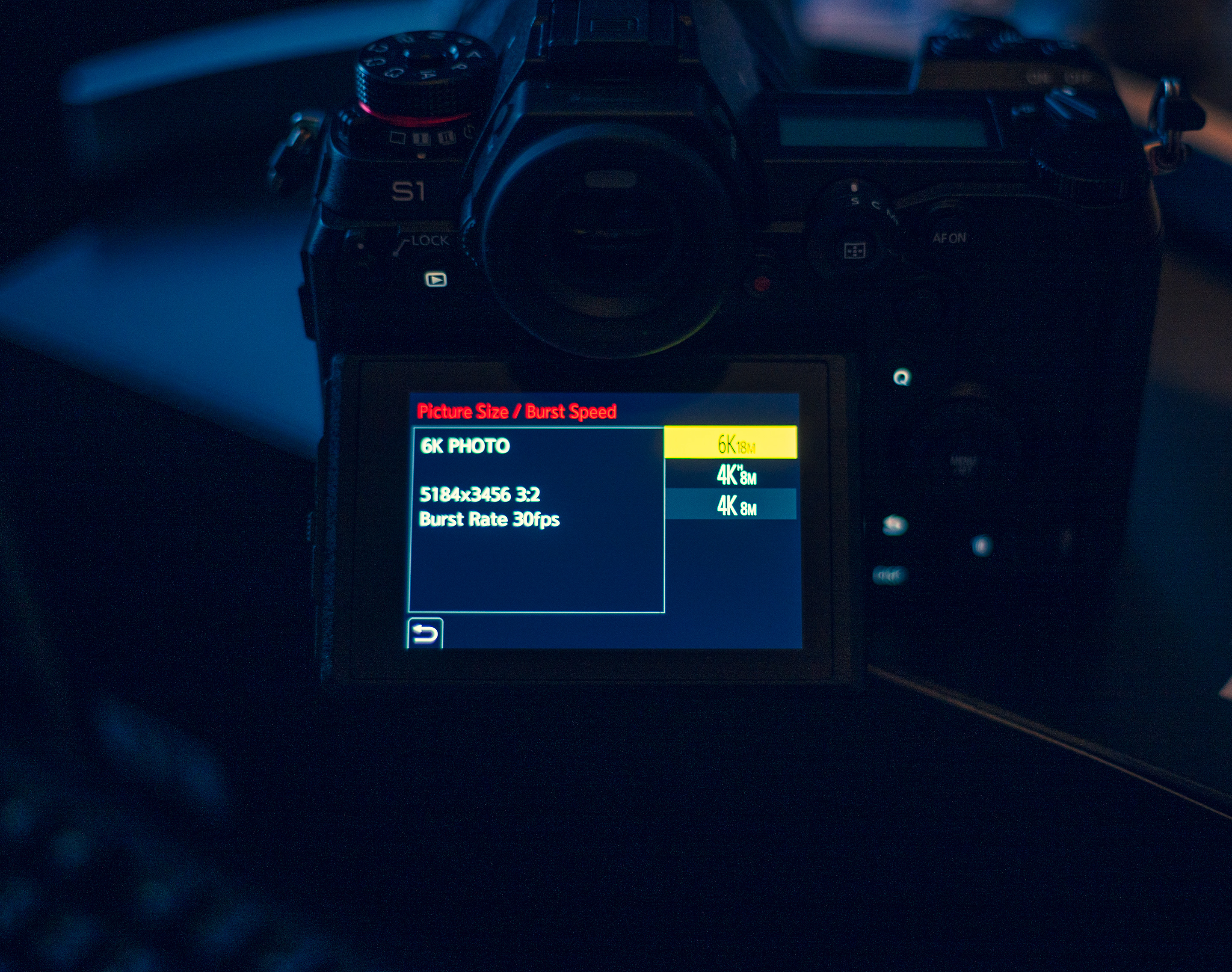 72mbit vs 200mbit
Previously I've shot with the internal 72Mbit H.265 codec on the S1, which provides nicely for 10bit 4K Hybrid LOG Gamma. I've been impressed with the quality, with the added bonus of the smallest files sizes from any full frame 4K camera.
This mode will be added to in a paid upgrade soon, with a higher bitrate, full V-LOG, as well as 10bit 4:2:2 instead of the current 10bit 4:2:0.
That's certainly something to look forward to.
It's good to know the camera is capable of 200Mbit in 10bit and that anamorphic users can make use of this bitrate in 4:3 and 3:2 right now. The catch? It's only 30p. It would be great if Panasonic could update the firmware for 25p to avoid flicker and get closer to the film look… or even add a dedicated anamorphic mode like with the GH5.
The 4K Photo Mode is in 8bit (1.5x crop 60fps) so you may as well use the main video mode for 4K 60p.
By the way in 72Mbit 4K 10bit mode, the bitrate here is quite misleading and you'd be forgiven for thinking the image is total mud. It's not. I am actually quite amazed by how uncompressed it looks and how clean it is at ISO 6400 with a very subtle fine grain. Because H.265 has double the efficiency of the codec it replaces, H.264, it delivers the same quality at half the bitrate. Also, in Long-GOP, a lower bitrate delivers higher quality per-frame than ALL-I at the same bitrate. Therefore in terms of image quality 72mbit in H.265 actually looks to me eye more like 10bit ALL-I 4K does at 300Mbit.

H.265 continues to improve
H.265 is an extremely powerful codec and the S1 is currently the only full frame camera to have it.
That sets it apart from the Sony A7 III, Nikon Z6 and of course the pathetic EOS R. The Fuji X-T3 is the only other camera with a similarly specced H.265 codec at the moment at high bitrates, but only at 4:2:0 internally, whereas soon the S1 will be 4:2:2 internal.
The camera only records in Hybrid LOG Gamma in 10bit currently – so no standard Photo Styles. It's unknown whether the V-LOG upgrade will enable the 10bit 4:2:2 high bitrate codec for other Photo Style modes as well, or just V-LOG. However, the S1 has a superb view-assist in both live-view and playback mode which can be turned on automatically for 4K Hybrid LOG Gamma recording.
I actually like grading Hybrid LOG Gamma, compared to something even flatter such as S-LOG. Hybrid LOG Gamma uses the latest wide Rec.2100 colour gamut on the S1 and has a gamma curve similar to Canon LOG. The dynamic range and colour are utterly superb in this mode on the S1.