Hints at future video capabilities have unfolded today. As yet they're not directly DSLR related – but DIGIC 5 is the same processor Canon will use in the 5D Mark 3. It has been redeveloped from the ground-up with better performance, faster operation and new noise reduction technology.
Today it was announced as part of Canon's new high end compacts, the S100 and SX40. Not all of what it provides in its compact form will apply to DSLRs but certainly the claims of 75% better noise reduction will make their way into DSLRs. The S100 will have just 1/4th of the noise that the DIGIC 4 powered S95 had at ISO 1600, according to Canon.
For so many generations of compact cameras Canon have stuck to DIGIC 4, this break with tradition means that its application in a DSLR cannot be too far off.
The S100's sensor has also been improved, CCD is out and CMOS is in which means 1080/24p (but sadly no manual control). The 1/1.7″ sensor takes the gapless micro-lens technology from the 7D's CMOS so the pixels can be larger on the same size of sensor, for improved low light performance. It's also backside illuminated of course.
AVC-Ultra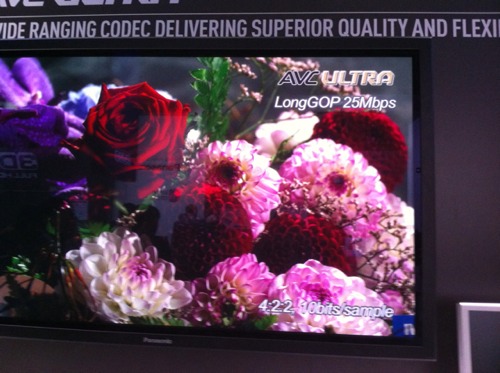 Panasonic US's pro-A/V solutions product manager Tweeted a screen grab earlier today from a demo of a new codec that will do 10bit 4-2-2. At the moment AVCHD on consumer devices doesn't quite cut it for pros because it is restricted to 8bit 4-2-0 colour. That means you don't get as smooth a gradation, especially on subtle changes in shade over wide areas of the frame and that the limited 4-2-0 colour space doesn't hold up well for grading.
The shot of the presentation shows AVC-Ultra recording 10bit 4-2-2 at 25Mbit. Fitting that much colour information into just 25Mbit is quite amazing. Remember that bitrate is not the last word in image quality, you can have lower bitrates and high image quality if your encoding is sophisticated enough.
Hopefully AVC-Ultra will be on prosumer and affordable pro offerings from Panasonic. One candidate would be a successor to the AF100. I doubt it will find its way ono the GH3 – that is likely to be AVCHD 2.0. But it could be possible to have AVC-Ultra on an external recording device and uncompressed 10bit HDMI on the camera. I am convinced that is the first method we'll be using to get better than 8bit 4-2-0 off our future DSLRs unless Canon push out the rumoured MPEG 4-2-2 codec on the 5D Mark III with DIGIC 5.