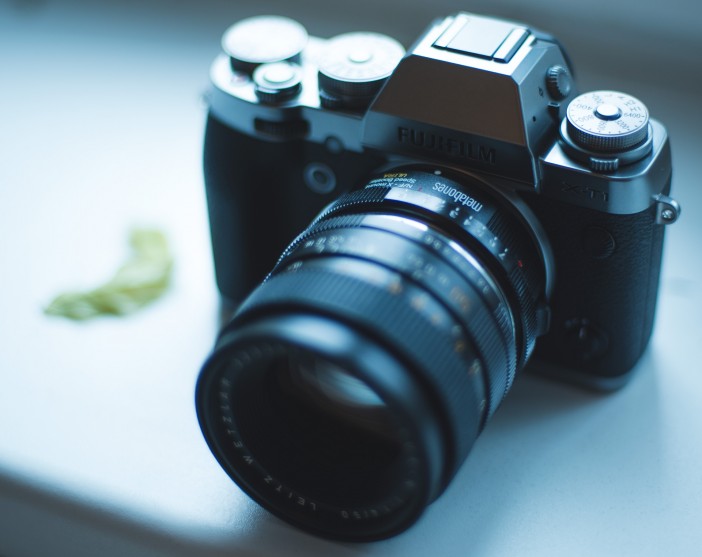 Well hell has officially frozen over and Fuji have full manual control in video mode along with 24p.
You can download the V3.0 firmware for the X-T1 and X-T1 Chrome edition here. It adds a lot of improvements.
Video in 24p mode is a distinct improvement in quality over the previous 60p mode. It is relatively usable, though certainly nowhere near the cutting edge even as a 1080p camera. There's still some aliasing but you can finally make use of those lovely Fujifilm picture profiles and shoot 38Mbit/s 1080p with manual control over shutter speed, aperture and ISO. Strangely though I can't seem to go under ISO 400. You should set stills to 16:9 to get the correct framing for video on the screen.
Annoyances? Sure there are a few. There's no dedicated 'movie mode' to switch the camera into and you have to press and hold the video record button to start a clip, which is a little silly if you ask me! The X-T1 is a camera that is scared to death of accidental presses. The ISO dial is in jail, with a 'naughty button' on top which makes it almost entirely useless.
I might explore further the X-T1's video in-depth for a future blog post with movie samples – but don't expect too much from it. Several other cameras have MUCH better 1080p, like the Nikon D750 and Sony A7S. The older Panasonic GH3 and Nikon D5200 are also better for less money, not to mention all the 4K stuff which just came out in 2014 making 1080p itself kind of obsolete.
HOWEVER the great thing about the X-T1 is how it handles and performs as a stills camera, especially with the exceptional Fuji glass available for it and now in lovely full frame-o-vision thanks to the Metabones Speed Booster ULTRA.
This is a distinctly improved Tantalum glass version of the original E-mount Speed Booster. It turns the X-T1 into a full frame contender. I have the Nikon mount version (below) –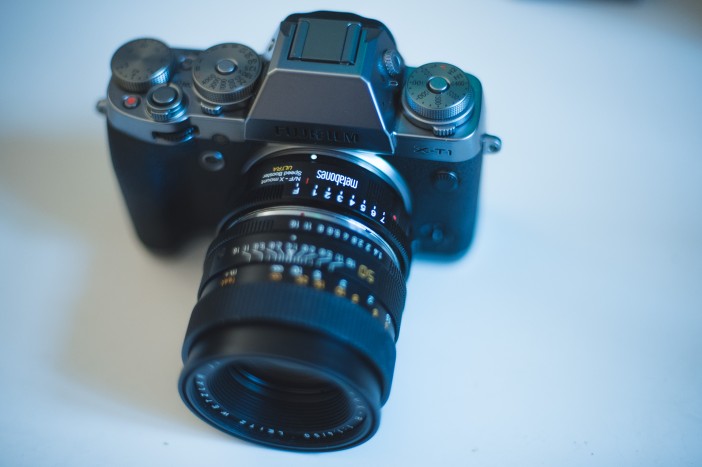 The X-T1's EVF is the best on the market, even better than the Sony A7S's viewfinder and not by a small margin. I wouldn't go so far as to replace my Nikon D750 or 5D Mark III with the X-T1 for stills work that requires reliable autofocus though. Although the X-T1 is much improved over previous Fuji X bodies in good light with still objects, AF is still atrocious in many circumstances with the Fuji X lenses. If anything is moving, forget using the 56mm F1.2 wide open. Lots and lots of missed focus and hunting for ages. Low contrast situations and low light present a problem for AF on this camera too. So this is really a manual focus camera. Here, the ability to nail manual focus via the massive viewfinder gives it a real quantifiable advantage over a DSLR like the 5D Mark III.
It's also THE most stylish camera on the market right now, and the build is exceptional (aside from the rather cheap feeling SD card door).
Aside from the video improvements, other highlights of the new firmware for me are –
Silent electronic shutter. Allows you to shoot at shutter speeds higher than 1/4000 – for example if you want to shoot at F1.2 in bright sun light where the sweetest look of the Fujifilm 56mm F1.2 is. Shutter type can be assigned to a function button for quick toggling between mechanical and electronic shutter release.
Natural view mode. Though you'll find no mention of it in the menus, confusingly, turn the picture preview off for the EVF and you have a 'natural' view like an optical viewfinder for composition, whilst the JPEGs are stored with whatever beautiful Fujifilm film emulation you have selected in-camera.
A new film stock – Classic Chrome. This came with the Chrome Graphite silver version of the X-T1 last month along with the electronic shutter. It isn't a real Fuji film stock but apes the look of classic 1980's photojournalist prints in magazines.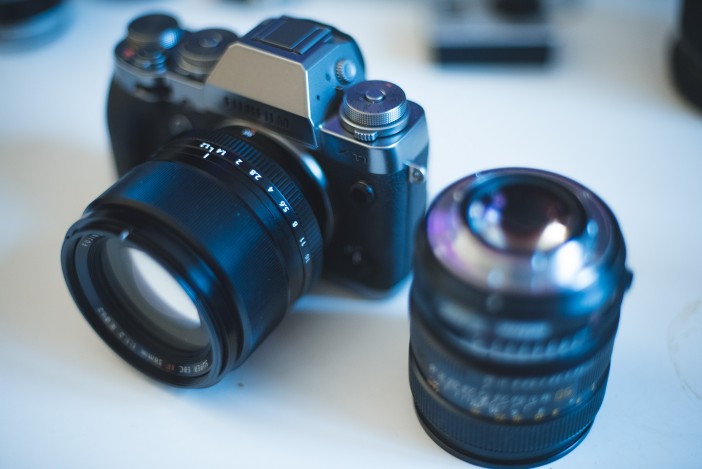 I am working on a full review of the Speed Booster ULTRA to come soon on EOSHD (both the Sony E-mount version and Fuji X mount).
In the meantime here are a few samples I shot with it on the X-T1 Chrome Edition in Lisbon last week –