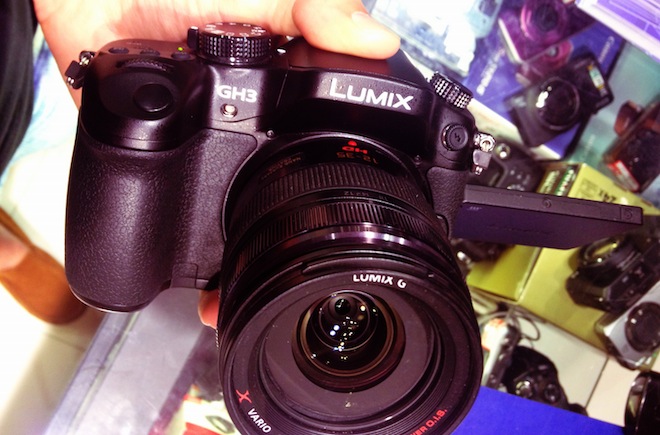 Thanks to a chance encounter I was able to very briefly try a GH3 this week in Barcelona. The camera was on loan from Panasonic and not available to the public to try, it was part of the private beta test program but they very kindly let me give my impressions of it after a brief 20 minute play with the camera behind closed doors. Again this was not the final camera but it had some interesting tweaks compared to the models Panasonic brought to Photokina last month.
Remember, nothing is final until the camera ships – this is a report on a pre-production model.
The camera is looking in great shape.
First change, I felt that the buttons were more tactile and grippy. Seems like a more rubbery material was used on this model. If memory serves me correctly the Photokina models had smoother more slippery plastic buttons. The click wheel on the back was easier to turn as well, not as stiff or as slippery as the older version.
Codec was the same as at Photokina and once again this was PAL / NTSC switchable between 24/25p.
I noticed a dummy menu was now present containing around 3 or 4 manual focus assists. As the text on these menu options simply stated 'dummy' I have no idea exactly what Panasonic have in mind for these – but it raises the possibility that peaking might be one of them? I hope so.
The picture profiles were now more operational than before and you can dial them all the way down to -5 (gone is the -2 / -5 work-in-progress menus). Changing contrast did change the image but not to a very great extent. Hope that changes. I am sure it will.
Hitting record in AVCHD mode didn't seem to do much of a gamma switch but in MOV mode that was still there. Hope they fix that in line with how the 5D Mark III live view works – zero change between judging your exposure and composition in live view to rolling upon record button press. This is very important to judge perfect exposure in movie mode.
Unlike on the more incomplete Photokina models, in this version 0.5 camera the ex-tele mode changed the framing of the live view display to reflect the cropped field of view – but still seems to be work in progress because the framing in live view doesn't quite match what you see when you hit record and the quality needs to be far better. When you hit record the resolution is pin sharp on the lovely new OLED screen but like with the GH2 it is mushy in live view whilst you compose the shot.
I'll be sending Panasonic my feedback and hopefully can get a rare camera to try soon. This model (v0.5) was apparently the only one in the country.
I am travelling right now and plan to get back to my studio in Berlin next week, EOSHD articles will once again come at a quicker pace. Stay tuned!