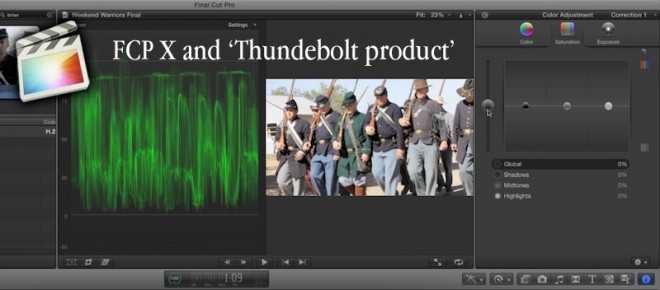 Apple Insider reports that FCP-X is being readied for the App Store and will be released in the final week of June 2011. Slightly less highly anticipated but of just as much intrigue is that Apple are said to be releasing an as yet revealed Thunderbolt product alongside FCP-X.
What could it be?
My first assumpution would be a mega-video-ingestion unit which reads P2 cards, compact flash and SDHC cards at lightening speeds – well, Thunderbolt speeds. This would be the first Apple product to make use of the new Thunderbolt ports added to recent Macbooks and iMacs.
It may also be a solid state drive which acts as a scratch disk many times faster than the internal drive of the Mac.
The other possibility I can think of is a larger hard drive with Thunderbolt connectivity for archiving terabytes of video data, and the fast retrieval of it.
Final Cut Pro X will run on Snow Leopard of course, although OSX Lion is just around the corner with a July app store release date.
FCPX will cost $299 and also be downloadable via the App Store. It will be interesting to see what impact this has on sales especially amongst casual users and hobbyists who usually grab their software from Torrent networks. It's quite possible that the margin Apple loses on pros with this software will be more than made up for by eager hobbyists keen to get the software legitimately at a more reasonable price, rather than taking to illegal routes to avoid a huge payout, as was the case with previous versions.
It is good to see the price of such mission-critical software come down and I think it's a smart move by Apple. Adobe's suite for comparison is now firmly in rip off territory unless you are a professional freelancer or studio.
What's your guess for the Thunderbolt product? Discuss Final Cut Pro X on our forum here