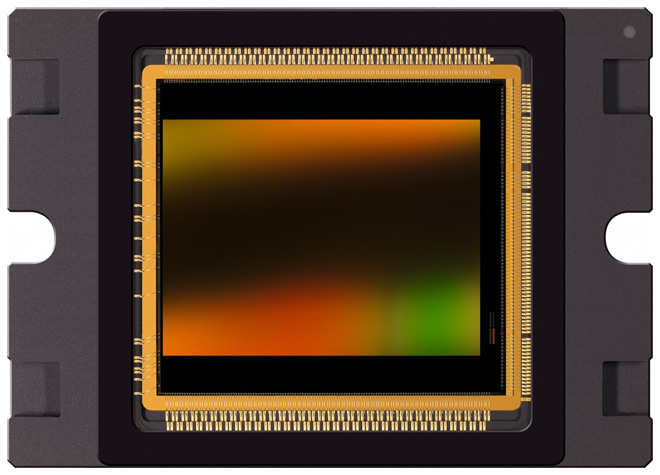 UPDATE: pricing is under $1700 per sensor
The company resonsible for the full frame 35mm CMOS sensor in the new Leica M have made a Super 35mm video version of the technology.
Above is the CMV12000 scientific sensor by European company CMOSIS – it has amazing potential in a cinema camera.
Super 35mm / APS-C sized
4K raw at 12bit (90fps) and 10bit (150fps)
4:3 anamorphic 4,096 x 3,072
Global shutter
This part is ready to be mass produced and is available off the shelf.
Of course it is very early to be talking about what Blackmagic can do next in the cinema camera world.
The BMCC Mark II does not yet exist. But this sensor is hugely exciting.
CMOSIS, who are supplying Leica their cutting edge full frame sensor in the new M rangefinder (I suspect it is this chip, the CMV20000) say the sensor is currently sampling. This means companies can request samples, see what the performance is like and determine how feasible it would be to bundle the chip in their camera.
Like the industrial (scientific) CMOS used in the current Blackmagic Cinema Camera this is also a part designed for scientific imaging, industrial use or broadcast.
Resolution is 12MP and pixel size is similar to the current Blackmagic Cinema Camera's sensor at 5.5 um. It is designed to output 4K video at 4,096 x 3,072.
At that maximum resolution the aspect ratio is 4:3 like S35mm film. Perfect for an anamorphic mode. The sensor can of course crop this output onboard the sensor for a more usual 16:9, 1.77:1 or 4K2K.
The CMOS also supports reduced resolution 2K for higher frame rates (like 240fps) and sensor windowing modes for a punch-in focus assist. The frame rate at maximum resolution is a mammoth 150fps but that also needs huge power on the image processor side. At this frame rate bit depth drops to 10bit from 12bit. It goes to 90fps with the full colour gamut. I'd be happy with 24p.
There's an on-chip HDR mode which works in a similar way to Red's. This boosts dynamic range from 60db to 90db.
60db is around 11 stops of dynamic range. 90db is over 15 stops (similar to the new Red Dragon sensor).
This is the dream sensor for me.
CMOSIS are quite a new company, founded in November 2007. They use other company's fabs to build their sensors but the sensor design is all in-house, with a small team of 40 people based in Belgium.
Seems like a perfect match for Blackmagic. Leica certainly seem happy enough with CMOSIS's sensor performance to put one in their flagship.
We've already seen how good an industrial / scientific CMOS sensor is in a cinema camera but I have no idea about the pricing of this part. The specs are certainly high end for digital cinema well into Red Dragon / Arri Alexa territory. Hopefully Blackmagic will look into it and see if they can work their pricing magic on a future Super 35mm 4K Blackmagic Cinema Camera. Even if the image processing didn't make use of all the sensor's features for reasons of cost (i.e. the higher frame rates or a global shutter) to have a larger Super 35mm sensor and 4K for less than $6000 would be hugely exciting on its own.