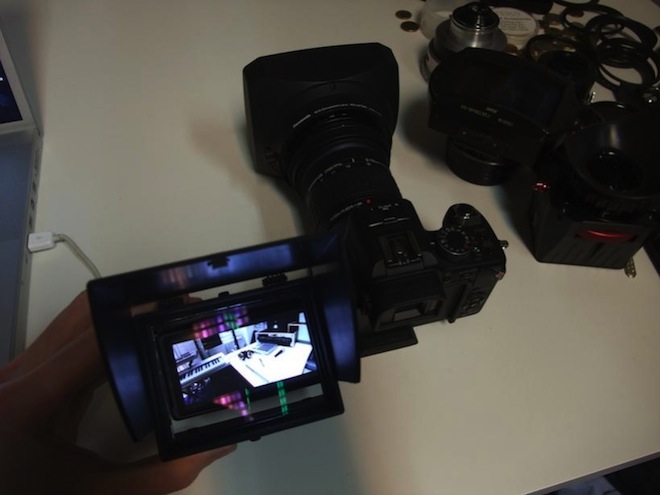 Buy on eBay from London based Cinematographer, big version (ex-BBC stock)
A few months back I said to Steve Weiss in an email, come up with an anamorphic version of the Z-Finder so we could have a true 2.35:1 screen in our eye while shooting.
Well it turns out there is already such a product and it was made by Century for the BBC. Zacuto and others are not yet in on the act but if anamorphic shooting really takes off in the next few years they may want to look at coming up with a similar thing.
In the early days of DV, BBC cameramen were complaining that anamorphic adapters such as the widely used Panasonic LA7200, Century and Optex adapters were making their subject look weird. Obviously shooting anamorphic on a DSLR poses a similar problem. We get a squeezed 1.33x anamorphic image, sometimes as much as 2x, shoved onto a 16:9 box on our LCDs and the image looks vertically stretched or horizontally squashed.
Not only does the Century handy anamorphic viewfinder (CHAV for short) act as a Z-Finder style magnifier and sunshade for DSLR LCD screens it gives us a lovely looking wider LCD screen, much more cinema like.
Originally designed to fit over the DVX100 when used with the LA7200, Century or Optex anamorphic adapters, it has a 1.33x compensation – perfect for LA7200 but with the 2x Lomo or 1.5x Iscorama lenses it doesn't quite give you the true aspect ratio but it still helps greatly.
It's quite big, designed for approximately a 4:3 aspect ratio 3 inch screen, so it covers the 5D Mark II's, the 550D's 3:2 aspect and easily the GH1 / GH2's 16:9 screen.
It has two DVX100 sized clamps at the back which can be unscrewed.
Mounting the box on the camera requires a DIY mod. I'm trying to come up with one now which doesn't involve too much tape or deadly glue. Since it's basically a Z-Finder, a custom built mounting frame or clamp would work wonders but I don't have the manufacturing capabilities and I've run out of 3M.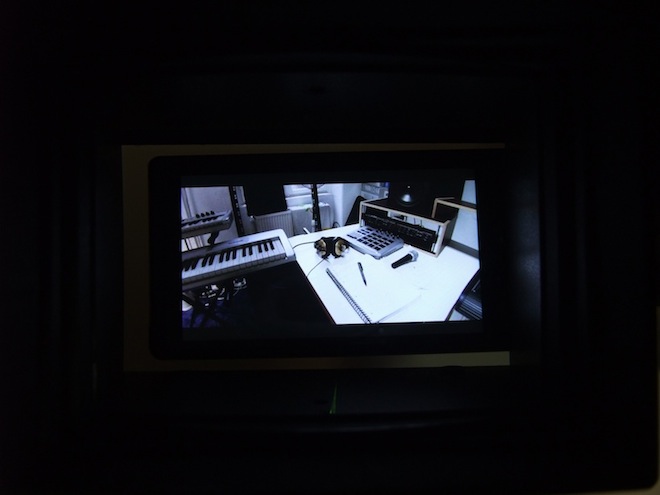 The box has a hood which can be angled and then used to close shut the viewfinder. For those bespectacled cinematographers the screen can move back and forth like the Z-Finder's diopter function.
It doesn't have an eyecup and it's square – this is a hood not really an EVF, but it comes in handy because it can be viewed from almost any distance, it magnifies the screen so it's larger and it shades the screen in strong sunlight.
It's a great product and lightweight, very sharp and not too strong a magnification level – much less than the 3x of the original Z-Finder. I just need to get the mounting clamps sorted out for my GH1 and then I'll do a field test with the LA7200.
In the meantime, I know a man who has quite a few more so stay tuned to eBay.Rare.Finds and we'll do our best to get them out there into the big wide world.
I have no idea how rare these are but I know they're not common. I've only seen 2 on eBay in the past 2 weeks, the second of which you can view from the link at the top of the article.