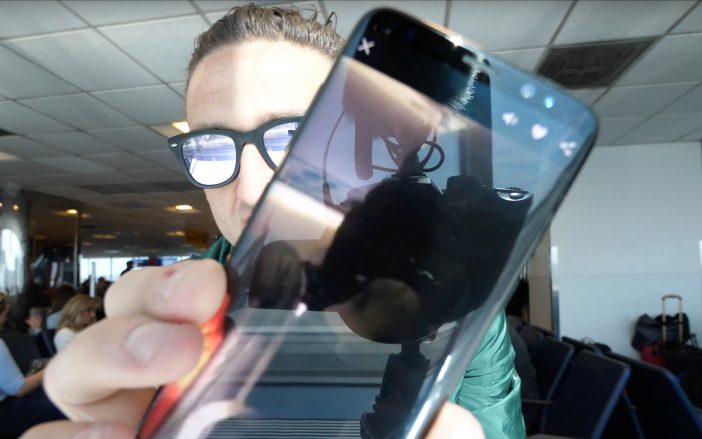 If you're wondering why the latest Casey Neistat video does't look like it was shot in Canon mush-o-vision, wonder no more!
Seen in a thousand sun glasses and reflected in the new Samsung S8 (I'm jealous!), here is the Panasonic GH5 in the hands of Casey Neistat – one of YouTube's best known stars with 7 million subscribers.
Now, watch this video –
Colour is remarkable. Detail is outstanding. No rolling shutter. AF holds up surprisingly well, even in 4K.
Now, that gives me an opportunity to talk about something else…
Canon have loaned me a 5D Mark IV!
After all these years Canon got in touch last week and arranged for me to review the 5D Mark IV.
I am of course appreciative of the gesture and quite thankful they reached out, but after using the camera, it just doesn't do enough to me that Canon had video users in mind very much during the design process.
Even if Canon are now finally changing their strategy a little bit and coming round to the fact that video users are important in their overall sales strategy (maybe DSLRs shouldn't be crippled to protect the Cinema EOS line after all) – in some respects it is simply too late.
The 5D Mark IV is a superb stills camera and I really do love the Dual Pixel AF which remains the stand out autofocus engine for video, ahead of both Sony and Panasonic and all the others. But what Magic Lantern are showing with the 5 year old 5D Mark III is that the technology under the hood is capable of so much more and that crop factors are NOT set in stone.
If Canon give the 5D Mark IV a HUGE firmware update at NAB with C-LOG, a greatly reduced 4K crop factor, better quality 2K and a proper codec in place of MJPEG with more manageable file sizes they will undo a LOT of bad publicity and a lot of damage.
Just do it!!