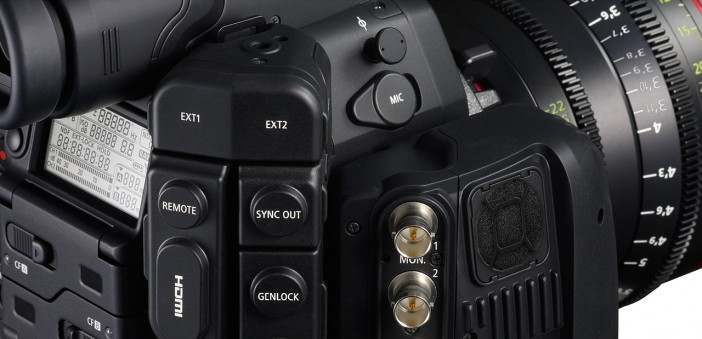 Canon today issued an unusual development announcement for two upcoming cameras.
The first is a Cinema EOS C500 successor with 8K recording. The second is a 5DS style full frame DSLR featuring 120 megapixel resolution.
Ahead of IBC 2015 Canon seem to have gone a bit resolution crazy.
Says the company of the new 8K Cinema EOS camera:
"The Cinema EOS System 8K camera being developed will be equipped with a Canon Super 35 mm-equivalent CMOS sensor that makes possible high-resolution 8,192 x 4,320 pixel (approximately 35.39 million effective pixels) imaging performance even at a frame rate of 60 frames per second with 13 stops of dynamic range and a richly expressive wide color gamut."
That is an enormous number of pixels to cram into a Super 35mm size sensor (APS-C) and higher than the 28MP present on the Samsung NX1.
No word of what codec it will use yet.
"Additionally, featuring a body size that realizes outstanding mobility and a design that delivers high levels of operability, along with an EF mount that offers compatibility with Canon's extensive interchangeable EF lens lineup, the camera will support diverse shooting styles and means of visual expression."
An 8K reference display for professionals is also under development at Canon.
This week as we already know, Canon created an industrial sensor concept with 250MP with a pixel pitch almost as small as a smartphone but on an APS-H sized imager (1.3x crop over full frame).
They are now going to apply the new manufacturing process to an upcoming DSLR.
Here's what the company had to say on the new 5D series EOS camera with 120MP sensor:
"Featuring a resolution of approximately 120 effective megapixels, the SLR camera now being developed will incorporate a Canon-developed high-pixel-density CMOS sensor within the current EOS-series platform, which will realize compatibility with the Company's diverse interchangeable EF lens lineup. The high-resolution images that the camera will be capable of producing will recreate the three-dimensional texture, feel and presence of subjects, making them appear as if they are really before one's eyes. The camera will facilitate a level of resolution that is more than sufficient for enlarged poster-sized printout while also enabling images to be cropped and trimmed without sacrificing image resolution and clarity."
Clearly Canon's new CMOS manufacturing abilities were worth the wait.
Source: Canon Inc. (email)