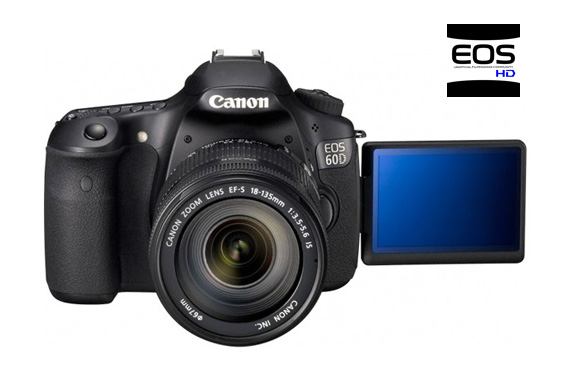 See my Canon 60D versus Panasonic GH2 review here
If this is innovation, then I'm Britney Spears!
Canon have released another very conservative derivative of the 7D in the form of the 60D with articulated screen. The company has managed to fill the tiny hole in the range between the 550D and 7D. The main distinguishing features of the 60D is a hinge, a wheel and the price.
But despite it being the 3rd very similar camera Canon has released in the space of 12 months there are still huge positives to take from the the 60D. The articulated screen, which I have been idolising for 18 months on my Panasonic GH1 has finally made it's way onto a Canon DSLR and not a moment too soon. This is a GREAT feature and really does save your back when monitoring video or live view for long stretches at a time on a tripod, plus it makes all kinds of creative unusual angles possible for normal handheld shooting and photography. It is a very nice screen too – taking the wider 3:2 ratio high resolution LCD from the 550D, putting it ahead of it's bigger brother the 7D in almost every respect when it comes to live view and video.
I shot worse video on the 5D Mark II than the GH1 purely for the lack of rotating screen. It is a really useful tool for the creative video shooter. So the 60D is Canon's GH1, but 18 months late.
More great news for the video mode is that the camera features full manual control not only of the image but of audio. For the first time ever on a consumer DSLR we have proper manual audio controls and the ability to turn off AGC!
This is a really great attitude toward creative people from Canon and the 60D deserves to sell like hot cakes. They are not treating us all as dummies like Sony and Nikon with their full automatic video modes which only have a casual purpose.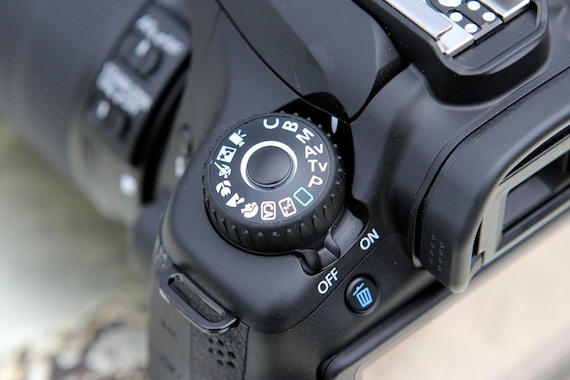 In short, the 60D is their best APS-C video DSLR yet but a very steady evolution from the 550D and 7D which makes it better than both overall.
Aside from the manual audio controls which was quite unexpected, as a piece of hardware the camera which was billed as 'movie orientated' is the absolute minimum it could be. Canon have quite literally taken the 550D's circuit board and sensor, and re-machined the casing so that it has a hinge and two parts borrowed from the 7D's production line.
I didn't think there was even a gap in the market between the 550D and 7D which are already very similar and almost identical in terms of image quality, but apparently there is! The firmware has also been altered to add a few things and cripple a few things. The continuous shooting rate and memory buffer are inferior to the 7D.
The main gripe I have with this camera is not that it is a bad camera. It is a very very good one. I just think it's very cynical to expect buyers to choose between 3 models, when Canon could have put a rotating 1MP screen and manual audio controls on the 7D to begin with. Why do we need 3 models? The only real difference is not so much that one is so much more advanced than the other – it is all about price and target markets, not engineering.
In these times of economic hardship whilst competitors pull back with conservative decisions and consolidate their market share, did Canon not realise that every ounce of innovation can push them ahead more than at any other time? Instead, the Canon 60D is Canon's most conservative mid-range product launch in the history of DSLRs.
Filmmakers did not really need another 550D or 7D clone. Cinematographers were crying out for a Canon interchangeable lens video orientated camera. But I can see how Canon's consumer audience will lap it up.
In terms of the video mode image quality and stills, the Canon 60D offers absolutely no improvement over previous models. The video mode is now nearly 2 years old and began it's life on the 5D Mark II. It has some serious issues with moire and aliasing that the rival GH1 lacks. These issues don't look like being addressed until DiGiC 5 comes out on the very expensive 1DS Mark IV.
2 years is a long time, plus we still have a mirror and no EVF.
4-5 years ago Panasonic began development of the mirrorless Micro 4/3rds system, because they did not have a long successful history in the DSLR market, with tons of lenses already on the market. They had nothing to loose and everything to gain. Canon's lack of mirrorless or interchangeable lens video camera is due to conservative product planning and the incompatibility of their EF and EFS lenses with the short flange back distance of a mirrorless DSLR.
Canon would have to spend valuable time and money developing a range of new lenses for an entirely new mount. It is not until the recent success of the Sony NEX, Panasonic GF1, Olympus EP-1 that Canon have been able to see that the market for thin mirrorless DSLR bodies exists.
Unfortunately, since the small 'lifestyle' compact bodied mirrorless cameras all sold better than the higher end Panasonic GH1 with it's innovative movie mode and HD kit lens, the whole mirrorless product strategy of all the major companies is headed to the entry level 'compact replacement' end of the market. Canon and Nikon will probably introduce very small mirrorless camera bodies to compete with the GF1 and NEX, with stripped down controls compared to the high end of the market.
So it looks like the mirror and optical viewfinder is there to stay on future Canon DSLRs, which is not ideal for video. Here, Panasonic have a real chance to pull ahead if the GH2 is not also conservative. There will be no other product like it.
Lens adaptability on Micro 4/3rds bodies is better than on Canon DSLRs, and I don't think too much to most EFS lenses either – they can be quite soft, and slow – plus they are not future proof if you go full frame. A better bet is EF, or Contax Zeiss – both of which can be used on the GH1, along with more unusual lenses like Leica M, Zeiss rangefinder glass and even c-mounts. None of those work with a Canon.
The GH2 will also feature a new sensor which will put it's image quality ahead of the 550D,7D and 60D which all share the same sensor. The GH1 already compares very well in movie mode to the Canon APS-C cameras – it is sharper, has a native 16:9 (and multi-aspect hybrid 4:3) sensor, it resolves more resolution and contrast and has a less muddy feel to the images. A flatter look can be achieved on-camera, and it already looks as clean noise wise as even the 5D Mark II, at least below ISO 1600.
[vimeo]10657409[/vimeo]
It was worse only in terms of CMOS fixed pattern noise which manifested itself as banding on unexposed areas of the image. This ranged from almost non-existent on some models, to rampantly out of control on older models, like with Philip Bloom's and my earlier Japanese model from 2009.
Conclusion
The Canon 60D is a great camera, and if I had to pick just one of the 3 HD video Canon APS-C cameras it would be this one purely because of the articulated screen and price. The hinge alone is worth the extra over the 550D. (Although you do have to stomach the fact that Canon is selling you the $2 hinge for an extra $300 over the 550D!)
However, this is a busy month for camera announcements with Photokina 2010 around the corner. If you need a camera now don't wait – but if you can hold off for 1 month to see if Panasonic come up with the goods, you will have the chance to pick up a more innovative and more creative camera which quite possibly has better image quality and a better kit lens, rumoured to be a 12-75MM F2.5 HD OIS.
But then again, in these times of consumer economic hardship – that too may not materialise as soon as we hope!
*Not really hands-on – I should not tell you this, but Canon secretly gave me a prototype 60D to review. It has no hinge and a 7D badge but the insides are all 60D! 🙂
**A word to the wise. You need a sense of humour to read EOSHD.com