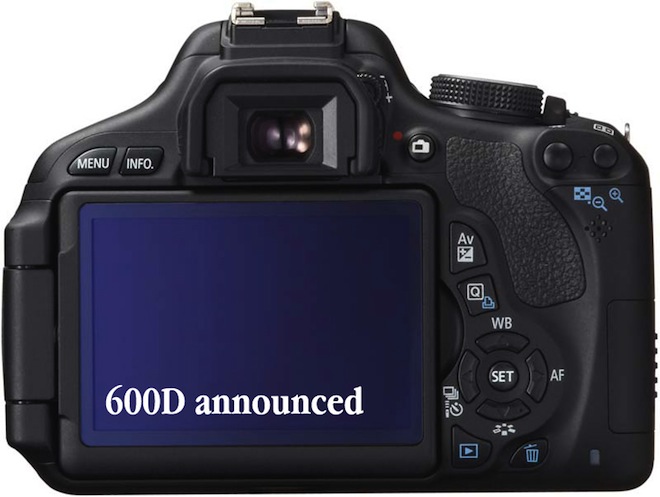 UPDATE: Watch sample footage from the 3-10x zoom video function here. Doesn't look like a 1:1 crop mode on the GH2 unfortunately.
So we have now all digested the news on Canon's latest DSLR, the 600D… What's new? Not much, it appears Canon have released a firmware update in the form of a new camera body.
I feel like I already have one, but with one less digit. The 600D takes the outstanding breakthrough of a hinge from the 60D and adds some firmware tweaks. Not bad progress for a year, and I can see how Canon's R&D department took a full 12 months to come up with it.
The 600D does however dispense with that essential differentiating factor, the rear jog wheel. I didn't think it was possible to un-invent the wheel but Canon have done it.
For me, the 600D and 60D were not about progressing technology, it was about how Canon could make a return on their investment in a APS-C sensor and 2 year old image processor. Basically it was about what shape the 7D would take in order to make Canon as much money as possible.
Meanwhile those companies who have executed a less cynical approach have produced mirrorless cameras which have sliced between 15% and 20% off Canon's market share in Japan and the UK.
That's my rant out of the way. So what about the new firmware?
The 600D features some software improvements, the biggest of which is the new 3x and 10x crop mode.
10x crop mode seems a little too much to be a 1:1 pixel mode, and will probably look awful since it may employ a digital zoom of some kind.
3x crop mode is similar to the GH2's I believe, a true 1:1 pixel 1920x1080p box from the middle of the 18MP sensor. Whether they have implemented it as true 1:1 remains to be seen (Update: Ben Bunch thinks not, see comments). Crop mode means in addition to the 1.6x APS-C crop, our lens focal lengths are multiplied by a factor of 4.6x – very similar to the GH2's crop mode which is thought to be 4.8x although no official specs exist on it from Panasonic strangely enough. (I reckon it to be 2.8x plus a 2x sensor crop over full frame).
The biggest question for me is whether for the first time, crop mode is true 1:1 and will remove moire and aliasing from a Canon DSLR. It should do, since there is no need to scale the image with a 1:1 crop.
Since the 600D is still using a single DIGIC IV CPU it also raises the question on why 7D, 60D and 5D Mark II owners are stuck with a VGA crop mode. Firmware update please, Canon.
It is also not going to tempt people away from the GH2 because Panasonic beat them to it. Since DIGIC 4 was in the 5DMkII a full 2 years ago, I am amazed that only now is the crop mode 1080p. Even more surprising is the 7D's lack of HD crop mode since it has the same sensor as the 600D. So it's all software, and had Canon done it earlier they'd have been in a much stronger position versus the GH2.
Sadly but not unexpected is the single DIGIC IV CPU instead of the dual-CPU 7D and 1D Mark IV. This means the 600D will fudge the HDMI output whilst recording. The GH2 has a 3 core CPU for the same price so again, this is a decision about Canon's bottom line not giving the user the camera they deserve. Those customers will vote for their feet and choose the GH2 if they need HDMI monitoring for video. Canon should be wary of the fact that as interest in video grows, the shuffling of feet will become a lot louder.
The 600D is as conservative as it is (like the 60D was) because sales remain very strong.
The vast majority of customers are not like us and will continue to prop up sales of a camera with decades old technology like the optical viewfinder and mirrorbox. Canon have been trading off these very low cost and established parts for years and now they are trading off the key differentiating factors as well like the sensor and image processor.
They are fine parts.
But the danger here for Canon is that rival electronic giants will start to cannibalise sales and establish new market niches, like Panasonic have done with video (AF100) and both Panasonic & Sony have done with mirrorless.
You can already look at the sales figures to see this is the case.
The Canon 600D goes on sale in March. I expect consumers to have a tough choice between this and other very similar offerings not least from Canon themselves. It will hurt 60D sales for sure. Mirrorless will provide tough competition.
As for enthusiasts and video guys, we have now officially turned off.
Maybe at the root of all this is manufacturing problems with DIGIC5 or new sensors. It's unusual for Canon to break the 3 year cycle on the 1DS. It's unusual for the high end to see so few updates. I'd have expected the 5D Mark III by now, wouldn't you? It's the high end that is holding up the improvements we all expect to come in Canon's video mode. But on the other hand, I am disappointed there is still no mirrorless offering which could have improved video with a new sensor, new chip, and fought off the threat of Sony and Panasonic who have gained great chunks of the market, eating into the Rebel's space and mid-range… especially into enthusiast market (60D). The only DSLR shooters who haven't yet been tempted by the GH2 have contractual obligations to shoot Canon!