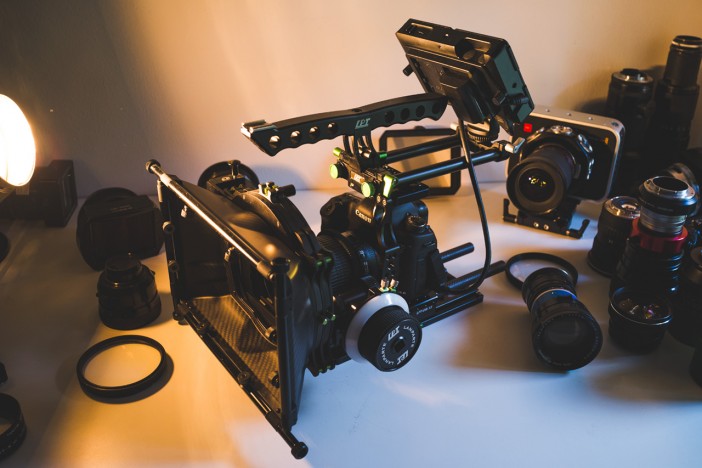 I received an email from a NAB show visitor today who had spoken off the record to Canon and was told the company believes a 4K 5D Mark IV would completely overshadow the recently released C100 Mark II and so wouldn't happen, but that Canon LOG would likely go into the camera to allow shot-matching with the XC10.
So to segment specs based on price, Canon is allegedly sticking to 1080p on future DSLRs. The exception is the 4K XC10 which isn't a competitor to the C100 Mark II or C300 Mark II as it features a tiny 1″ sensor and fixed camcorder-style zoom lens by comparison.
Someone needs to tell Canon that what every enthusiast wants is a 5D Mark IV with 4K not a small 1″ sensor behind a camcorder zoom.
Although the Canon 1D C is certainly a bargain if you're lucky enough to find it for £3500 to £5000 (the current used rates in the UK), the vast majority of video enthusiasts have had to leave the Canon platform recently.
The Panasonic GH4, Sony A7S and even the Samsung NX1 have offered compelling alternatives. Before that, Blackmagic had stolen a march on the 5D Mark III, despite Magic Lantern giving users a major reason to stay.
Coming from such a position of dominance in video with the 5D Mark II and 7D in 2010-12, how have Canon allowed so many competitors to even get a foot in the door, let alone bust it wide open?
By not introducing a DSLR for video enthusiasts, Canon have erred on the side of conservatism.
The XC1 signals Canon's intentions right now – no Super 35mm 4K for consumers. This is a professional feature, reserved for the price of $15,999.
I think there's a perception at Canon and Nikon that perhaps Sony, Panasonic and Samsung have 4K TVs to sell, and so have only introduced 4K in their cameras as a marketing ploy and that really consumers don't really care about advanced large sensor 4K video on DSLRs. Enthusiasts do though. And if enthusiasts aren't important to Canon, why do they pack in advanced stills option after option on several high profile advanced consumer DSLRs like the 70D, 7D Mark II and 5D Mark III?
Why not do the same for video enthusiasts and grab those extra sales?
The XC10 shows that Canon does want a share of the enthusiast video market but again it is low key. For the past 3 years Canon have made only low-key announcements for us like fixing moire on the 5D Mark III and introducing better video auto-focus on the 70D. These have to be seen in the context of enormous strides by other manufacturers. Internal 4K codecs on cameras under $750 from Panasonic. Record breaking low light performance from Sony with their full frame 12MP sensor. 10bit HDMI on the GH4 along with 4K HDMI on the A7S. A new sensor manufacturing process by Samsung allowing for a cool running 6.5K sensor in a consumer camera smaller than a 7D Mark II. In light of this, the actual 7D Mark II hasn't even got peaking yet.
There must be a reason for this, and I think the reason is that Canon wanted to firmly establish Cinema EOS on a 5 year plan, with minimal competition to the system not least from themselves which would be like suicide. Once Cinema EOS is firmly established with professionals shooting 4K, perhaps in 2 years when the C300 Mark II has matured and sold as much as the original C300 only THEN Canon might decide to push the video specification on their DSLRs.
In that time many other manufacturers will have got a foothold in the 5D Mark III / 7D Mark II market for video users. Giving Samsung a foothold in the market is particularly dangerous, given the size of the conglomerate and the amount of resources at their disposal. Canon do not have an answer to the level of technology currently found with the NX1 for that price.
Vs the Samsung NX1 or Panasonic GH4, a 1″ sensor with F2.8-5.6 zoom just isn't appealing to me. If Canon don't have a plan that suits me in the $1000-$3500 range then my plan would be to go to a competitor that does.