In an understated announcement which was a surprise to almost everyone, Grant Petty CEO of Blackmagic just announced the Blackmagic Pocket Cinema Camera 6K in a YouTube video. Blackmagic have not just put the cat amongst the pigeons with this camera but a proper lion in a field of flamingos.
The Pocket 6K is the first 6K RAW and ProRes shooting camera for under $2500. It takes much of the URSA Mini Pro's core and puts it in a much smaller body. Although it has a Canon EF mount, the body itself is almost identical to the Pocket 4K.
Ah yes, that Canon EF mount. The good news is, no more adapters. The bad news is, no more adapters… I'd have liked to have put a Speed Booster on there to make it full frame. Without a mirror in the way, one is actually possible. Luca, the guy behind the Samsung NX-L adapter has done one for the URSA Mini Pro for example, so the concept works. Canon EF does at least adapt to plenty of legacy SLR mounts such as Contax Zeiss, M42, etc.
A big request was anamorphic shooting modes. Blackmagic have come up with the goods. However it's not using the full height of the sensor. It is a crop to 3.7K at 3728 x 3104 in 6:5 aspect ratio. Still nice to see though. The sensor height is 3456 pixels in full 6K mode (6144 x 3456), so with this anamorphic mode you're not gaining more resolution but you are gaining the look.
There's also a 2.4:1 crop mode in 6K for those who just want to fake the look! This goes all the way up to an impressive 60fps. The normal 6K shooting mode with maximum resolution tops out at 50fps. The 4K mode is 60fps but a 2.8K mode goes to 120fps! Very nice!
Here are the bitrates in 6K (6144 x 3456):
Blackmagic RAW 3:1 – 323 MB/s
Blackmagic RAW 5:1 – 194 MB/s
Blackmagic RAW 8:1 – 121 MB/s
Blackmagic RAW 12:1 – 81 MB/s
Blackmagic RAW Q0 – 194 to 483 MB/s *
Blackmagic RAW Q5 – 49 to 139 MB/s **
More in-depth specs at Blackmagic's site here
There's also all the flavours of ProRes 422 10bit along with Blackmagic's Generation 4 colour science and Film Gamma LOG profile.
Grant said the camera was "in stock now" in the video. Amazingly for Blackmagic, they say that shops will be fulfilling orders from the 12th August which is only a few days away. The camera isn't currently listed in the UK or US at the usual places but once the stock arrives from Blackmagic, it truly will be "in stock".
Other than the different mount, anamorphic modes, new frame rates and the huge sensor upgrade – the rest of the camera is identical to the Pocket 4K. You will probably be best with an external battery. It does RAW to CFast2.0 internally or USB C drives externally. There is no Cinema DNG in the camera, it's just Blackmagic's own codec BRAW.
I am excited about how powerful the unexpected new Pocket camera is. Part of me though wishes it had gone in the direction of adding an EVF and IBIS, along with a better battery with longer runs. Also relative to cameras like the GH5 it is a bit on the large size and really does need a bit more rigging to make it work. So some of the convenience is missing but it makes up for it with sheer imaging power.
There's not really anything else like it at the moment and it's sure to be a popular option, even at the higher price.
$2495 is still very good for a 6K RAW cinema camera, let alone one which isn't just a modular brain, but packs a nice big monitor, touch screen interface and the best internal codec options on the market for the price. In many ways it is an even bigger bargain than the Z-Cam E2.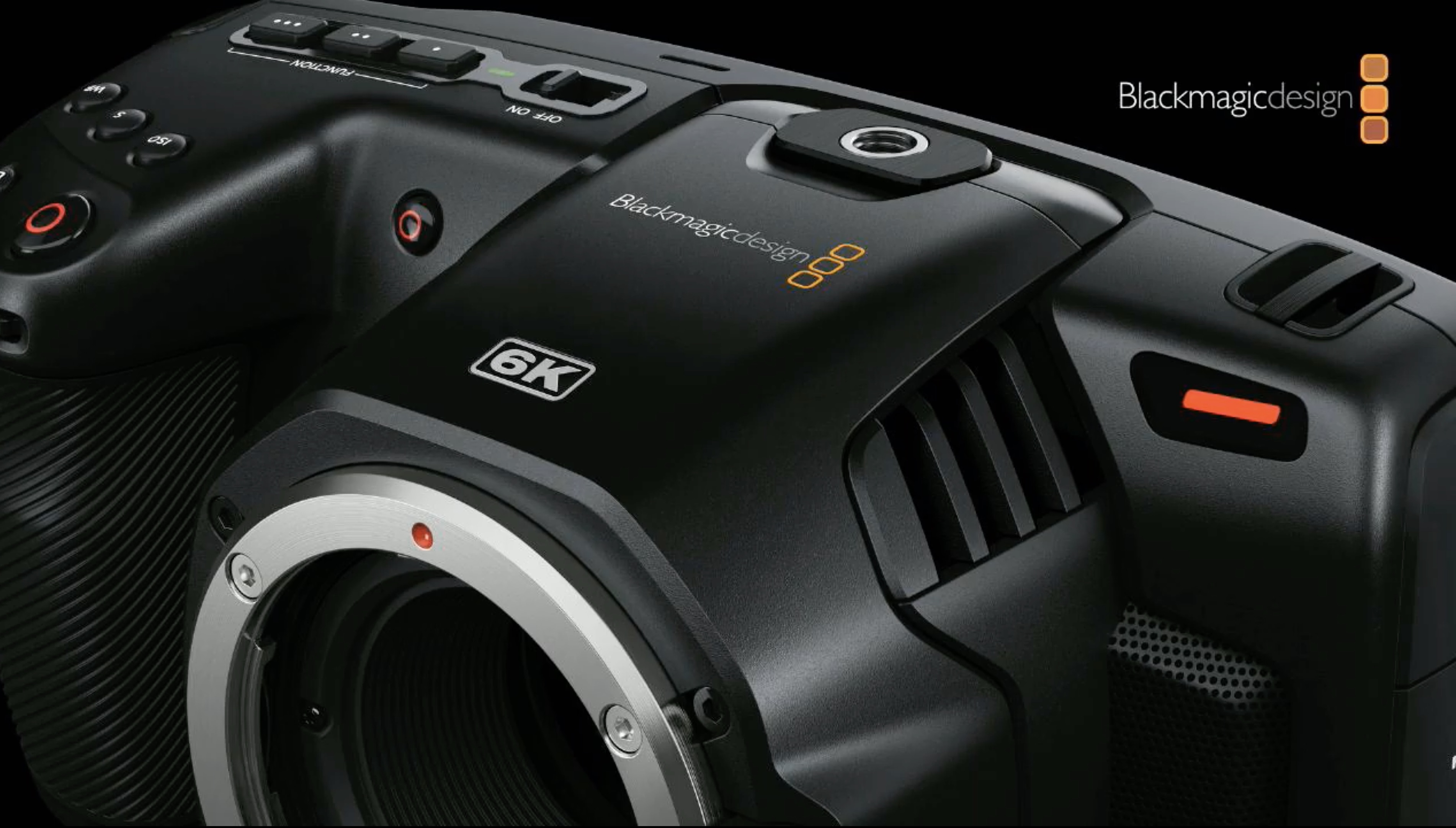 However I will miss the versatility of that Micro Four Thirds mount. Super 35mm sensors do fit in that kind of mount as JVC proved. Sony E-mount or even a custom Blackmagic mount with adapters to plenty else, would have been my preference over Canon EF.
I really do think Blackmagic should make their own short flange-back mount and a set of adapters.
I think the nearest competitor to this camera is the Panasonic S1 and of course the upcoming S1H, which may or may not get ProRes RAW. The Blackmagic Pocket 6K doesn't try to be a stills camera (although it does take 21 megapixel stills), so it benefits a lot from the precision "Cinema" targeting whereas the Lumix brand feels more mainstream. Blackmagic also have the advantage of software – in the name of Davinci Resolve 16 – and the software that runs the camera itself is rather advanced, with the FPGA chipset and nice touchscreen UX.
2019 is shaping up to be very interesting. Roll on the Pocket 6K versus Panasonic S1H and whatever Sony comes up with!
Official Blackmagic Pocket 6K microsite here

PS…
Take a look at the crazy prototype for the original Blackmagic Cinema Camera 2.5K! Those were the days!