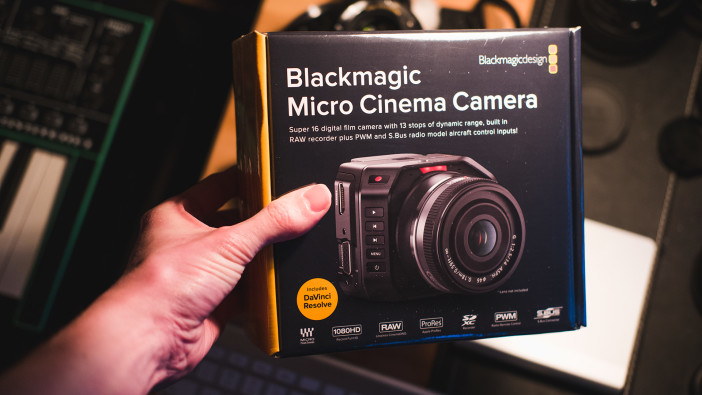 Blackmagic have sent me a demo unit. Here are my very early thoughts on the adventurous form factor…
(The Micro Cinema Camera is now in stock at B&H here)
What is the Micro Cinema Camera? Is it an action camera, a POV camera or a Pocket Cinema Camera replacement?
Turns out it can be all of those, it depends on how you set it up.
There has long been a gap in the market for a GoPro with cinematic image quality and interchangeable lenses. A truly mainstream gap in fact. With a GoPro though you don't have to worry about focus. Maybe if you put a Super 16mm c-mount wide angle lens on the Micro, say an 8mm and stopped down to F5.6 and set it to infinity you could use it as an action camera. Anything more cinematic and you'd have to use the HDMI monitor and rig it up bigger.
Just to access the menus and check the settings you need to bolt an HDMI display to the camera… If only it had a small monochrome LCD panel on it like a GoPro has for the menus, it could be bolted into position straight away with no extra kit required.
Although it can fill in for one, the Micro Cinema Camera is not quite exactly 'the same' as a GoPro, not quite a Pocket Cinema Camera replacement (I hope one will come at NAB). It's a different kettle of fish.
The Micro is a professional filmmaking tool, a camera to go in hard to reach positions or to be mounted as a POV camera on a person, vehicle or prop.
However even just in the hand without any rigging, I find myself absolutely loving the form factor of the Micro for handheld work. I don't miss the grip of the Blackmagic Pocket Cinema Camera at all. The record button is right where it should be and although it has no dials for shutter / aperture, set to record in raw at 180 degree shutter angle, nearly all the controls are on the lens – a variable ND, focus, aperture ring.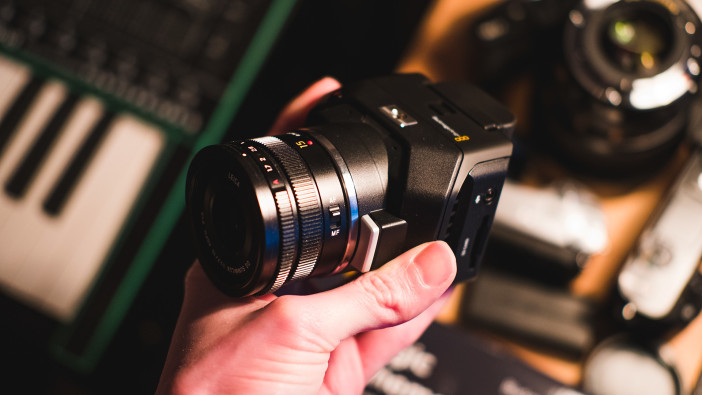 Above: with the Panasonic-Leica 15mm F1.7, the 3x crop factor of Super 16mm makes this a 45mm angle of view – not quite wide enough for most drone shots
This thing is truly Micro… yet it uses a much bigger Canon battery than the smaller Nikon battery in the Pocket. Zak Forsman on the EOSHD Forum says his initial impressions are that battery life is much improved, roughly 2.5x that of the Pocket camera. Very good news! Although I have yet to check myself in detail. Zak also claims low light performance is improved and aliasing reduced, stating:
Noise is mildly reduced on the Micro and a touch more monochromatic.
Moire is also slightly less aggressive on the Micro. Maybe 20% less?
Micro exposes a hair lower than the Pocket. An adjustment of -.15 on the exposure slider in DaVinci on the Pocket footage brought them in line.
Slight color difference between the two. An adjustment on the tint slider of about 6 or 7 points evened them out.
I will be doing an assessment of the image in my full review once I've had plenty of time with the camera.
There's a full sized HDMI port on the side and one mounting point on top of the camera for the monitor to be mounted via an articulated arm. The camera is a good match to the Blackmagic View Assist but oh dear – that cable. I wish manufacturers would consider using a hotshoe connection to their monitors instead.
In fact with the Micro being so incredibly small, part of me wishes for a Micro screen to go with it…
A thin, weightless little articulated screen on top like the Sony R1 had all those years ago (but detachable) would be improved the balance and ergonomics of this camera no-end whilst keeping it small and free of wobbly HDMI cables. It would also make it usable straight out of the box and a genuine option for consumers who don't have the specialised filmmaking tools to rig it up, thus massively broadening its appeal.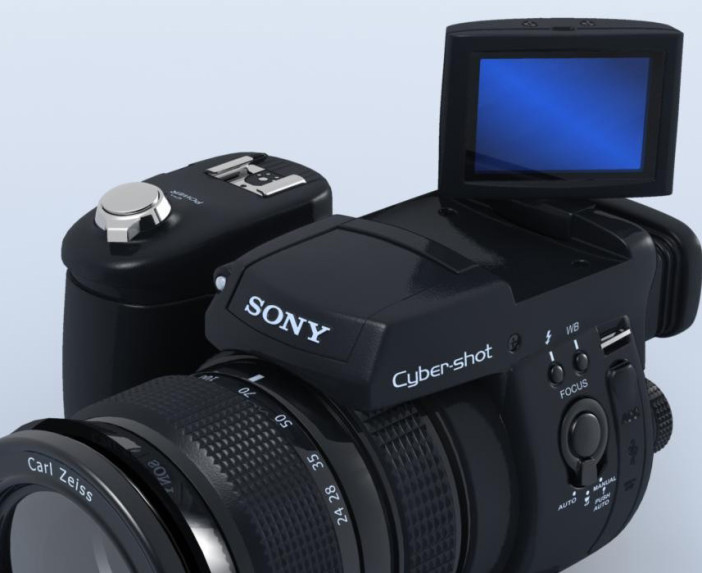 Blackmagic clearly have modularity in mind for the Micro: position the HDMI monitor anywhere off end end of a cable, or use a wireless transmitter. Then the camera can go in a hard to reach position. A wireless follow focus would also help.
In the more traditional sense, I assume Blackmagic were so used to their other cameras being rigged up with a cage, rails, screen and follow focus that they expect people to do the same with the Micro, so they have just provided the camera head and nothing else.
I'm not so sure this approach suits everyone. I think they have missed a trick. If the Micro had a small articulated screen and a way to control the menus, without rigging it up via HDMI, they'd have had a product with much broader audience – specifically: a cross-over appeal consumers looking to step their image quality up from a GoPro.
As it is, it still has a hell of a lot of appeal to the niche it's aimed at, especially with us filmmakers and pros. I will look forward to putting the image through it's paces – 1080/60p 10bit ProRes and the full 13 stop dynamic range in raw? Yes please. It has the potential to really replace the 5D Mark III with Magic Lantern raw as a more bullet proof reliable and affordable raw shooting camera for enthusiasts, as well as being a great 'mount anywhere' POV camera for pros.
Form factor pros and cons
Pros
13 stop DR, Super 16mm sensor with Micro Four Thirds mount. Metabones Speed Booster compatible (although mine were a very tight fit for some reason and the BMPCC one didn't mount… to be looked into)
Absolutely as small and as light as it's possible for a camera to be, great for drones, model aeroplanes, POV shots
More stable full sized HDMI port not a Micro HDMI
Comfortable to hold barebones and extremely discrete for documentary shooting
Much larger battery and longer run times than the old Pocket Cinema Camera
Built in ProRes and raw recording to SD card
Cons
Very few physical controls and no dials at all. You won't be changing the shutter and ISO speed on the fly with this like a mirrorless camera
Requires rigging with cage and HDMI monitor to be usable for normal shooting
No small built in screen for menus or basic composition
Lacks screen and controls of Pocket Cinema Camera
Top heavy balance when monitor attached to the top
No headphone socket, only mic jack