[vimeo]http://vimeo.com/74286078[/vimeo]
After a very limited initial release, the Blackmagic Pocket Cinema Camera is slated for an end of September ship date  in greater quantity. The good news is that the extra time has given Blackmagic some leeway to tweak the camera.
In the space of just 2 weeks Blackmagic have fixed the white orbs / hard clipping on the Pocket Cinema Camera as well as the black hole / sunspot which have been affecting both the original BMCC and Pocket for some time.
This is great news and now means you can order the Pocket camera with confidence.
I am not a fan of using early adopters as beta testers but Blackmagic have certainly responded well to the concerns raised on their forum threads about the problems, some of which now number 25,000 views.
The black hole issue will be fixed in a firmware update for the Pocket. It isn't clear yet if the fix will be rolled out to the BMCC though I fully expect it should.
White orbs will be fixed on the new batch of Pocket Cinema Cameras which ship next, featuring calibrated sensors.
It isn't clear whether existing Pocket camera owners can fix the white orbs with a firmware update or whether the sensor calibration has to be done at Blackmagic and thus the camera sent back.
Later firmware will also add raw recording to the Pocket camera and compressed raw at 2:1 on the Cinema Camera which makes the lovely 2.5K mode more attractive.
It's great to see Blackmagic come through with maturing the firmware, as we've not had a major firmware release since the BMCC first began shipping nearly 1 year ago.
Here's a few frames from John's video showing evidence of the fix –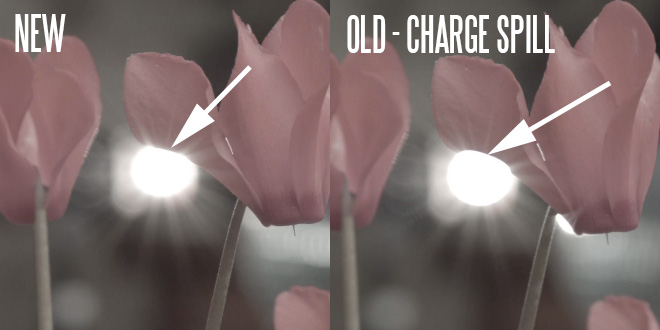 CMOS sensor convert photons into electrical charges.
They have a gate where the electrical charge passes through. If the charge is too much for the gate, it can spill over into other pixels.
The white orbs were due to charge overspill from overloaded gates with too much converted electric charge from photons (light). All CMOS sensors are susceptible to this so the calibration procedure should account for the maximum gate charge before the spill.
John Brawley has tested the calibrated Pocket camera vs the old one –
"Orbs can be created through any number of factors and are greatly affected by sensor size, lenses, exposure, where you set focus and what kind of lights or "orb" sources you're shooting.
"BMD have come up with a fix for this hard clipping in the space of a couple of weeks. I've got both an uncalibrated production camera and a calibrated production camera so I thought I'd shoot them side by side with a bit of a highlight orb torture test.
"One thing I've found amazing is that once you start looking for "orbs" you start seeing them everywhere ! Various forums have been rife with "orb spotting" and many of them have really just been regular clipping on small point sources."
That latter point is a good one, as there are a lot of false positives on forums. Just because it is white and circular with a hard edge doesn't mean to say it's a sensor problem.
Here also is evidence of the black hole fix for all Blackmagic cameras from John's video –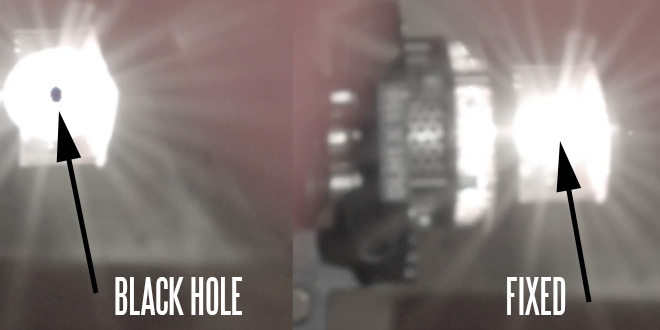 Until now this had to be dealt with in post using the tracker in Resolve to mask out the problem area.
Lenses, glorious lenses
For me the Pocket camera is all about the lenses and I'm very much looking forward to shooting with it. Unlike the BMCC MFT the Pocket camera has an active MFT mount which brings new options to the table on a raw camera for the first time (what other 13 stop raw or ProRes camera has a fully functioning Micro Four Thirds mount?). Image stabilisation works on Panasonic glass, though AF seems to be virtually unusable with most lenses, most filmmakers will only require manual focus and peaking, both of which work fine.
SLR Magic's range is also attractive on this camera, especially the 12mm T1.6 wide angle.
Also for the first time I will be able to use Super 16mm c-mount glass on the sensor size they were designed for, along with 13 stops dynamic range.
Bring on the en-masse shipping date!