[vimeo]http://vimeo.com/37879608[/vimeo]
Here is a shot from Japan which was shot with both the 5D Mark II and 5D Mark III (with beta firmware) by a camera reviewer. The cleanness and lack of noise is something quite remarkable.
Are we in for a incredible low light treat – a truly ground breaking camera?
Here's a one-one view of the full 1080p Vimeo Plus download.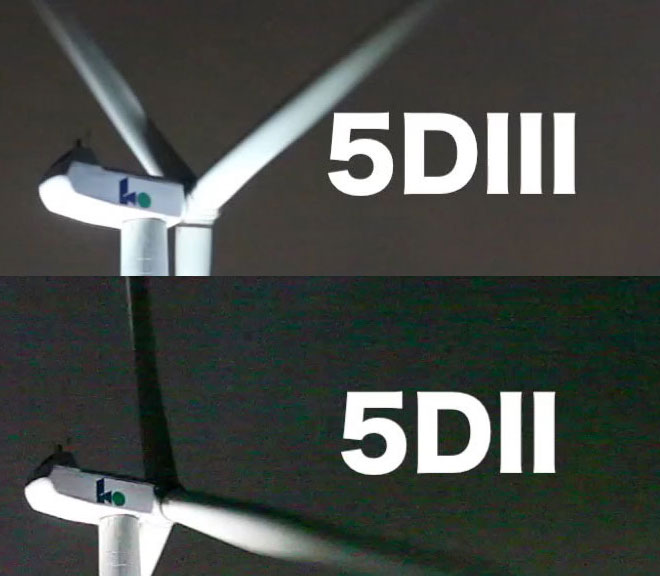 Quite an extraordinary improvement, and the 5D Mark II was not bad in low light either!! Not only that but the 5D Mark III goes all the way to ISO 25,600 in video mode.
The video is quite soft due to quite heavy Vimeo compression and probably noise reduction in-camera turned up high.
Creatively I am looking forward to shooting at ISO 12,800. It is genuinely new cinematic territory. The only times I have tried it so far is on the GH2 which can go that far with the hack. Natural light takes on a different character when you make every subtle bounce and reflection more noticeable. For example the flicker of a small fire against a wall – takes on a epic and dramatic feel which is very other worldly.
Here's an example, which I shot on the GH2:
[vimeo]http://vimeo.com/31835141[/vimeo]
Usually with an advance in sensitivity comes an increase in megapixel count, squandering entirely or reducing the amount of gain in low noise performance.
The 5D Mark III is the first DSLR in living memory that keeps the megapixel count virtually like for like with its predecessor. So all the sensor improvement has gone into producing better high ISOs and better video.
Another reason the 5D Mark III is a 22MP camera, an increase of just 1MP over the 5D Mark II is for better downscaling. The native horizontal resolution of the 5D Mark III divides perfectly by 3 into the 1920 horizontal resolution of video, for example.
The Canon C300 and Sony FS100 are the current low light video kings, although the Canon C300's maximum ISO of 20,000 translates only into ISO 6400 in terms of a DSLR.
The downscaling process on the C300 from 4K (8MP) to 1080p produces clean video, and a similar principal is now happening on DSLRs where a higher resolution sensor scales cleanly to 1080p as well.
Add the Canon 4K EOS to the mix and it is clear that Canon are taking DSLR video very seriously at the moment. At long last!
You can download some high ISO RAW stills at Canon Rumors Forum here