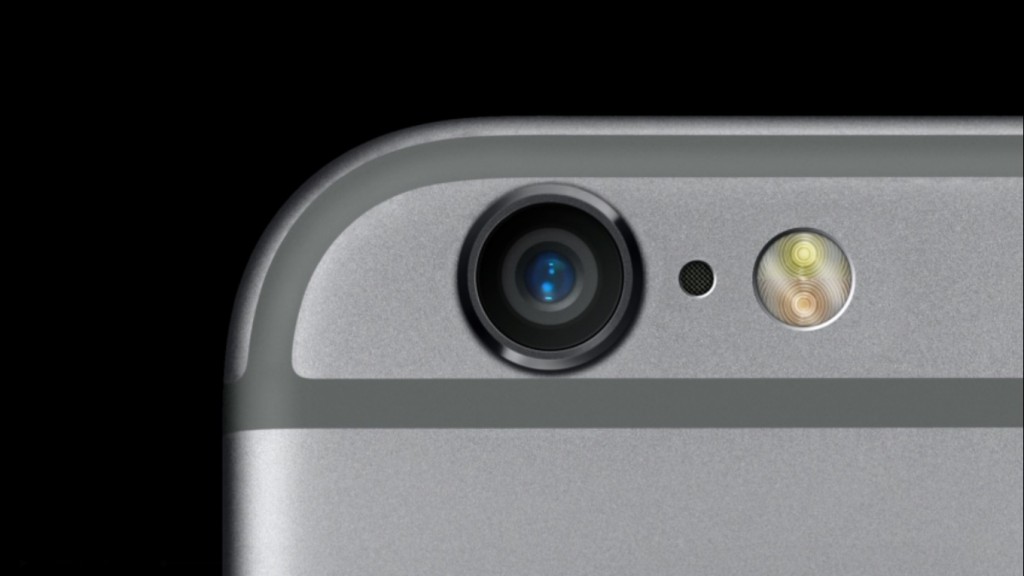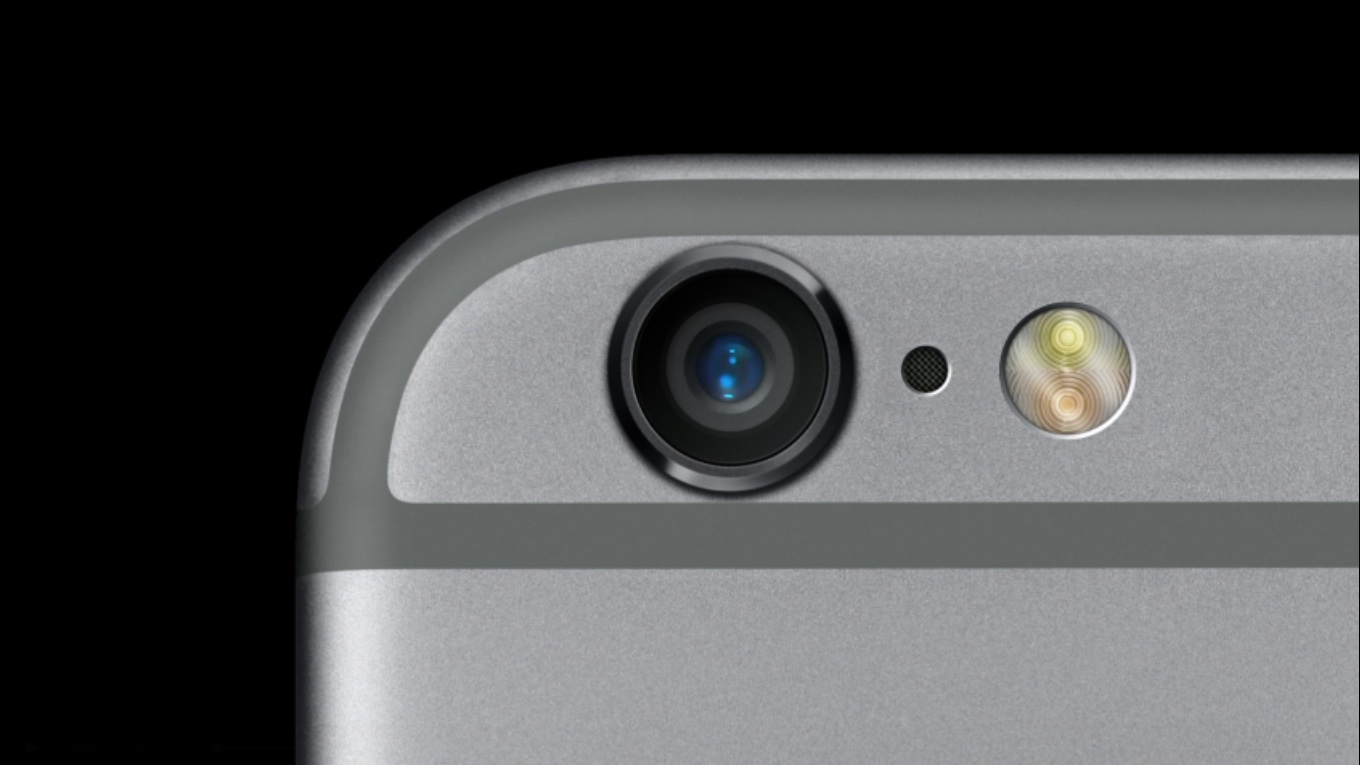 With the camera, the iPhone 6 has taken a pretty reasonable step forward. Although resolution remains the same at 8MP the sensor is brand new.
On the video side 1080/60p and 240fps round out an impressive spec along with optical image stabilisation.
Here's what new at a glance on the new iPhone 6 and the larger iPhone 6 Plus:
240fps at 720p (up from 120fps) for slow-mo movie capture
1080/60p (up from 30p)
New Apple video encoder (details to come later…)
Optical image stablisation
On chip phase detect AF for doubly fast AF speed over the 5S
A more advanced and capable image processor running on the new Apple A8 chip round out the new camera.
In the live event, Apple suggests better low light performance comes from a sensor which again is slightly larger, a similar increase in size as seen with the 5S over the 5. The 6 Plus has optical image stabilisation (lens based) whilst the smaller iPhone 6 does not. Apple teased clean low light test shots from the iPhone 6 Plus taken using optical image stabilisation and slow shutter speeds, as seen below: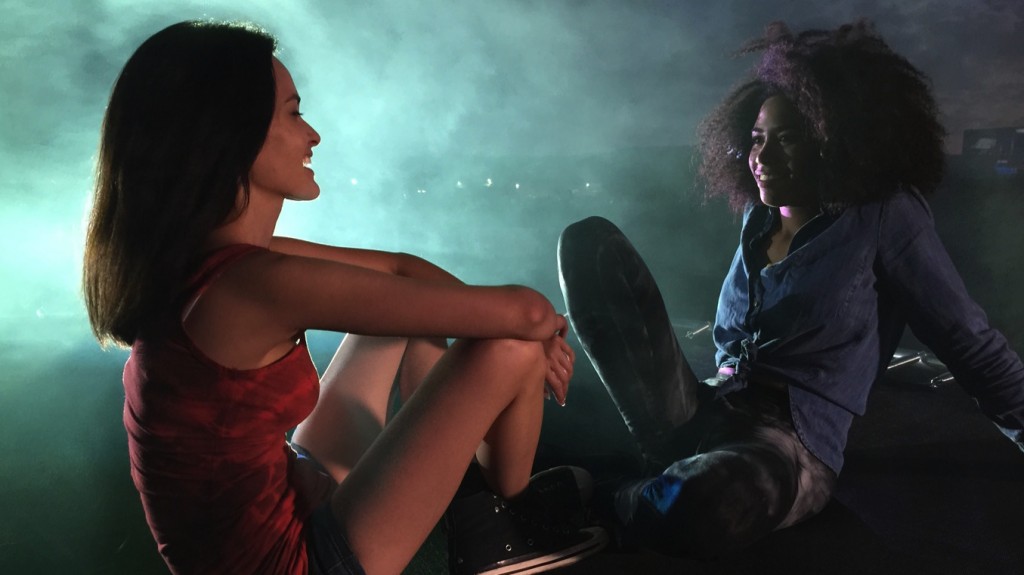 For me the big feature as a filmmaker is 240fps. That is some very dramatic slow-mo – and although resolution remains only 720p it's going to make for some good creative possibilities especially whilst travelling. The video below made some fantastic use of 120fps on the iPhone 5S.
You will need a lot of light though – 240fps requires a much faster shutter speed. Slow-mo in low light is a no go at 240fps on a small sensor.
You can learn more about the new iPhone 6 camera and video specs at Apple here
Scant details were given at the live event of the new 'Apple video encoder' included in the new models.
This in theory will improve compression quality, detail and resolution whilst keeping file sizes to a minimum.
The maximum capacity of the 6 Plus now stands at 128GB, with the basic models starting at just 16GB.
As expected the larger iPhone 6 Plus now features a much larger and 5.5″ retina display. It is a 1080p S-IPS panel with wideer sRGB colour gamut. I'd love to use the iPhone 6 Plus as a field monitor via a cable connected to my camera. A big thing missing on almost every device out there like this is the ability to feed in an HDMI input! No news yet on whether this will be possible with the new iPhones but it seems unlikely.
Apple claims much faster AF and says this will apply to video as well as for stills. The sensor uses on-chip AF pixels, the same technology we saw in the Canon 70D and upgraded Cinema EOS C100 / C300. This will result in better AF racking and faster AF overall but it remains to be seen how performance stands up in real life on that small sensor, especially when it is starved of light.
The lens is again a 5 element design, F2.2 maximum aperture.
I think Apple have done a superb job on imaging so far, but they need to catch up in a couple of areas. They are a step behind Microsoft on two things – sensor size and Hyperlapse technology. Although it is creeping upwards, Apple have definitely sacrificed a larger sensor for thinness. A larger sensor requires a larger lens. The PureView sensor is 1″, much larger than in the iPhone 6.
The iPhone 6 sensor has 1.5 micron pixels, compared to 5 micron on the full frame 5D Mark III at 22MP therefore light gathering ability is still distinctly 'compact camera' unlike the 2.7x crop 1″ Sony sensor in the RX100 Mark III and Nokia Pureview devices.
Microsoft currently have the best Hyperlapse technology at the moment but I am sure third party apps will license this and bring it to the iPhone 6 which has the hardware capable of doing justice to it. Upgraded motion sensor, the Apple M8 will really help this. Until then there is the fun Instagram Hyperlapse app already to tide us over until the technology gets even better.
The Apple iWatch by the way, looks truly beautiful. A masterpiece of design and engineering. Now, to have an app on a watch that can interface with a DSLR via WiFi would be very interesting. I am sure this is coming so let's see what the possibilities are before writing it off as a gimmick, or merely a watch!