Just like my forum users, I read a few days ago at DPReview that Sigma won't be making the MC-21 Canon EF adapter compatible with any Leica mirrorless cameras including the Leica SL.
There is now quite some confusion over whether the adapter is going to work with a firmware update, or never? I am waiting for Leica, Panasonic and Sigma to clarify this. In my view the L-mount alliance shouldn't be plagued by compatibility issues between cameras and lenses with the same mount, nor should there be political reasons for disabling certain products (or a 'specification change' as Sigma put it)!
On the Panasonic S1 front things are better and I have good news.
I will say however, it's important users get the same smooth experience with Sigma's EF mount lenses as they do on Sony bodies. It seems the MC-21 EF mount adapter for the Panasonic S1 will have a number of limitations compared to the MC-11 including no video AF whatsoever, so I urge the companies to work as closely as possible together to fix this and really nail performance vs the Sony A7 III, as much as can be achieved without a phase-detect AF system.
Now the good news: Sigma have announced their native L mount lenses and pricing, which greatly expand the range of lenses we can use the the Panasonic S1. These native L-mount lenses are listed as compatible with the SL and S1/S1R – a mount swap service is offered as well. In addition Leica just issued a firmware update making the Panasonic S Pro lenses compatible with the Leica SL with full autofocus – which at least clears up my issue I had with the 24-105mm on my camera not working.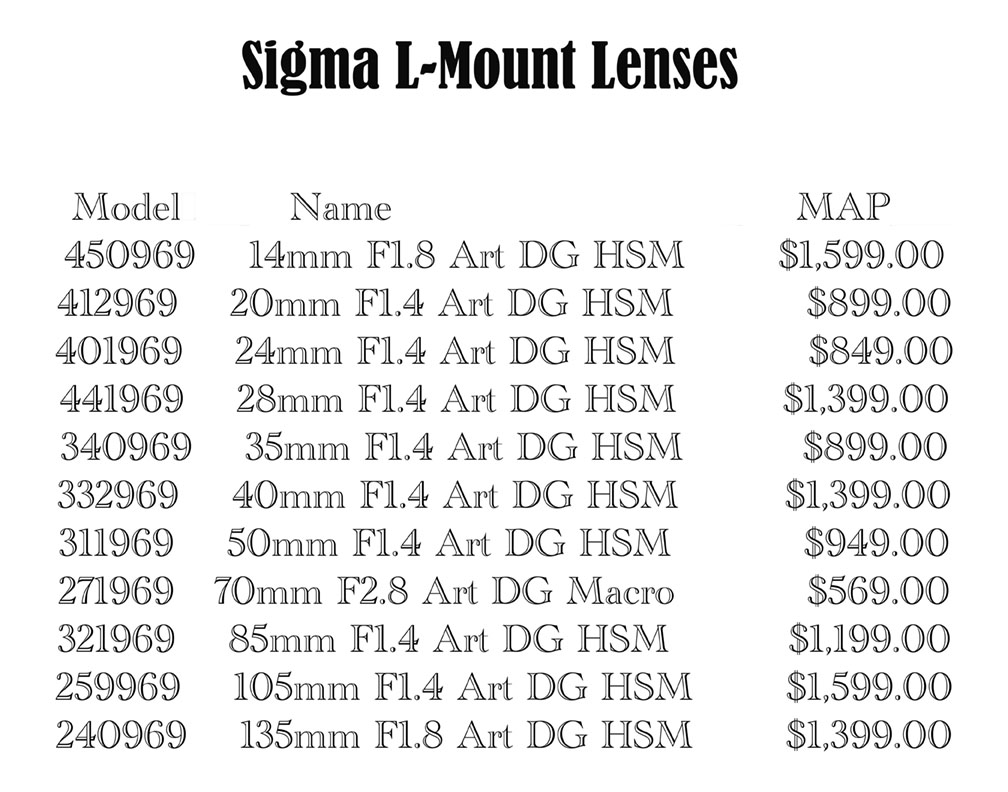 You will notice there are no zooms such as the 24-70 F2.8 or 18-35 F1.8 in that list.
The L-mount lenses are are the same as the Sony E-mount versions, that is to say they are the original DSLR optics mated to a new mount, with new electronics. No size or weight changes to take advantage of a mirrorless camera – but superb glass and no need for an adapter.
Performance with contrast-detect AF remains to be seen especially in video mode and AF-C.
These lenses will be a popular choice with Panasonic S1 pro and enthusiast users, but they also bring the cost of entry down for AF lenses on Leica mirrorless bodies.
Sigma MC-21 EF lens limitations, may be fixable with firmware updates?
On their website Sigma are still claiming the MC-21 won't work on Leica cameras.

However several sources have told me that this may change.
I am waiting to hear more and in the meantime B&H lists the MC-21 adapter as Leica SL compatible.
Could it be that the latest Leica firmware to support Panasonic's L-mount lenses also enables support for the MC-21?
If not, it may be that instead of political shenanigans the SL is just too old to support the adapter or allow it to perform suitably well. The only other EF mount adapter for the Leica SL didn't perform very well in my experience – the Novoflex EF adapter indeed was borderline unusable and it may be that Sigma encountered the same issues and decided to disable support rather than ship something that didn't perform to a high standard. Compatibility was very patchy with the Novoflex adapter too.
It'll be interesting to see how the Novoflex EF adapter works on the Panasonic S1 and S1R. Sadly the adapter doesn't have a USB port for firmware updates.
There is not yet a change to the news that AF-C isn't supported on any camera with the MC-21 EF adapter including the Panasonic S1.
Several other limitations currently apply:
AF continuous operation cannot be used during video shooting.
Touch AF cannot be used.
With lenses incorporating MO (Manual Override), operation in manual mode is possible only after focusing.
MF guide is not available.
The image stabilization function inside the camera body and the lens cannot be used simultaneously. Please ensure one of these is selected.
The AF Function Button and the Focus Preset Button incorporated on some lenses cannot be used.
Clearly the adapter is more limited than the Sony E-mount / EF adapter (MC-11) but I expect this to improve as it did with the Sony, which wasn't perfect when it first came out.
If Panasonic ever adopt phase-detect AF on future S series cameras, this will give much better autofocus with legacy lenses and in video mode.
I still think the L-mount alliance has a very promising future. Yes, there needs to be better communication between Panasonic, Leica and Sigma – but they are 3 enormous separate companies with worldwide operations and mistakes do happen. So it's a case of wait and see with this one… Hopefully soon we can breath a sign of relief and feel that the L-mount alliance is back on soon.