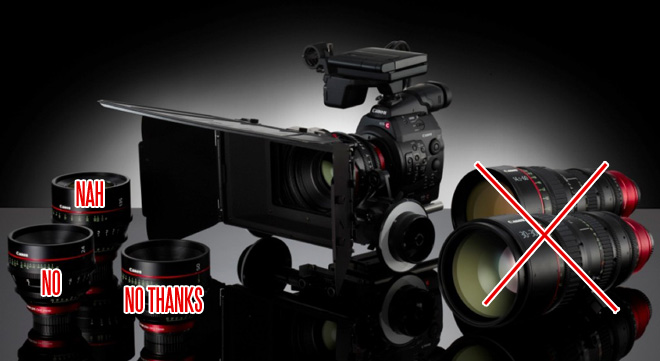 Do you work for Paramount Studios? If the answer is no then Canon do not any more have an appealing interchangeable lens video camera for you (or even the consumer market) under $15,000.
Forget Ron Howard. This needs fixing first.
In my opinion at every level of video under the C300, Canon's competitors have the better solution. This is a serious problem for Canon.
Now when a new camera is released your old 5D Mark II doesn't suddenly become useless.
But there's an elephant in the room with this argument.
It does.
When a superior product arrives for a similar price, why keep the old one? Why not shoot with the best you can get? Unfortunately for Canon, the best they can give you under $15,000 for video is a camera that isn't even a video camera. The 5D Mark III is not a proper step forward. It is still a stills camera with a video add-on.
My frustration boiled over so I got a Sony FS100 last week. When you look at Canon's offerings for cinematic looking video under the $15,000 C300 at around $2000-$8000 they are frankly a real mess. The DSLRs haven't truly moved forward for 3 years. There's the nice but boring zoom lens camcorders like the XF305 which are small chip. Suited to event filming and documentary but small chip isn't in fashion or very desirable. Under that there are small chip consumer camcorders whose sales are being cannibalised by mobile phones!
Enter stage left the Canon C100
Because of their obsession with Hollywood Canon don't have an answer at the moment. I am sure new products are coming but they're coming later than the competition that is for sure. FS700 anyone? NAB is a very small bubble that exists outside the real world and I am sure Hollywood will get excited about the C500 and Cinema 1D but these cameras are not practical solutions for 90% of videographers unless rented and they won't be available for 6 months possibly longer. Also if you're budgeting $15,000 to spend on gear as an investment in your business NOW it makes far more sense to get two FS700s for the cost of one C300. The FS700 won't be obsolete in 2 years, as it is 4K ready (not to mention 240fps 1080p). The C300 isn't.
These are the features a Canon C100 would need to fight back outside of Hollywood.
1080/60p EOSRAW on CF cards
Since Canon has already developed a raw codec the costs are already absorbed by the massive margin Canon will make on the Cinema EOS cameras. For the Video EOS range Canon can still put a raw codec in because for $6000 the 1D X has the same DIGIC5+ Dual image processor as the Cinema 1D. This means handling the EOSRAW codec can already be done on hardware at that price level if not lower.
8MP sensor capable of 4K via 3G HD-SDI
Sony has this kind of sensor at $8000, and it has a far greater throughput than just 60fps. Here all I am asking is for Canon to copy Sony but save money by having 24p and no slow mo options. Surely not hard? Relying on external boxes brings costs down as recording 4K internally is expensive. Very few people need 4K at the moment but this gives them the option to add it later.
2-4-6 ND wheel
If the Canon G1 X can have a built in ND and large sensor for under $600 there's simply no excuse not to put this in, even if it is an electronic one.
Peaking
If the Sony NEX 3 has this for $300 in a free firmware update, it is going on this. End of story.
XLR
Just do it. The Zoom H4N has robust XLR and decent audio circuitry and that costs a fraction of even a DSLR.
Build quality and form factor
Make it as small as possible. No EVF saves on cost. Add a large 4″ LCD on top of the camera. Use a new mirrorless mount with swappable adapters for EF and PL ready on launch day. E-Mount on the FS100 is one of my favourite features of the camera since I can use my entire lens collection no matter what the mounts. In terms of form factor I actually think a boxy modular design similar to the Sony FS100 would be pretty nice if they laid out the important buttons and dials with a bit more blue-sky thinking and not mimic the old VX2000 like Sony did! Plus it should come with a decent top handle (that was a bit of an oversight on the FS100).
Price
Forget $15,000, forget even the $8000 of the Sony FS700. Del Boy is offering this little marvel for $5000.
If that price doesn't give Canon enough margin (it should do since this will sell in far larger volumes than any C300 will) then I'd sacrifice EOSRAW and just have plain old MPEG like the C300 but at 36Mbit so the grumpy broadcast codec fanatics don't get upset at being undercut for work!
However I want to keep the 4K sensor at all costs – otherwise I'd just get the $8000 Sony FS700 since it is a better investment and more future proof. Certainly if Canon can do a brave product like the above for under $8000 they have an answer to Sony. If not… then Sony are going to win this round.