My friend Dave Altizer over at Kinotika found some bounty at CES which others missed – the first ever 8K Micro Four Thirds camera.
Alas it is not a Panasonic.
Sharp, the company famous for its calculators, has beaten Sony and Panasonic to the punch with the catchily named Sharp 8K Camera. This small beast has one feature I wish everyone else would copy immediately. A wide, 5″ flippy-tilty screen – like the size of the one on the Blackmagic Pocket 4K Camera but fully articulated. The other interesting thing about this camera, in my opinion, is it proves that Sony are already sampling a 36 megapixel Micro Four Thirds sensor, likely the one Panasonic will use if the GH6 goes 8K before 2020 under their Tokyo Olympics timescale promises.
Now I know what you're thinking, 36 megapixels / 8K (7680 x 4320) on a 2x crop sensor in low light – say goodbye to shooting above ISO 400?! And how about battery run-times with 4x the processing power required? Throw in a complex H.265 codec and you may well end up with a 5 minute battery life and 100 degrees Celsius grip.
Sure there are challenges, which is why the first generation 8K stuff is probably best taken with a pinch of salt. Especially as initially I think prices will be quite high vs 4K mirrorless cameras with better overall specs aside from just resolution. Sharp say under $5000 for the small 8K camera, so $4999 then? 🙂 That pitches it well into pro territory. Then there's the rolling shutter, which might be a bit of a weak point.
It is interesting that Panasonic let Sharp into the Micro Four Thirds consortium and let them garner all the early headlines for their 8K cam before a GH6 announcement. Might this mean the GH6 will stick to 4K? If you like the idea of shooting 8K already, of course it is still better to wait for an 8K Panasonic (maybe a GH8?) with the same sensor – as I am sure it will be the superior product – but well done Sharp for joining the market already. It's sure to draw attention to the brand and illuminate the existence of their high-end TVs where 8K plays a big part.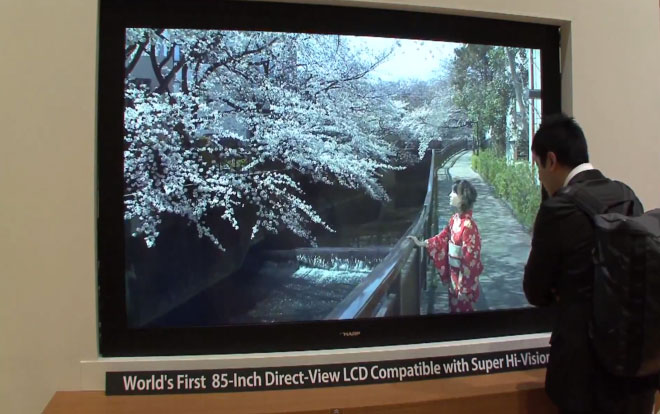 Above: Sharp 8K TV from way back in 2012 at IFA Berlin!
Indeed Sharp have had those on display at shows around the world for a good few years now even as early as IFA in 2012 (as well as a professional ENG-style 8K camera) so an eye-catching Micro Four Thirds camera is their way of selling more 8K TVs and having more content to make use of those displays.