[youtube]http://www.youtube.com/watch?v=lm3ULX-v04A[/youtube]
View the FZ1000 at B&H or at Adorama
The Panasonic FZ1000 looks like a very handy alternative to the Sony AX100 camcorder and RX10 bridge camera. It's also the world's first 4K camera (25p,30p) under $1k. At this price some compromises are bound to come into play and we'll get to those in a moment.
First let's take in the rather lovely view… A 25-400mm Leica lens, 100Mbit/s codec for 4K, 120fps 1080p slow-mo and CineLikeD/V profiles just like the GH4.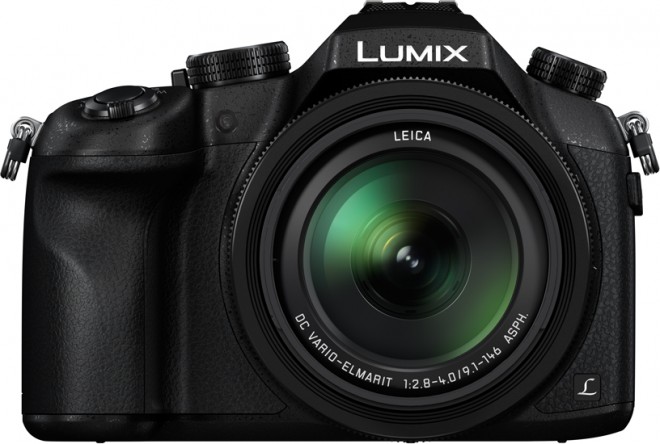 That is pretty special for the price however this camera has some quirks.
There's no built in ND filter like the Sony RX10 and it does not have the constant F2.8 aperture of that camera either, instead trading that for the longer zoom range.
The sensor is a rather hefty 20MP when only 8MP is required for 4K video. With the 2.7x crop sensor in this camera I'd have liked to have seen a much lower megapixel count to improve low light and dynamic range, both likely aspects of the FZ1000 which will fall short of an APS-C camera. With such a long zoom, why do we need the cropping ability of 20mp anyway?
A place where any cropping is not welcome is in 4K video mode – here the lens unfortunately loses the wide end altogether and becomes a 37-592mm. 20MP down to 8MP is quite a hefty crop.
I'd speculate the sensor is likely made by Panasonic. It has a slightly different megapixel count of 20.1MP to the 20.2MP Sony sensor in the AX100 which is also capable of 4K. Also Sony's chip is a BSI-CMOS (backside illuminated) while Panasonic say theirs is a MOS. No mention of the C or BSI! Panasonic's sensors tend to be based on NMOS technology, which has elements of a CCD design on a MOS sensor.
Key specs
20.1Mp 1″ MOS sensor
Leica 25-400mm F2.8-4.0 lens (16x zoom – 15 lenses in 11 groups. 5 aspherical lenses)
Hybrid OIS 5 axis stablisation
4K video at 100Mbit/s to MP4 (25p PAL, 30p NTSC)
1/4000s mechanical shutter / 1/16000s electronic shutter
0.09sec AF speed
Half a second start-up time
DFD AF (like GH4)
2.36m dot OLED EVF
3″ 920k screen
12fps continuous shooting
Focus peaking
$899
Commendably given the considerably low price point, the FZ1000 packs in a great many of the GH4's features. It has the same image profiles including CinelikeD for optimal dynamic range in video mode. It has peaking, zebra, clean HDMI (though not 10bit like on the GH4). However the big omission many US users will notice is that there's no Cinema 24p in 4K mode. The camera uses the NTSC video standard frame rate of 30p in 4K. In 1080p you get 24p but not in 4K. A little bit annoying that is!! At least in PAL regions the camera uses the 25p video standard which will look essentially identical to 24p.
The camera uses a hybrid stabilisation system. OIS on the lens and a further one in-camera to provide a total of 5 axis stabilisation. I believe the rotational axis is dealt with electronically in-camera and involves a slight crop of the sensor. It is not clear what kind of stabilisation, if any, works in 4K video mode. The spec sheet is confusing with respect to this, so I'll see if I can clear it up on the forum later. It would be a shame if there was no stabilisation at all in 4K mode, as a 25-400mm lens on such a small and light camera really needs it. If it's just 3 axis OIS in 4K mode and not the full 5 axis then I can live with that. I believe this 5 axis hybrid OIS system has nothing to do with Olympus's 5 axis sensor-based stabilisation system.
Slow-mo goes up to quarter speed, i.e. 25p out of 100fps on the PAL model or 30p out of 120fps on the US model. Again, where is 120fps to 24p and why is the camera not region switchable? A bit of a quirk, but slow-mo is a nice bonus feature on this camera. I enjoyed 120fps 720p on the FZ200 though stabilisation turned off in that mode, limiting it's usefulness somewhat. Let's see if the image and performance surprises us at 120fps on this one!
The EVF maintains the same 2.36M dot resolution of the GH4 and is OLED, but I think it is smaller. The LCD is a high resolution 920k display and fully articulated. Again very nice for the price.
First impressions
The FZ1000 is an exciting box of tricks. It is cheaper than the Sony RX10 yet has 4K video, 120fps slow-mo and a longer lens. The Zeiss lens on the RX10 really is stunning but here on the FZ1000 the Leica tag holds much promise. Although it's virtually DSLR-sized, at the price it offers far more in the way of features. Only the smaller sensor is the big trade off, especially when you factor in that extra crop in 4K video mode. We're talking slightly smaller than Super 16mm when all is said and done. But for run & gun situations this camera could be a superb bargain. It doesn't have a headphone socket but it does have a mic jack for decent audio capture on the fly.
The lens design is classy and the zoom ring can be switched to control manual focus, which with peaking and the high resolution displays should be very easy on the smaller sensor compared to on a full frame DSLR. The overall body design reminds me of the G6 with a similar control layout but build quality has been taken up several notches.
It's certainly no GH4 replacement though.