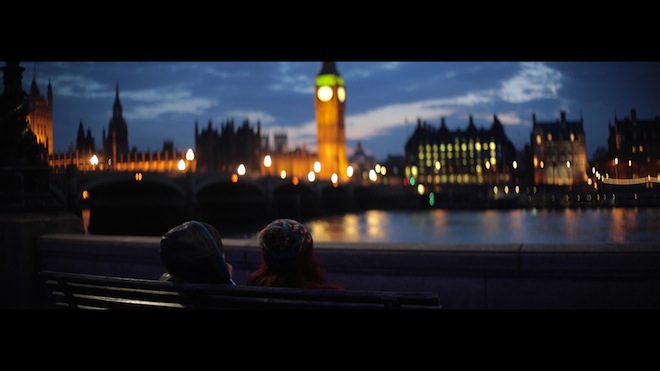 Get the new firmware here for the 5D Mark III
The 2nd Alpha release of Magic Lantern for the 5D Mark III brings a very useful feature for anamorphic shooters such as I, a real-time anamorphic aspect ratio preview in live view. This is extremely useful for shooting bare bones with an anamorphic lens, or for those with no monitor / EVF that supports anamorphic de-squeeze.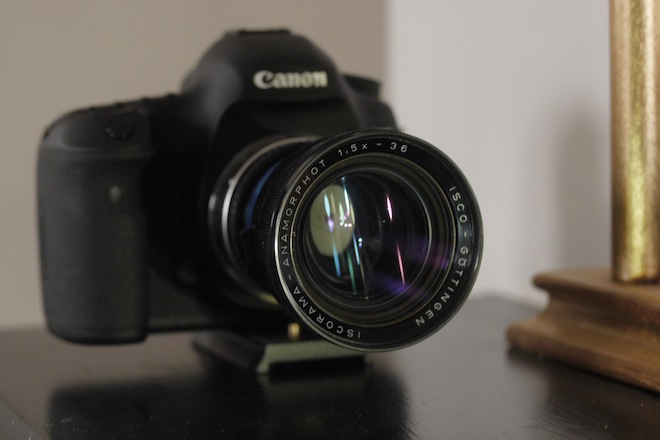 Above – the Iscorama 36 1.5x on the 5D Mark III
Here's a look at some of the new features in Alpha 2.
Gradual Exposure
In movie mode, just change your exposure settings (ISO, shutter or aperture) and Magic Lantern will perform a smooth transition. Can be useful, for example, when filming from indoors to outdoors. This feature is new, and so far the 5D Mark III is the only camera that handles it almost perfectly.
EOSHD comments: this will be useful for documentary run & gun shooters, and mimics the stepless aperture in a cinema lens for smooth exposure changes during a shot.
HDR video
Already well-known feature, helpful with extremely harsh lighting (see demo video) – of course, as long as you keep in mind its inherent limitations (like avoiding fast motion)
Focus assist tools
Magic Zoom (zoom box or full-screen – 2.6x while recording)
Experimental focus peaking modes (alpha blending, raw display)
Display tweaks
Brightness, contrast, saturation (useful if you record with flat picture styles or you use the camera in bright sunlight)
Display gain (LiveView usable in very dark environments)
Anamorphic lens correction (preview only, in LiveView)
Fisheye correction for Samyang 8mm, using rectilinear or Panini projection (LiveView and Playback)
Clean HDMI out with pillar boxes (just erases the overlays)
Screen layouts, especially for HDMI (16:10, 16:9 etc)
Customize menu colors (e.g. dark themes – easy on your eyes during night shooting)
UniWB correction (attempt to remove the green color cast from the screen when you use UniWB)
Upside-down display (for inverted tripods)
EOSHD comments: Remember this is an alpha so features are not final – I will be testing the anamorphic correction mode with my lenses to see how it works, and report back to Alex and the team any bugs
Image review tweaks
Adjust exposure after taking a picture (e.g. to check shadow detail)
Combine two or more images (multiple exposure preview)
Timelapse playback (no timelapse recording yet)
Remember zoom position
Other tools / tweaks
Ghost image (transparent overlay from any photo, e.g. for panoramas)
Record indicators (free space, elapsed time, remaining time, average nitrate)
Movie logging (metadata in a small text file)
Display presets (custom overlay screens – switch them with INFO)
Task and CPU usage info
Please donate to the Magic Lantern project and grab the 5D Mark III version here