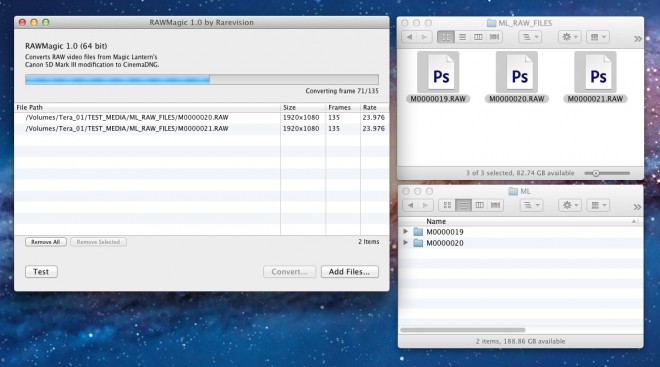 Rarevision are the creators of 5DToRGB, and developer Thomas Worth has today released an early beta version of their converter for 5D Mark III raw files on the Mac.
I've tested the app and it does exactly what it says on the tin. Cinema DNG sequences grade beautifully in Blackmagic DaVinci Resolve.
There are now two Cinema DNG converters available by different developers. The first is for Windows and currently at a very early stage – it needs some bug fixes and a batch mode before it can be used properly and the dev is of course working on it.
RAWMagic is at the moment a more complete product. It doesn't have the pink dots bug of Raw2CDNG, though the vertical lines of earlier Magic Lantern Raw2DNG conversions are still there – I believe EV correction on columns needs to be implemented. It is a Mac app and you can simply drag and drop raw files into it and have them convert each to their own Cinema DNG folder in a location of your choice. You can drag files in whilst it is working, and have them automatically queued or you can just drag and entire cards worth of files in at once and go and brew some tea.
Mac app development was lagging behind Windows until now, so this app is very welcome. It'd be great to see a RAWAnizer-like GUI for multiple raw formats on the Mac and an OSX version of the CineForm transcoder too in future.
Testers are encouraged to download the beta version and give it a spin here
Be sure to check out the excellent CineForm converter too (Windows)