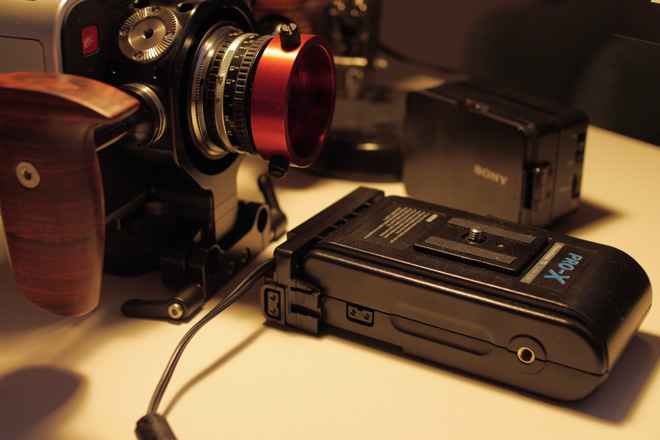 You can find the Switronix PB70 for Blackmagic Cinema Camera at Adorama for $299
When the Blackmagic Cinema Camera was announced at NAB many DSLR users were quite concerned by the lack of interchangeable battery and the short 1 hour run time on one charge.
In practical reality it is one of the best features.
Reality is often so different to the perceptions generated by a mere spec sheet. People did wonder at first why couldn't they put Canon DSLR batteries in a Blackmagic Cinema Camera and saw this as a weak point. Last week however when I tried the Ikonoskop it reinforced my point that raw cameras are much hungrier animals than 8 bit cameras such as the Sony FS100 and the DSLRs. The same Sony interchangeable battery which gives me 5 hours of shooting time on the FS100 gave me 1 hour on the Ikonoskop. Similarly the internal battery in the Blackmagic Cinema Camera lasts for around 60-90 minutes between charges. It is not meant to be used as the main battery.
External batteries therefore are the preferred solution for raw cameras.
The Switronix PB70 lasts 4x the internal battery. It is much more like what I am used to on the Sony FS100 which has superb run-times on one battery. As an added bonus it charges the internal battery as well meaning the camera is always at 100%. So in affect the Switronix gives me 5-7 hours of shooting time on one charge. Unlike with interchangeable DSLR batteries you don't need to be concerned with carrying 10 of them for a day's shooting, just plug in and go. When it comes to the small batteries on Canon Rebels and Panasonic GH2 you only get around 1-2 hours of video on a DSLR before you need to swap the battery. On long shoots this means being concerned about swapping them quite regularly and carrying a bunch. These also take ages to charge if you have 6 or 7 batteries and a few spares! With the Switronix you just plug it in and leave it for 3 hours or over night and you won't be getting up in the middle of the night at 4am to swap batteries in and out of a charger.
So all in all I much prefer the battery situation on the Blackmagic Cinema Camera because you have such a lot of choice. The new ReWo cage which I am using at the moment has one of the smallest and most affordable external batteries and it swaps easily in and out like on a DSLR. But the Switronix lasts and lasts so you can just forget about it and concentrate on the shoot. But then it is great to have that option isn't it? A nimble low profile battery for when it is necessary to keep the size and weight down to an absolute minimum such as when rigging to vehicles or for stealth shooting, and the Switronix for on-location shooting or when you just want to carry one or two batteries to get through an entire day.
The Blackmagic Cinema Camera's internal battery takes the role of backup and safety UPS power. If you pull the 12v cable out accidentally the camera doesn't turn off. Nor do you need to be concerned that the backup battery is full. It charges when you plug-in the PB70 so that it is always at 100% by the time your external battery dies.
The PB70 (Powerbase 70) is not heavy and doesn't need a rig, a cage or anything extra. You can attach it to the base of the camera as it comes with a V-lock quick release plate. You can then mount the battery & camera as one unit on your tripod.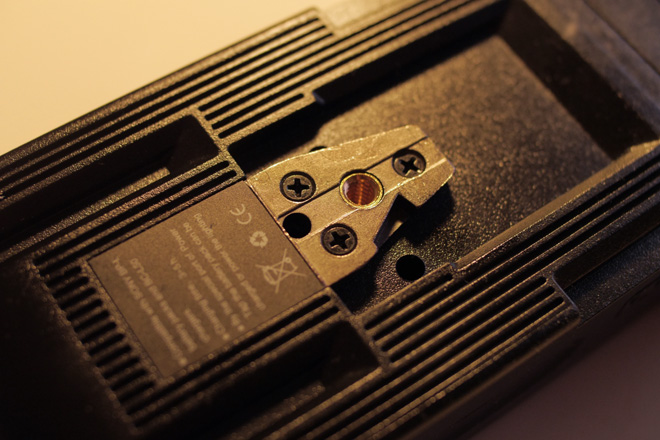 There's three 1/4″ threads on the battery (standard tripod type), a quick release plate and sturdy steel V-lock mount. The PB70 is a common Switronix battery and in this instance it is bundled with the appropriate connector for the Blackmagic Cinema Camera in the box. I have the standard GP-DV-BMCC connector block which is discrete and has a short cable of around 30cm. When you use a shoulder rig it is common to have a weight on the shoulder to make it steady. You can use the battery as that weight but you will need to make sure you get the connector block with a longer cable.
Build quality is pretty good, though the casing of the unit is high grade plastic it feels robust and the threads are of course metal. Weight comes in a very good 0.63kg. The camera itself is 1.7kg. Dimensions are: 6.25 x 1.8 x 3.3″. Charging time is around 3 to 5 hours and the battery of course ships with its own charger. You can also use the Sony BC-L50 charger with it which is Sony's charger for their pro v-lock batteries.
All in all, it is such a simple solution and I've had absolutely zero issues with it so far. Very reliable.
Pros
5-6 hour run times on one charge vastly superior to battery performance on a DSLR or the internal battery
Relativly compact considering amount of power it provides. Lightweight too. Not a car battery!!
Acts as counter weight on a shoulder rig
Acts as UPS backup, impossible to power-down the camera by accidentally pulling the 12v cable out
Incredibly simple to use
Simple to rig for tripod usage – just extends the base of the camera and sits on top of a tripod as normal
Plenty of mounting points for more complex rigs
$299 pricing very reasonable
70wh capacity is generous. Double the capacity of one Red Volt. 40-50x the capacity of average DSLR battery
MacBook style power gauge on button press
Cons
Naturally, larger than other batteries which have smaller capacities
Not as svelte in terms of build or looks as the camera itself
Quick release plate for when camera sits on top of the battery is plastic as is latch (it is fine but would have preferred metal for peace of mind)
12v cable to camera not as elegant solution as fully integrated docking battery or bracket