[vimeo]http://vimeo.com/70979462[/vimeo]
When I reviewed the Sony RX100 exactly a year ago it was genuinely novel. The closest image quality yet to a DSLR in a pocket camera.
Can the RX100 Mark II improve enough to stay interesting?
You may remember the RX100 was very capable at the time for video, neck and neck with the NEX 7 but the size of a packet of cigarettes.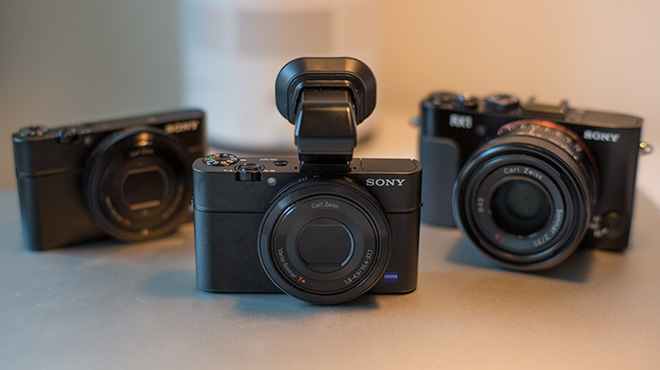 In my filmmaking I enjoyed using the first RX100 as a kind of 'Pocket Bolex' – a run & gun camera with 1080/60p for slow-mo and peaking for manual focus. Here's the video I shot on the previous model last year.
[vimeo]http://vimeo.com/45682834[/vimeo]
The RX100 M2 is a chance for Sony to fix the quirks of the RX100 but all-around it is a revolution.
We've now got 14bit raw on Canon DSLRs, 1080/60p on the G6 for $650, full frame sensor in a jacket pocketable Sony RX1 and the ProRes shooting Blackmagic Pocket Cinema Camera to follow.
To give you an idea of the kind of revolution needed on all high end stills cameras with video modes – just look at the gap between what the sensor delivers on the RX1 and what it delivers in video mode. It is a beautiful stills camera but a quite appalling video one. The RX100 Mark II also looks like home video but at least has more detail. Click the images to view at 100% –
Click images to enlarge
All three shots share identical exposure settings but the video output on both cameras suffers from heavily crushed blacks, blown highlights, aliasing, lack of detail, moire and compression relative to what the sensor is truly capable of.
The Blackmagic Pocket Cinema Camera has a ProRes encoder in there for $999. Now there's just no reason for Sony not to get real about video processing in their stills cameras.
The other way to improve video quality is to bypass the poor in-camera processor altogether. Raw on the 5D Mark III gave us a very eyeopening insight into the image that exists in RAM onboard consumer stills cameras and that image that you end up with on the card.
The RX100 Mark II output look even more video-like side by side with raw 1080p from the 5D Mark III, unless you view it very small on the web (like below) or at 720p streaming via a video sharing site. That so many people now view video like this has clouded the judgement of what a good image actually looks like, so to really see what I mean click the image below to enlarge it, or better download the DNG from my 5D Mark III raw video and the TIFF exported from AVCHD on the RX100 Mark II, open them in Photoshop.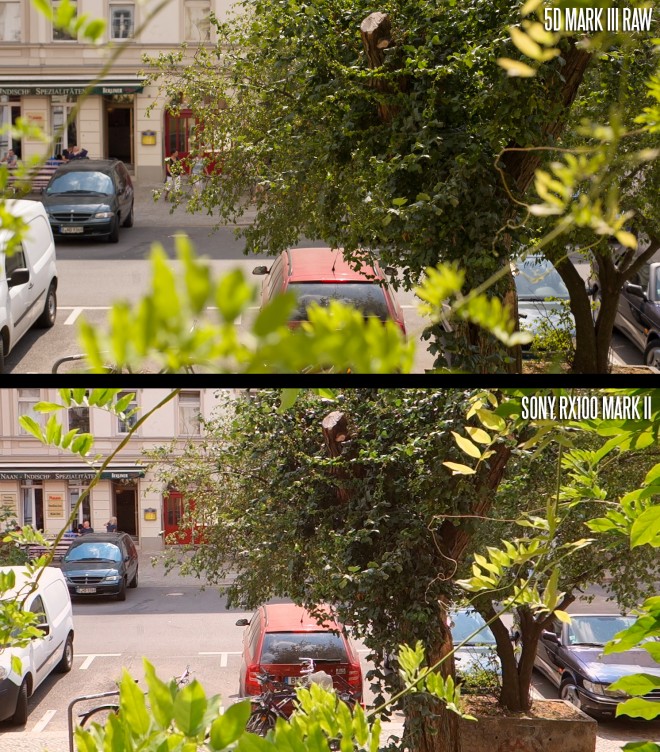 Click image to enlarge
With the exception of firmware updates from genius third parties completely unrelated to the manufacturer, video quality has tended to change in step with new sensor hardware. The RX100 Mark II features a brand new sensor but it's essentially of the same spec as the previous one. The only change seems to be that it is rear-illiminated (Exmor R) for a small gain in low light performance. This makes more space for light by moving most of the electric circuitry of the CMOS to the back of the chip rather than the front around the photosites.
However I saw zero evidence of improved low light performance in the raw stills direct off the sensor. Opening the files with Adobe Camera Raw from the RX100 and RX100M2 shot at identical settings (ISO 3200, F5.6, 1/200) the black levels are lower in the RX100 Mark II shot before you make any adjustments. That hides some of the noise in the blacks but the overall exposure seems darker, causing you to shoot at a higher ISO or lift the shadows in Photoshop – possibly creating more noise. As you can see, noise levels are the same in both shots so I am not too impressed by Sony's claims that the RX100 Mark II is better in low light than it's predecessor. Better noise reduction in JPEG and crushed blacks is not what I call improved low light performance!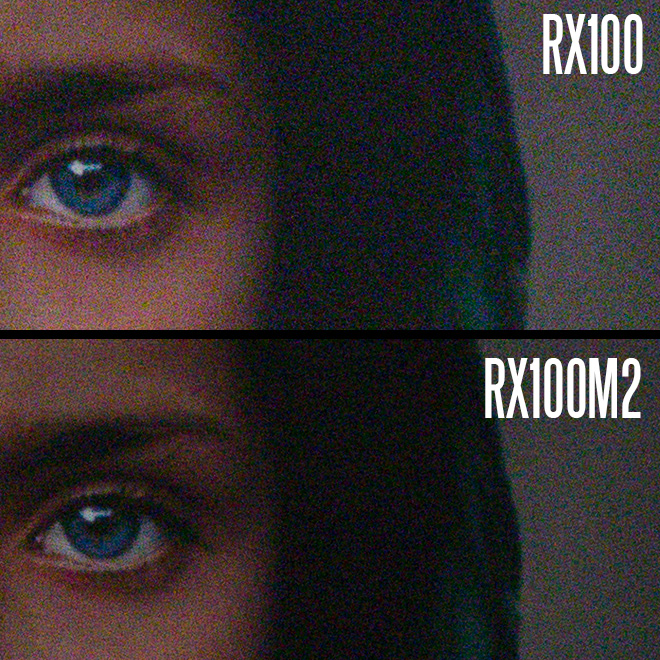 Alas, let's get things into perspective.
This camera is $750 and and a pocket stills camera not a pocket cinema camera – albeit a top of the range compact.
How well has Sony done in responding to the RX100 Mark I's drawbacks and sorting them out?
To do this let's go through the biggest 'cons' from my RX100 review –
No native 24p or 25p frame rates
Solved! The RX100 M2 adds both the cinema frame rates 24p and 25p at a bitrate of 24Mbit/s. The old model only had 1080/60p and something called 'interlaced' which dates from 1984. Generously the RX100 M2 adds both 24p AND 25p because it is PAL / NTSC switchable. Hooray!
Poor placement of HDMI port
Solved! The RX100 M1 had an HDMI jack more inconveniently placed than the Falkland Islands. It was on the bottom of the camera next to the tripod mount. Now more sensibly it moves to the side like on all other cameras.
Low manual focus ring / control ring sensitivity
No change. This ring is still too narrow but more crucially takes too many turns. For roughly 50% of the time you use it either for focus or aperture you end up twisting it like a wheel on a leaking submarine. The newest Olympus Micro Four Thirds lenses have by far the more, shall we say ,'natural' fly-by-wire manual focus systems.
Stabiliser allows handheld jitter to creep into videos and doesn't work at macro
No change. Although the RX100 M2 does an astoundingly good job of locking down the frame it does allow tiny jittery vibrations to creep through at all focal lengths. At macro focus it doesn't stabilise as effectively and the frame is no longer locked down. The solution if you are listening Sony is to use ultrasonic stabilisation motors. Canon introduced ultrasonic IS on the fantastic Canon 100mm F2.8L IS Macro (and newer 35mm F2.0 IS) – not only does it get rid of a lot of jitter, faster moving elements really helps stabilise macro and close-up shots. Interestingly Sony recently acquired from Olympus the use of their brilliant IBIS stabilisation (which works by moving the sensor) and I still think this is the best system in the entire camera business. Despite the jitter, the RX100 M2's Optical SteadyShot does allow for a great deal of roll and steady pans in video mode, making for a more natural look than usual when shooting handheld video. The camera glides and floats like you're using a dolly or a steady cam – it's just a shame about the jitter when holding it still.
Cannot assign peaking to a function button
No change. You can sooner assign 'Control with smartphone' to a function key than you can focus peaking. Also focus punch-in zoom cannot be activated in movie mode – only in stills mode. AF is slow but smooth to rack and you can actually get away with it quite often. It only tends to hunt when the centre of the frame contains a large area of low detail (such as blue sky or clouds).
Fastest shutter speed of 1/2000 relative to 1/4000 on most other cameras and no built in ND filter like G1X
No change. Due to the leaf shutter the limit of 1/2000 maximum remains, which means to shoot at the widest aperture in strong sunlight isn't possible without attaching an ND filter, a filter which really should be in the narrowest path of the lens optics like the Canon G1 X and thus built-in. The benefit of the leaf-shutter however is that it is almost silent.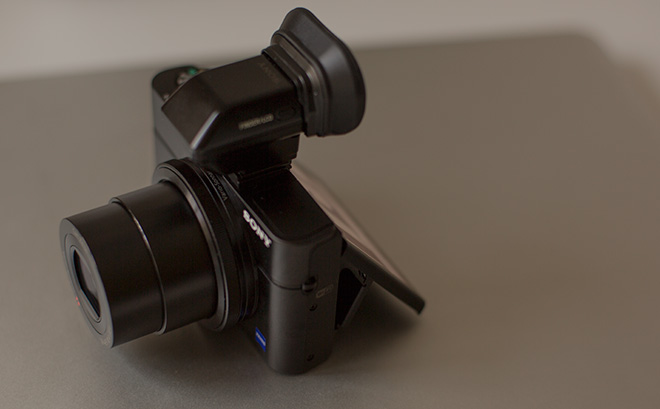 What's entirely new?
The RX100 Mark II adds a very welcome articulated screen without bulking up the camera. Very useful for video and reducing chiropractor bills as it means less back bending, crouching or kneeling. The articulated screen comes out on a metal hinge like on the NEX 5N but it doesn't rotate 180 degrees to face forwards for self shooting as on the NEX 5R. Aesthetically it isn't great. The camera looks odd with it extended and has way too much white writing on top of it, take a deep breathe – "RX100 II Exmor R AVCHD Cybershot".
Even more significant improvements to the live-view experience come from the addition of a smart-shoe, the same one as featured on the top of the range full frame RX1. This allows the RX1's OLED electronic viewfinder (TruFinder) to be used on the RX100 MK 2. The viewfinder isn't the best optically but it offers very good resolution and sharpness. I tested mine and it does work as expected on the RX100 Mark II but generally this accessory hasn't had much use to making the camera much more difficult to pocket (both the RX1 and RX100) and being an additional thing to carry, indeed something small enough that it's easy to lose. Sony should definitely consider building the EVF into the next RX models even if it means removing the built in flash or increasing size a bit.
There's still no mic input but any audio accessory Sony has for the smart-shoe should work. To date I have not tested any.
The HDMI port on this camera is of the micro-variety. That's smaller than 'Mini' but don't bother buying a new cable – although it works in live-view mode and the feed stays alive when you hit record it isn't full screen, nor can it be made free of icons (clean). Cabled up on a video rig the RX100 M2 won't be getting much external recorder or monitor love.
Conclusion
It's still the best image quality per cubic centimeter but some excitement has gone.
Could it be that we're spoilt? We have a full frame RX1 in our jacket and a 'Pocket Bolex' in our pants. We have the Canon 5D Mark III which shoots 14bit raw video at 2.5K and a $650 Panasonic G6 that gives the Cinema EOS C100 at $6000 something to think about.
Stills are once again superb for a compact camera, very good dynamic range and low light – I just wish Sony would prioritise their video quality more.
The RX100 Mark II shows no improvement on the RX100 Mark I and moire / aliasing are still present having plagued every Sony video mode since the dinosaur era – NEX 5N, NEX 7, NEX 5R – the list goes on. All the cameras have a sometimes quite electronic feel to the video output and cope poorly with strong blues tones. Compression isn't as good as Panasonic's nor is overall video quality (G6, GH2, GH3) and that is something of a tragedy for Sony users in the case of the full frame RX1. On the RX100 however it's easier to accept the NEX-5N-ish image for $750 which is good for a compact. Still a shame though! It's such an enjoyable camera to take around with you and could be a real filmmaking asset for many.
For this price $750 if you plan to also take a tripod then leave the RX100 at home and choose the Panasonic G6. Even with the kit lens it isn't much heavier though it's by no means as pocketable. The image is so much more like a sequence of moving photos and doesn't fizz with electronic essence quite as much.
That's not to say great results can't be had from the RX100 Mark II. As with the RX100, with the right light and circumstance it can work magic and aliasing takes a back seat. Indeed if you're shooting mainly for Vimeo in a run & gun way with absolutely the bare bones with no rig, no camera bag, not anything (though hopefully some clothes) – then the RX100 Mark II offers a  'good enough' video image in a form factor that is pretty unique for the features offered.
And don't forget the 20.1MP stills are superb.
Pros
Extremely compact
Articulated screen and optional EVF attachment
Adds 24p/25p and is PAL / NTSC switchable
Good build quality and tough hotshoe / smart-shoe
Excellent stills camera features and image quality
Large sensor by compact standards (1″ or approximately Super 16mm similar to the Blackmagic Pocket Cinema Camera and Digital Bolex)
Good 10-34mm (28-100mm) Zeiss lens, fast at wide angle (F1.8) and a smidgen faster than the average Sony NEX kit lens at telephoto (F4.9)
Good stabiliser but doesn't stop the smaller vibrations, jitter from the hand
WiFI and NFC with smart-phone control
Cons
Video quality beginning to lag behind similarly priced models – no match for Panasonic G6
Zoom short by modern compact trends (20x +)
No high quality video codec
AVCHD folder structure convoluted for accessing individual clips on a computer
Playback mode remains needlessly split between AVCHD, MP4 and stills in the main menu
Peaking bured in menus, cannot assign to a button
Manual focus ring sensitivity cannot be tuned to user preferences
No punch-in focus assist in video mode
No clean HDMI output
SD card slot under battery cover on bottom of camera
Articulated screen looks un-aesthetic when out on hinge
Articulated screen catches on the camera casing with a 'pop' if you slide it out flush to the chassis