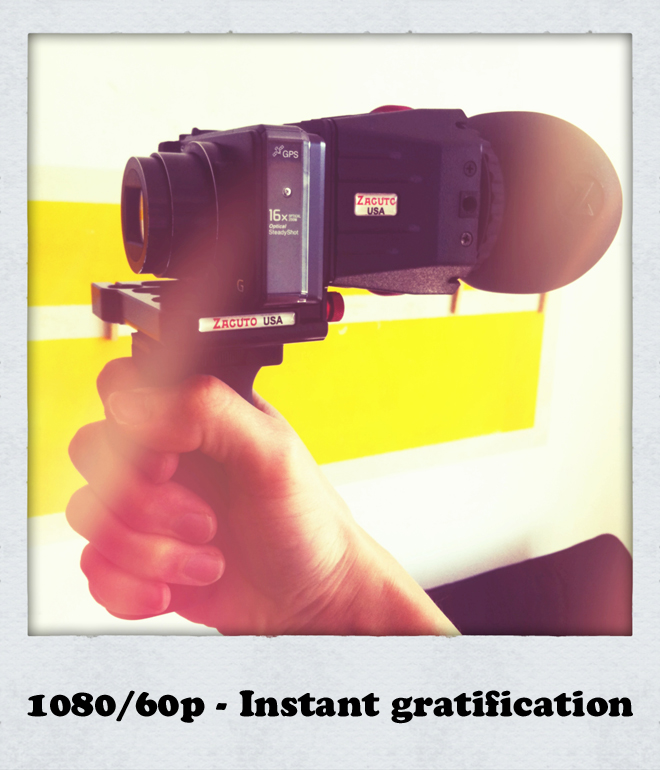 NEW – Discuss the HX9v on the forum
If Henri Cartier-Bresson wanted a compact I think this is the one he'd choose! I got the HX9v for a specific reason – street photography and as a pocketable run & gun video tool. It's great for journalists and documentary makers.
I wasn't really interested in low light performance and bettering my GH2 simply because I have my GH2 for where manual control, shallow DOF, fast apertures and low light are the aesthetic I want. That is not the only aesthetic in the world of filmmaking. Compacts do deep depth of field and run & gun better because they're easier to focus and rig.
However even the tiny HX9v is also capable of some DSLR-a-like results if you treat it right. The image can be beautiful. 1080p is well resolved and detailed, plus 60p (50p on the PAL model) means you can convert it easily to slow mo or 24/25p. I love slow mo. There's also a 25p MP4 mode on the PAL model. This is the only compact on the market that does full HD at 60p. Other Sonys like the HX7 are 1080i.
The screen is really exceptional, 920k and very good contrast, colour rendition. Through the 2.5x Zacuto Z-Finder Pro seen above it looks every bit as good as the 7D's LCD and since it's rather large – 3 inch, you don't get any light leakage. I've only had to put a small strip of tape at the top of my Z-Finder because the camera sits slightly too low on the clamping mechanism. It's a surprisingly great fit though and I love the Zacuto stuff. I'll be reviewing a affordable Zacuto DSLR rig soon on EOSHD so stay tuned for that.
The Sony HX9 has a 24-385mm lens with a maximum aperture of F3.3. There are nice compacts around with F1.8 lenses and slightly larger 1/1.7″ sensors but it doesn't magically transform them into DSLRs. A compact is a compact and if you want shallow DOF on such a small chip you actually need to get one with a good telephoto reach not a fast aperture. The lenses on the S95, LX5 and XZ1 have a pretty short reach. With the HX9 though I can easily separate the subject from the background between 10x and 16x on the HX9v. The trick is to get the subject close and the background far away. If you bare that rule in mind you can even get shallow DOF at 24mm! You get decent bokeh too. On almost every other compact bokeh looks hideous but on the HX9v it's alright.
In stills mode the HX9v has a scene mode called Background Defocus which electronically blurs the background around the subject to simulate shallow DOF. It can make some snaps look like they were taken with a DSLR but it doesn't always get it right, sometimes it blurs areas of the foreground and with very busy backdrops it can miss bits out. But for some urban portraiture it's very effective and can look brilliant.
Also I found that a lot of the compacts with faster lenses like the Canon 300 HS very quickly reduce to F5 or worse when you zoom even fractionally beyond the 28mm wide end. This seems to be a new (and rather annoying) trend in consumer compacts. One of the Sony's in particular, the WX7 reduces from F2.4 to F6.3 over it's 5x zoom range.
So for me there were several factors in the Sony HX9's lens more important than aperture. First, the 24mm wide end makes a big difference. I like the wide Kubrick-esq. aesthetic, and 28mm isn't quite there for me. Second, the 16x reach gives you nearly 400mm from one pocket cam! Try that with a DSLR! And lastly the flare and stabilisation of the Sony G lens is much better than what I saw with the other high end compacts like the LX5, Olympus XZ-1 and S95.
The new stabilisation system is actually a game changer and this will be a key area of my full review later. It's like having warp stabiliser built in, or a pocketable Glidecam. It really is that effective.
Before settling on the HX9v I did consider Canon's IXUS / ELPH range too – they're not overdosed with megapixels and they have 24p. IXUS 220 (European model) in particular is pretty cool. 24mm wide angle, 5x zoom, full HD, and the size of your credit card. With that you can put it in your wallet with your banknotes and not realise it's there! The HX9 is chunkier of course, to accommodate the longer zoom but in terms of specs it is just all-round better and it's a lot smaller than the Olympus XZ-1, Fuji X100 or GF2. It still goes in your jeans pocket, even skinny ones.
The only caveat of the HX9 which Sony should NOT have succumbed to is the 16MP BSI CMOS. 16 megapixels has completely squandered 5 years worth of low light performance enhancement and the entire BSI R&D budget in one hopeless marketing-lead stride. Backside illumination, Exmor-R – what's the point? If you are hoping to get clean ISO 1600 stills from this you will be better off with the Canon S95.
However…
On the plus side the Handheld Twilight mode does a superb job and with a bit more post processing to colour correct you can get some very printable results in low light with it. The layering of multiple ISO 3200 snaps at 10fps really does work.
The camera has a few more useful functions like Sweep Panorama (an automated version of Canon's archaic stitch assist), 3D stills and HDR backlight correction. Slightly frustratingly though the HDR mode is only implemented for bringing up shadow detail and not protecting highlights. You can't underexpose in this mode, it just won't let you. As a result you get well exposed shadow areas and slightly bleached looking highlights, but sometimes it does a good job and you can get some pretty nice results from it.
Don't bother looking at the photos at 1:1 magnification – there is a lot of electronic wizardry going on and photos don't have a fine grain or clean edges. But when you print them at A3 and hang them on the wall the results are as good if not better than any other high end compact despite the camera being rather dodgy at the 1:1 pixel level. Thankfully video mode doesn't have the same 1:1 nastiness and looks well scaled, pretty close to the GH2 in fact and sharper than Canon's DSLR video mode.
It's a bit misleading these days with 16MP on a 1/2.3″ sensor to go looking at photos at 1:1 – it has no relation to the reality of how you view the photo as a whole. It's capable of class leading results so just forget the pixel peeping this time. I won't be doing any in my review that's for sure!
This camera is about the video mode and the feature-set – both of which are in a new league for compact cameras. So stay tuned… In the meantime, this should inspire you about street photography:
[vimeo]http://www.vimeo.com/20047490[/vimeo]