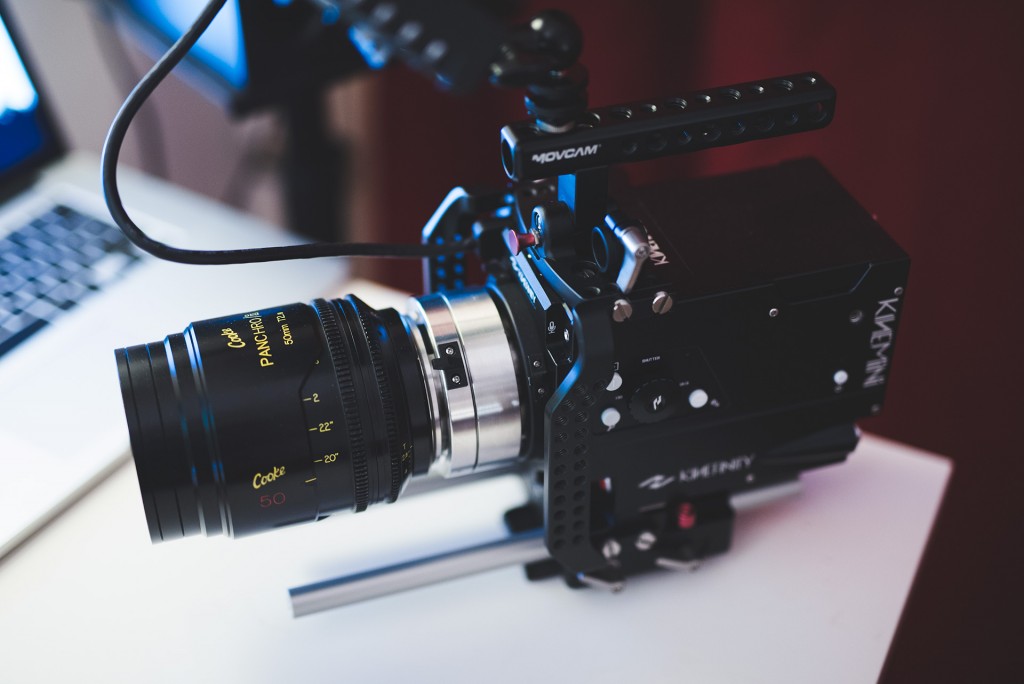 [pullquote]To find your nearest dealer and order the KineMINI click here or email contact@hdvideoshop.com quoting the EOSHD review.
Download my full 4K DNG frames and full resolution graded JPEG here
Comment on the forum
[/pullquote]
The KineMINI 4K is an exciting update to the 2013 model. This now records 12bit 4K raw internally and one of the raw formats is compressed. A much improved DSLR battery grip provides 'build in' power via lithium cells similar to those used by Telsa Motors. The CPU has had a major upgrade making the camera far more responsive. Anamorphic modes abound and behind a swappable mount sits a very capable 4K Super 35mm CMOS sensor. A starting price of 4198 euros + shipping and tax for the 4K model sits half way between the Blackmagic Production Camera and the FS700 raw output.
So does the 'Chinese Dragon' breathe triumphant flames or is it slain?
Previously on EOSHD… I took an in-depth look at the 2013 KineRAW MINI in August and November of that year. Here's my review of that model and my first look including slow-mo footage. The name of the new camera is shortened simply to "KineMINI".
Introduction
It's a powerful beast there's no doubt about that. Add-ons include 100fps raw recording for slow-mo, but at extra cost and in 1080p not 4K. The only other raw 96fps+ cameras I can think of are the FS700 with external recorder and Red EPIC, but both are much more expensive than the KineMINI.
4K recording is specified at the point of purchase with this camera. Without it the camera's price drops nearly 700 euros to 3.5k. Also new is a compressed proprietary Kinefinity raw format which is visually lossless.
Below (click the image to enlarge) you can see some anamorphic lens recording options and live-view features. More on those in a moment.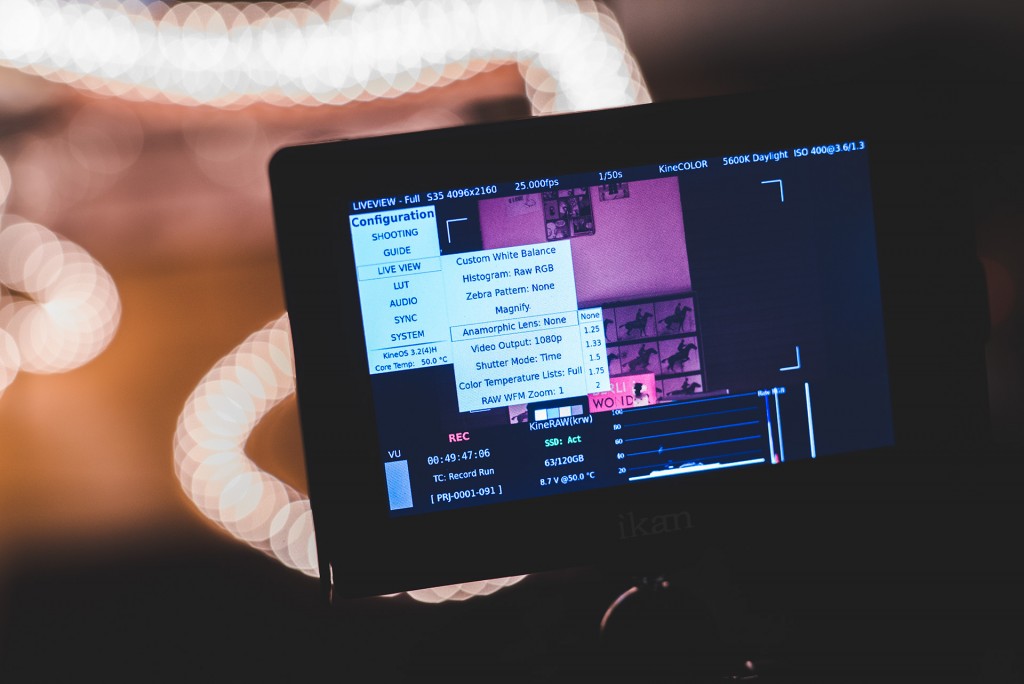 This review comes with a disclaimer…I personally didn't find the camera right for my style of filmmaking. There's a reason my blog is about DSLRs – for me small size and simplicity is where it's at! That's modern for me. Although the KineMINI is indeed "small" by cinema standards it is enormous by DSLR standards, much heavier and more complex to work with. However as a studio / crew camera for indie filmmakers it's a great alternative to big-name offerings like the Sony FS7 though, which of course isn't a raw shooting camera (internally)! It's not really a documentary or run & gun camera though.
Image quality
You can have a go at grading the KineMINI yourself with a selection of 4K DNG still frames direct from the camera I shot in Berlin. Download here.
Comparing image quality is getting very difficult in the 4K and raw era, where 90% of the difference comes down to how you grade the image.
All the cameras grade differently so you can't just cut and paste the same grade between cameras. Getting the image to a point in post where only the physical hardware differences in the image become apparent is tricky. In the 'old days' we'd take the GH2 and 5D Mark II, put them on neutral image profiles with sharpness and contrast dialled down, then look at the H.264 clips. I think it's necessary to move away from pixel peeping onto a more general commentary about 'feel' and grading.
There are hard wired aspects of the image like rolling shutter and dynamic range though, which we can quantify pretty easily. Resolution on the current 4K cameras is all very similar and none of them suffer from any meaningful moire & aliasing or softness problems that can ruin a shot. That's not to say they lack any aliasing or moire, but this isn't the same significant performance metric it was a year ago on the 1080p cameras.
Rolling shutter skew in 4K on the KineMINI is quite severe, but it's no better on the A7S, NX1 or 1D C either. The FS7 has the advantage here, as does the Blackmagic Production Camera.
Dynamic range in 4K is at least 12 stops but I didn't notice any advantage in 4K raw on the KineMINI compared to MJPEG on the 1D C when grading the image. That's mainly due to the super-clean blacks on the 1D C which have virtually no noise at ISO 400-800 whereas on the KineMINI noise is present in the deepest blacks no matter what ISO you use. For this test my grade involved raising the blacks for stylistic reasons. I took the Canon 1D C and KineMINI's ISO 800 footage into Resolve 11 and matched them in the grade with my own particular style applied to a still life test scene I shot indoors. Raised blacks, saturated colour and quite punchy. Exposure was for the highlights. Here are the results –
It's very time consuming to grade the raw so that colour is as pleasing as the Canon 1D C does in Canon LOG with a simple curve adjustment in post. Once you do get the raw singing, it looks great and of course it can be pushed much further than MJPEG or ProRes.
In low light conditions the KineMINI is clean up to ISO 800 but from ISO 1600 starts to get too noisy for the kind of work I do.
The 1.3x crop factor of the 1D C has a larger than anticipated affect at closer focus distances, with a much shallower depth of field than the KineMINI at 1.5x.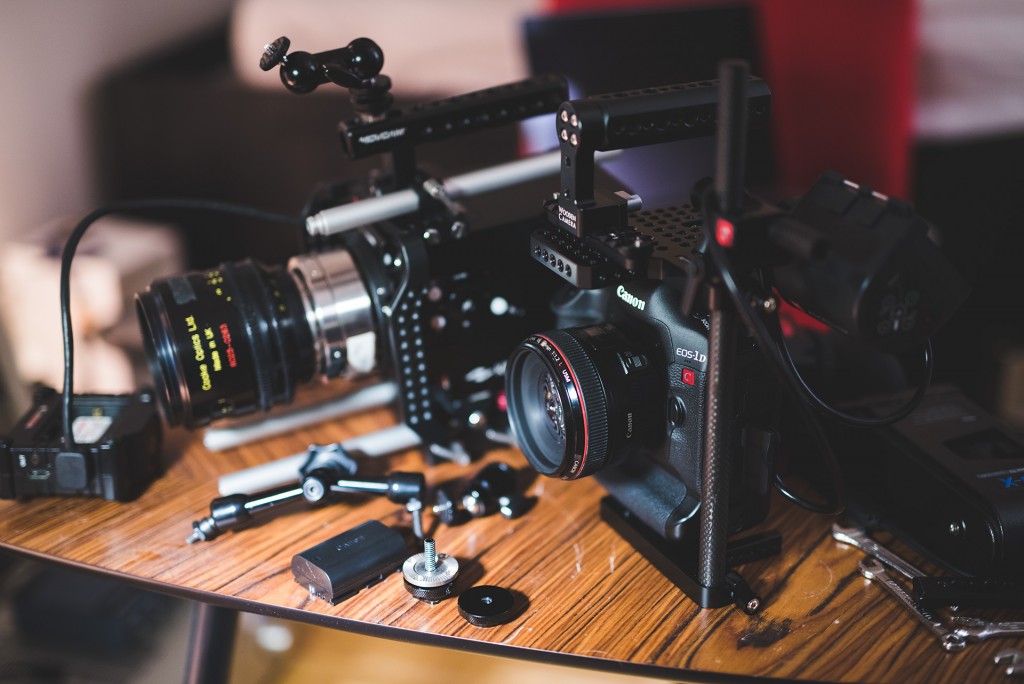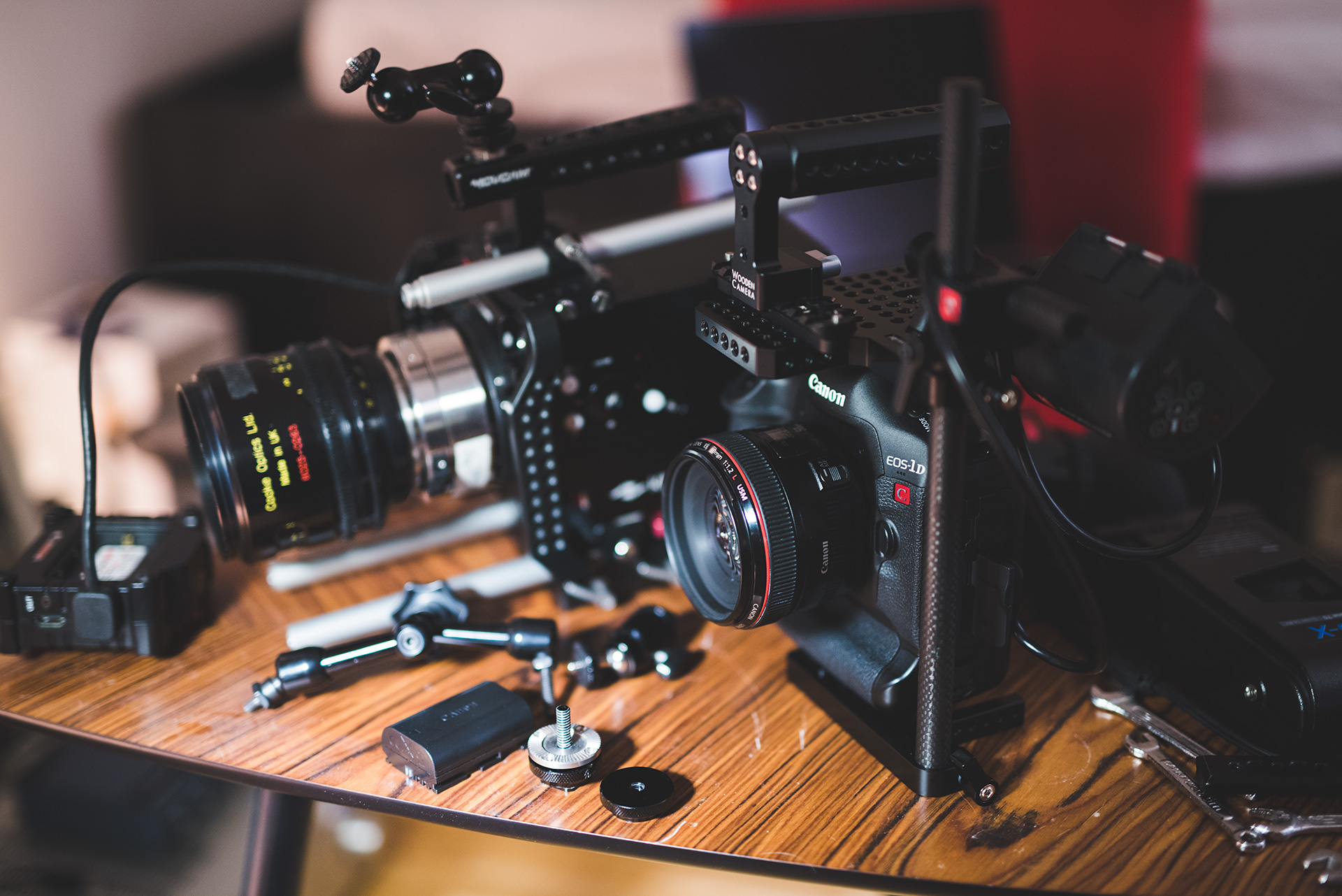 4K raw codec
In 4K (DCI 4096 x 2160) I get around 6-7 minutes on one 128GB for Cinema DNG. This is a problem.
What this camera needs is a hardware ProRes encoder chip like Blackmagic have in their Production Camera.
Selecting the new proprietary KRW format I was able to go to 20 mins per 128GB. This codec seems to use 3:1 compression and is visually lossless. The new 4K KRW format has an average frame size of 4.5MB at low ISOs compared to 13MB for the Cinema DNG 4K but at high ISOs this increases to over 6MB per frame because of the increased grain.
My Canon 1D C does 32 minutes of 4K internally to a 128GB compact flash card (MJPEG). However I find file sizes most troublesome with raw because I don't like deleting the originals. I can happily delete my MJPEG originals from the 1D C and just keep the ProRes LT (with resulting space saving) because I don't lose any advantages or quality. As soon as you convert raw you lose the benefits of raw. If you compress raw to, say, CineForm raw then you lose the fine grain and useful DNG controls in Resolve. Apart from that CineForm is a great codec but unfortunately in-camera the KineMINI can only do 4K CineForm raw for 5 seconds before the buffer fills up and it stops recording. So it's DNG if you want edit-ready raw for Resolve and KRW if you're prepared to transcode to DNG or ProRes, a trade off for getting more manageable recording times per SSD.
SSDs have come down a lot in price but you will need a lot of them, preferably 480GB each. But it's the archival of the raw material after a years worth of heavy shooting that would pose the biggest problem with this camera.
Image samples
Download my full 4K DNG frames and full resolution graded JPEG here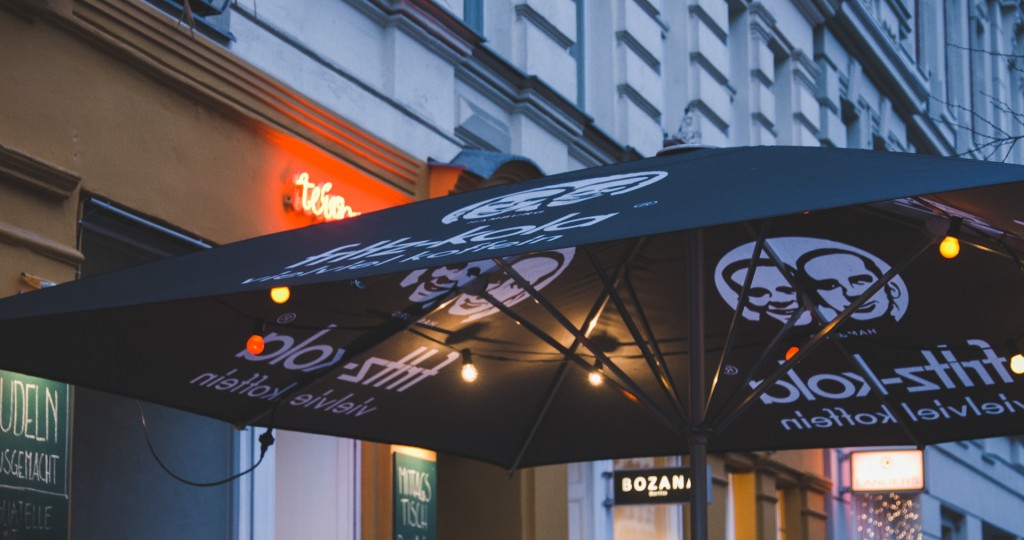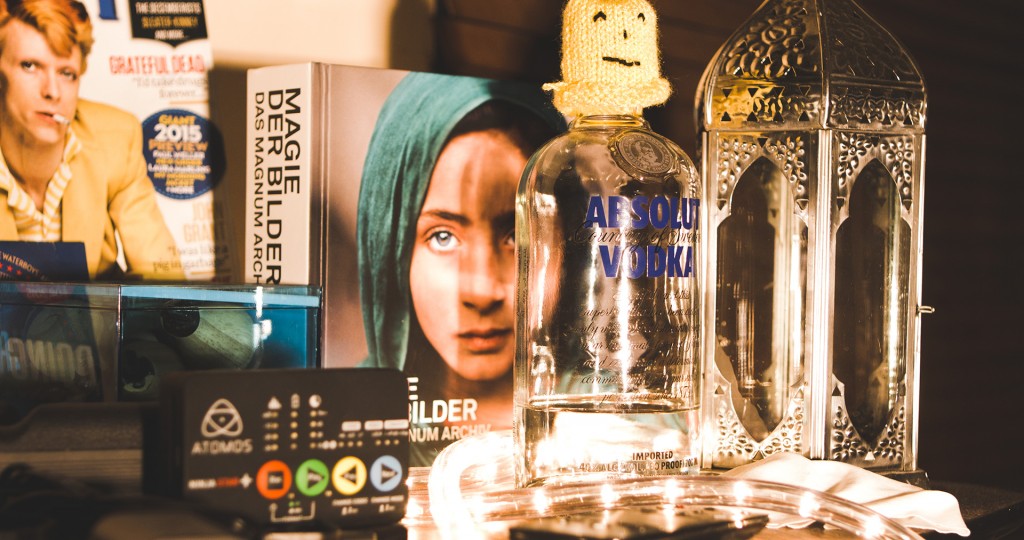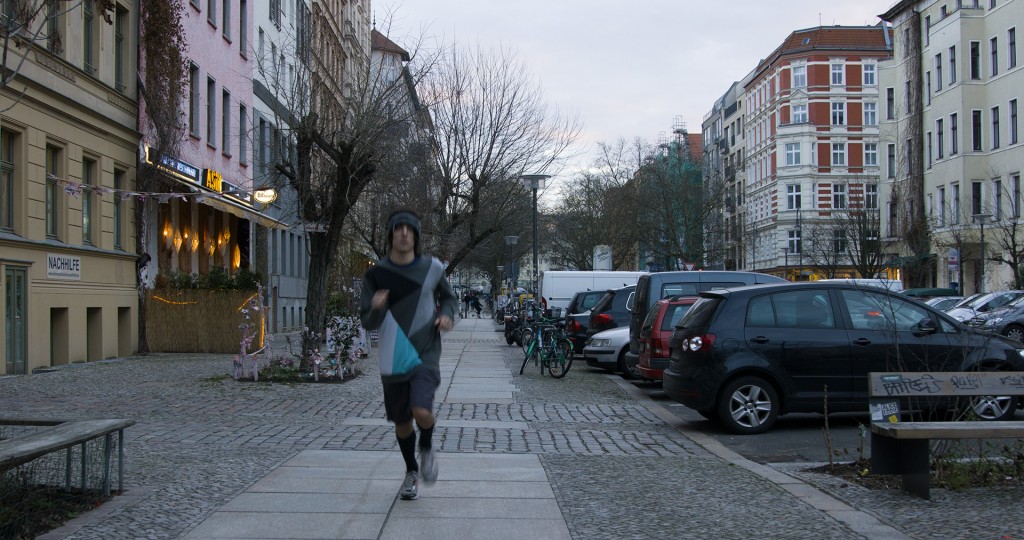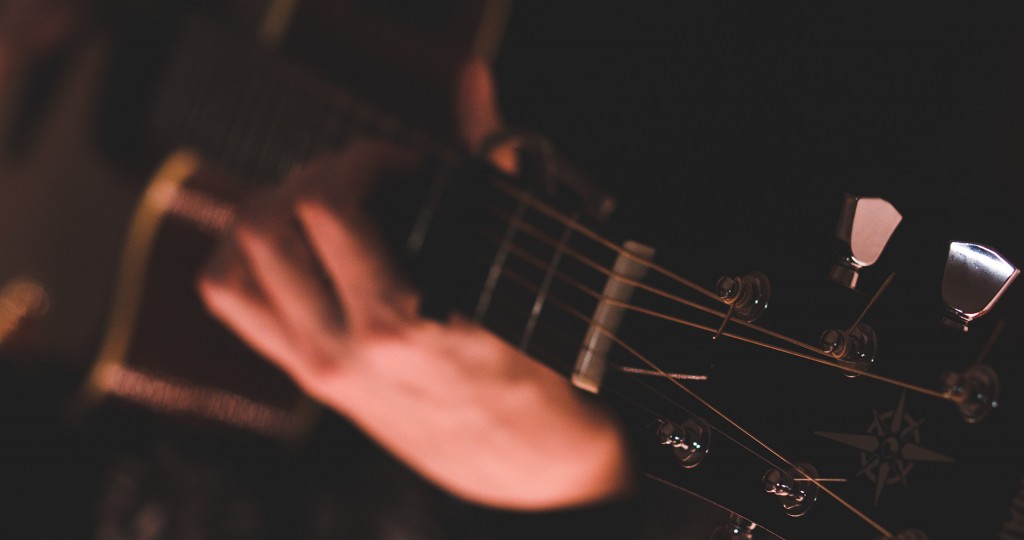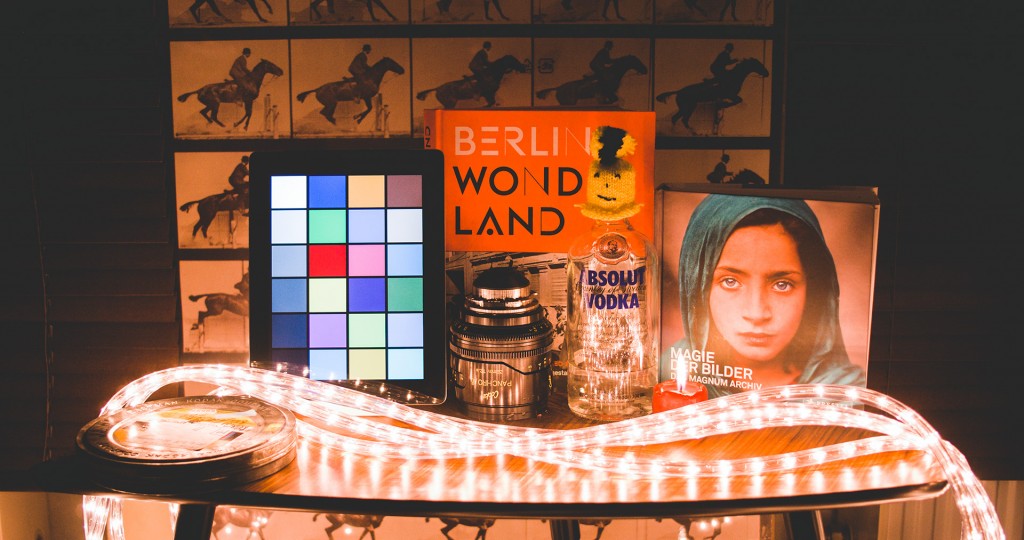 Editing performance with 4K raw
With Cinema DNG in 1080p on the Magic Lantern enabled 5D Mark III, I enjoyed ProRes transcoding speeds in Resolve of twice real-time and fluid playback. On my top spec late '13 iMac it exported at 50fps from a G-TECH RAID 8TB Thunderbolt drive. This was GPU accelerated on a modest GTX 775M 2GB. Even my Macbook Pro Retina GTX 750M 2GB was up to the task at around 40fps. Unfortunately that's nowhere near the case with 4K Cinema DNG in Resolve. The best I could get was a lowly 2-5fps, even on a system with 4GB DDR3 760 Ti.
Seems 4K Cinema DNG is not hardware accelerated like 1080p raw is? Playback of the 4K raw DNG files in Resolve 11.1 was impossible on my top-end iMac too.
Kinefinity provide tools to transcode to CineForm in post from both KRW and DNG but I didn't try them, instead sticking to the tried and trusted Resolve to transcode raw to ProRes for Premiere. So although the price of the camera is around 4.5K euros, the data volumes are high end cinema territory. Epic and Alexa raw shooters will be more than apt to cope with the KineMINI but those on a fast turn around or with a single home computer might find it problematic. You are going to have to throw some serious hardware behind it.
For the rest of us the FS7, NX1 and GH4 will roll on for hours in 4K to 128GB cards so that's a large advantage on their side.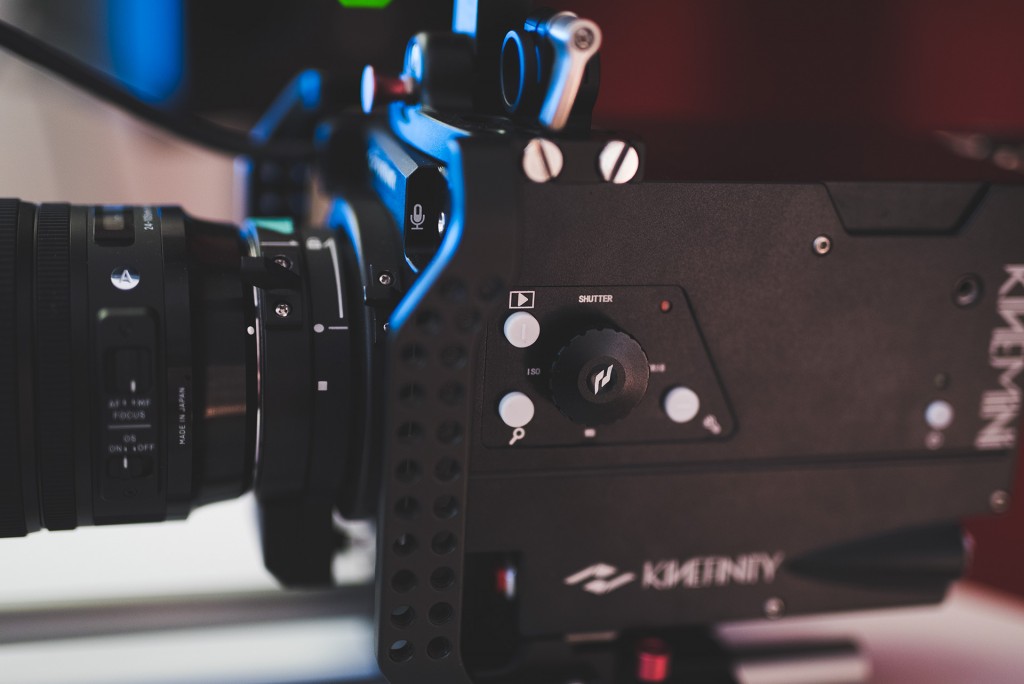 Ergonomics
Kinefinity continue to show innovation when it comes to the modified DSLR battery grip attached to the side of the KineMINI. This time they have a 3D printed internal holder for some very large capacity lithium cells – 3 of them together fit jam packed inside to provide a massive 9900mAh, 4x the size of the biggest DSLR battery. In my tests this proved a little bit temperamental but I once did a run of nearly 2 hours off the battery grip with no v-lock power block attached. Not bad!
Another great change to the DSLR side grip is the amount of functionality it packs in. There's a lovely punch-in for focus on one button, a quick adjustment dial for ISO and a joystick which now operates the camera menus.
Considering this is a modified standard DSLR battery grip, Kinefinity have really done a good job on putting in so much functionality. This improves the ergonomics no end because I'm still not a big fan of the master control dial / joystick on the camera's side panel. There's a lack of dedicated buttons and dials on the camera body itself and no built in display for the menus. I'd like for them to put a small LCD on there for the menus and a better control scheme. Even a touch screen LCD like on the Blackmagic URSA would be MUCH better. Anyone expecting to come onto a KineMINI production and getting to grips with the camera on day 1 is in for a hard time. The 90% joystick driven control scheme relies on a practically golden-brain memory of which up, down, left or right commands perform which function, often with multiple functions per direction which takes weeks of constant use to get to grips with.
The record button is much better this time, more responsive and of higher build quality. There's also a handy presets menu for more quickly swapping between shooting modes like Super 16mm crop mode, different frame rates, 4K / 2K / 1080p and different codecs. It's just 2 downward presses to get to it, but why not on it's own button? And why is it grouped together on the same downward press as white balance? Dear Kinefinity, this just doesn't make sense.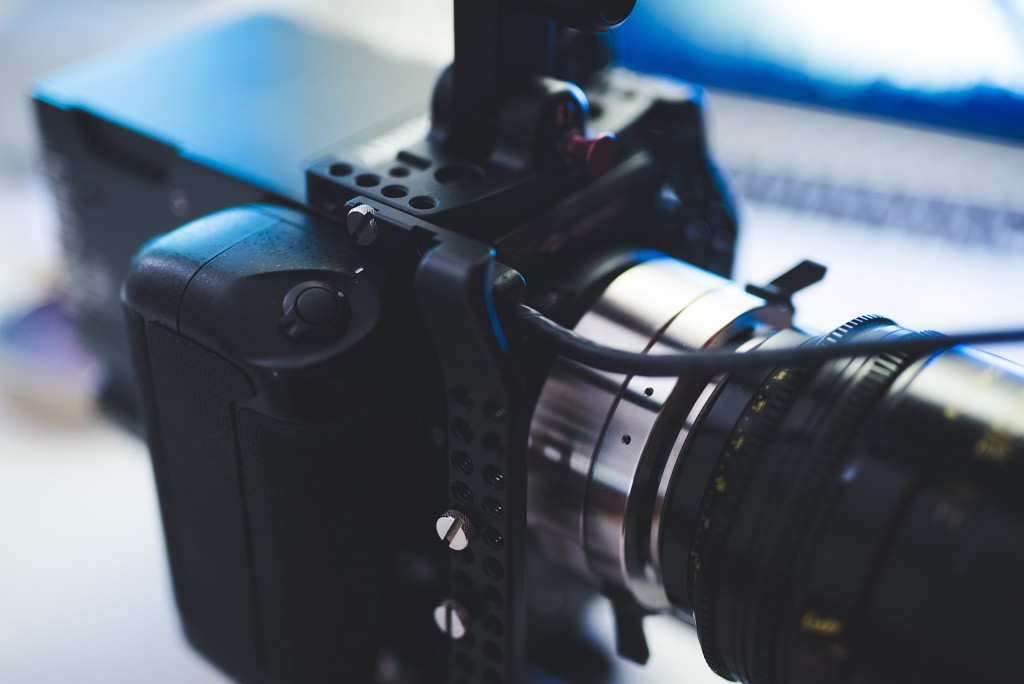 Anamorphic support!
Something really unique about this camera which I love is the 4:3 2880 x 2160 mode for cinema standard 2x anamorphic lenses and the anamorphic de-squeeze done in-camera for monitoring. This is a crop of the sides so no vertical resolution gain like with the GH4, but it's still VERY welcome.
The camera supports 1.33x, 1.5x and 2x plus other less common squeeze factors.
I am really glad they added this, more manufacturers should follow suit.
The image with my Iscorama Centavision 2x lens in 2880 x 2160 de-squeezes in post to a less extremely wide aspect ratio, more in keeping with the traditional CinemaScope format.
Unfortunately the anamorphic music video shoot I had planned was based around the 1D C, so I have no examples to show you from it! I had to use the 1D C as the KineMINI's data volumes would have made things impractical for so many takes of a live song recording.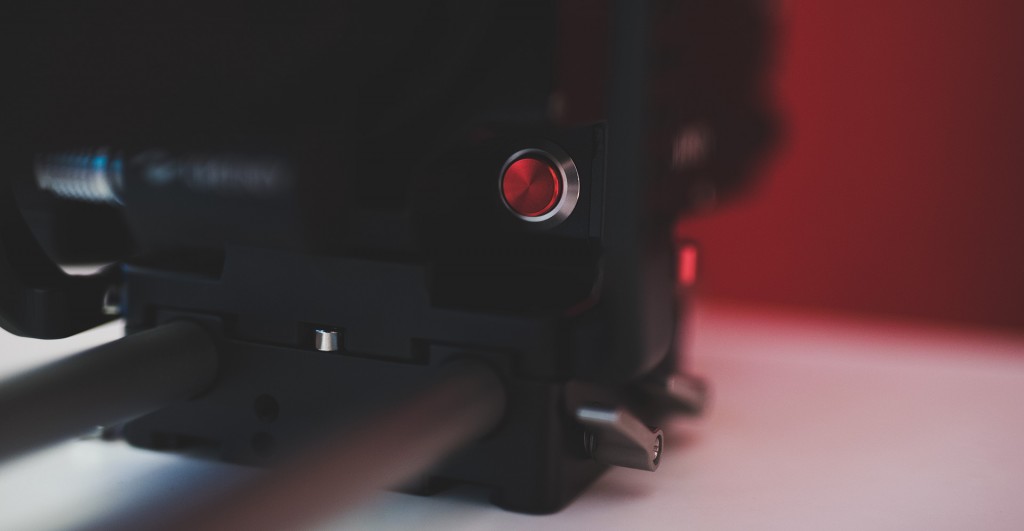 Monitoring
As is the norm with pro cinema cameras there's no built in screen, you will need an external one. Monitoring is via 3G-SDI in 1080p or over HDMI and it works far better than on the older KineMINI, which was jerky at 20fps. There's no 4K output to an external recorder like the Atomos Shogun though, which would have been really useful for getting those smaller ProRes LT 4K files. Live-view has 3 modes, the first shows a reduced size composition with scopes and histogram at the bottom along with other shooting info and the menu at the top. The scopes and histo are very fluid with no lag.
You can press the middle of the joystick once to make the image full screen with just the menus at the top, then again to clear all overlays and menus altogether. Unfortunately the camera always reverts to the first version of live-view when you boot it up from cold, I'd like to see it remember your choice. I tend to power my cameras down between takes if the gap is going to be more than a few minutes, to save on batteries. With a large v-lock attached rather than the battery grip, this would be less of an issue, but it increases the bulk of the camera a heck of a lot for one-man shoots.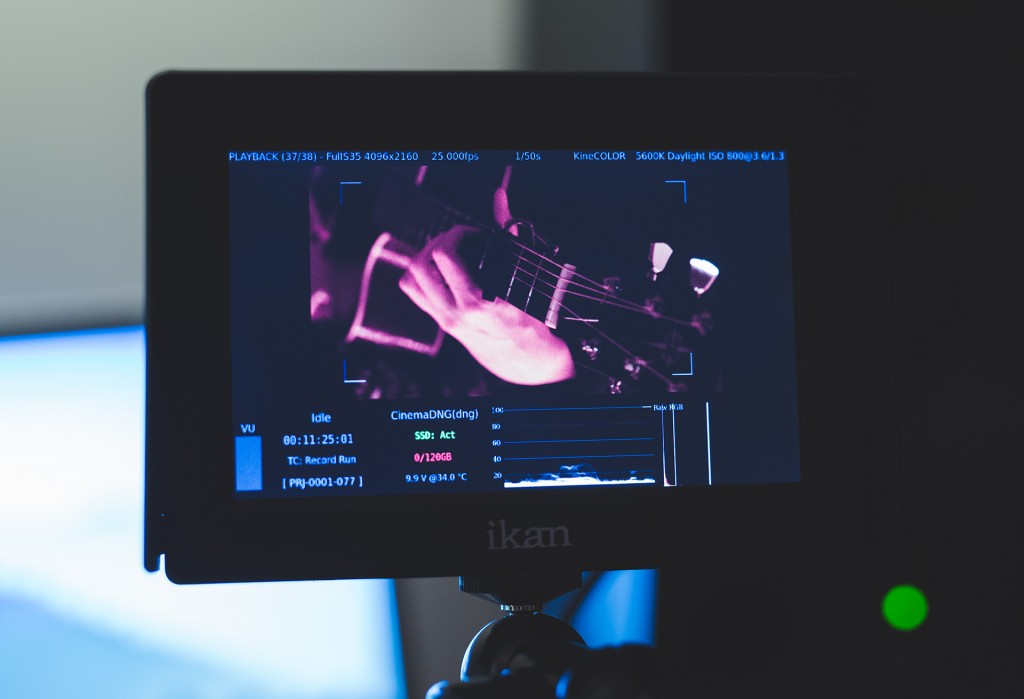 Lens mount
The lens mount is swappable and various adapters are an extra cost from Kinefinity. I tested the PL mount with my Cookes, worked well though it does unlock very suddenly, causing the lens to 'pop' out. You will need to hold the lens very securely while using a lot of force with your other hand to unlock the mount and that can be awkward. The active EF mount is mechanically sound but I found the lack of support for image stabilisation and lack of dedicated aperture control on the body a major oversight. EF lens aperture control is instead via a drop down menu on a sidewards press of the joystick, then a rotation of the joystick. This is far too fiddly and too slow for a run and gun shoot.
The advantage of the locking EF mount is that the lens is more firmly attached to the camera with absolutely no play in the mount when you are using a follow focus. In that respect it worked well.
A minor note – the EF mount gets power and communicates with the camera via a separate cable and socket rather than through contacts near the sensor.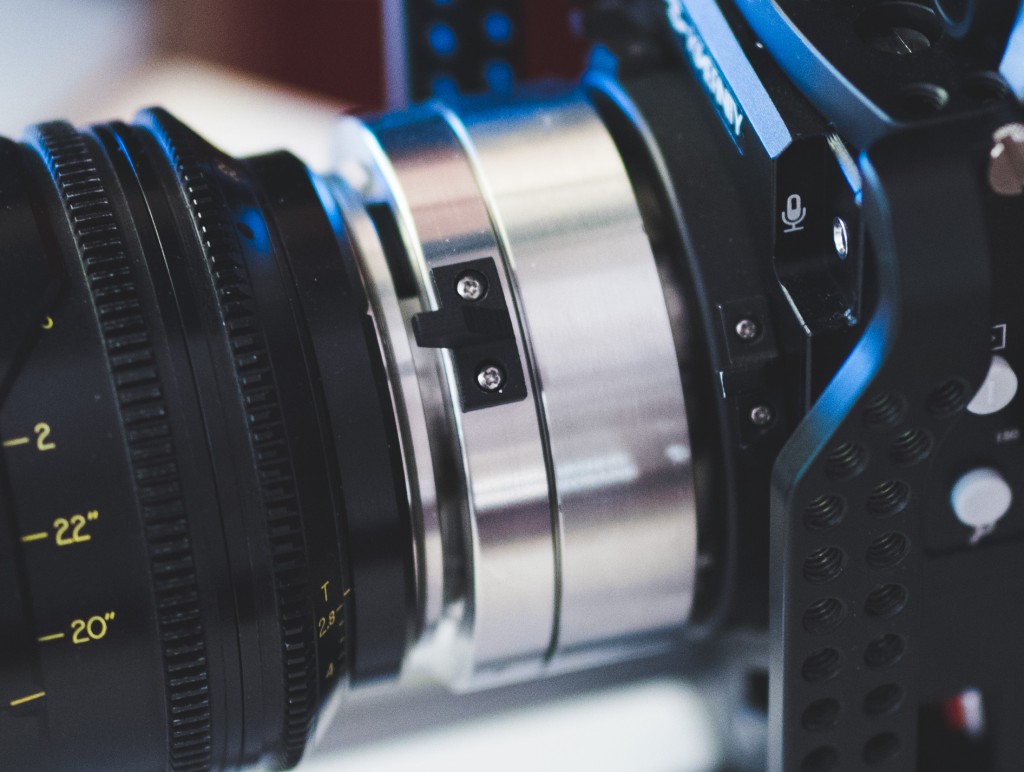 Conclusion
This camera is hardcore. It isn't for everyone but overall I had a very positive impression of the KineMINI in the week I had it on loan (thanks to HDVideoShop in Berlin) and overall it is a huge step in the right direction. The fact remains though – KineMINI was miles off fitting into my existing workflow.
My feedback to Kinefinity is simple. If we're going to embrace 4K raw it will need to be as compressed and as fluid to edit as Red's R3D is… and even then, ProRes needs to be offered as an option.
I don't want to spend ages transcoding a proprietary format and I can't manage such large file sizes!
I'd also like to see the "MINI" shrunk further so it is the size of a 1D C and running off a much smaller battery. It is as MINI as the Epic but very heavy indeed when rigged up.
4K Cinema DNG meanwhile needs a significant investment compared to other sub-$5k cameras on hardware for post production. It requires significant grading expertise to get the best colour out of it, whereas Canon LOG on the 1D C and C100 II is much easier to work with not to mention quicker.
Ergonomics are improved on the MINI but it really needs starting afresh with. It should have a built in screen for the menus like the F5. It lacks some basic features like an aperture dial for EF lenses and image stabilisation, problems which will have C300 users running a mile.
Another issue is the competition. The AJA CION, Blackmagic Production Camera, Sony FS7, Scarlet, 1D C and much more. Not all of these shoot raw of course, but frankly I found the raw codec on this camera a pain.  If Kinefinity are to succeed they need to produce a camera that more ably fits into existing workflows, or a cheap MINI camera that is genuinely cheap to run and to rig, this isn't.
Those who want to go hardcore with 4K raw at 4500 euros to really learn how to grade and are prepared to invest thousands of dollars in post production hardware, will like the KineMINI though. It's a very interesting piece of kit. In a studio it is more convenient to use than in the field. Shooting real life subjects on location would be slowed down by the KineMINI compared to the A7S or FS7 but auteurs and indie filmmakers should take a serious look at it… especially anamorphic shooters due to the 4:3 mode and live de-squeeze!
To see detailed KineMINI pricing and specs click here
Pros
4K raw in Cinema DNG format or Kineraw (KRW) format
4:3 aspect ratio for anamorphic shooting (2880×2160) and live de-squeeze mode
High speed option for 100fps in 1080p, 96fps in 2K
Swappable mount
Feature packed monitoring over HDMI with plenty of focus assists, scopes, zebras, anamorphic mode
Monitoring over HDMI is much more responsive now, not jerky like old KineRAW MINI
Much improved responsiveness in the menus
Shorter boot time down to 25 sec from 45 sec on old KineRAW MINI
In-camera LUT support
Much improved DSLR style grip, offers focus-punch-in and menu control from joystick, also improved battery compared to older version
DC in for external v-lock battery
Takes generic 2.5″ SSD drives as well as KineMAGs
Almost completely silent fan whilst shooting
Robustly built
Responsive playback and navigation of 4K raw files in play mode
Option for SDI output (but not 4K)
ISO or EI mode to optimise dynamic range (ISO mode applies analogue gain on sensor, EI applies gain to raw data output)
Cons
Cinema DNG 4K raw codec a nightmare to edit
Both 4K recording formats ideally need transcoding, a slow process
Internal CineForm 4K only rolls for 5 seconds
Tough competition from Sony FS7, C100 Mk II and used Canon 1D C in same price range
Requires large investment in SSDs and post
4K raw too large to archive when shooting heavily throughout an entire year
Heavy and large compared to 4K DSLRs and mirrorless cameras especially when rigged optimally
Lacks dedicated dials and buttons for vital controls like aperture and shutter speed
Too many functions packed into the joystick
No image stabilisation support on Canon EF mount
No XLR audio jacks
No 4K output over HDMI or SDI
Not a high ISO camera, noisy past 1600
Heavy rolling shutter skew in 4K mode
My unit suffered unreliable performance on the battery grip, often refusing to boot
No battery level display when using the battery grip
Expensive if you choose all the add on options (SDI, 4K, high speed 1080p, etc.)