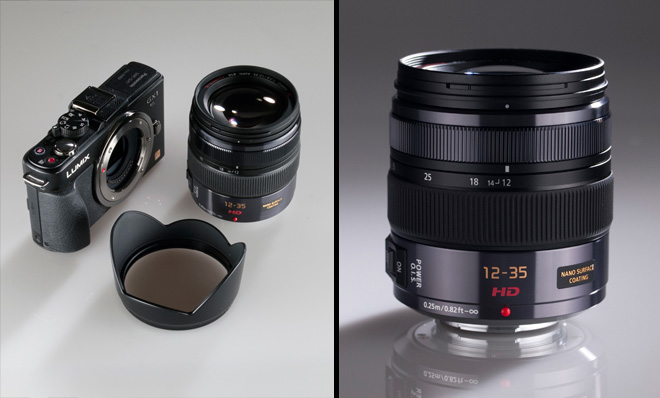 The weather sealed 12-35mm is Panasonic's new top of the range Lumix zoom with a constant F2.8 aperture. It's also the lens most likely to be offered with the (also expected to be weather sealed) GH3. Panasonic have taken a huge step with build quality on this lens and I'm expecting the GH3 to be a big improvement in this area as well.
DSLR Magazine have taken a look at the new lens, and here's my view on it.
Lumix lenses – the good stuff
One thing that Panasonic's lenses have got going for them, is their optical quality and level of new technology on display. They have innovated ahead of Canon and Nikon with a list of features as long as your arm – silently operating optical image stabilisation, focus and the iris, AF in video mode, internally focussing elements, a continuously variable iris (again for video) and even a couple of power zooms. Distortion and fringing are corrected in firmware with Lumix lenses, again an innovative approach in integrating the optics and body. Optically a lot of the lenses are tack sharp even wide open especially the 20mm F1.7 pancake and nice but pricey 7-14mm F4 ultra wide (which is optically one of the best wide angle lenses on any system).
DSLR Magazine review summary
You can see the full review at DSLR Magazine here, though it has been translated with Google from the Spanish original!
The 12-35mm GX is Panasonic's answer to the new Canon 24-70mm F2.8 II. It features a constant F2.8 aperture, video optimised Power OIS, four aspherical elements (yes FOUR!), a 25cm minimum focus distance and Panasonic's new nano-particle coating. DLSR Magazine were impressed with a almost complete lack of vignetting and distortion, a very high resolution at all focal lengths and the general build quality (weather sealed) of the lens. Sharpness is a particular strong point of this lens, even wide open it exceeds what the sensor can resolve. So their chart has resolution as high at F2.8 as it at F5.6 when stopped down.
My take on the Panasonic 12-35mm F2.8
Is this lens worth 1100 EURO or does it fall short of expectations? Initially rumoured as an F2 zoom, the thing that holds back the Lumix system for me is that the philosophy of Micro Four Thirds is… Micro. That's largely a good thing – but this philosophy extends to the top end stuff like the GH2, when really it should be kept for the likes of the GX1 and GF range and a few of the lower end lenses. There's only so much you can do with small equipment! The pancake lenses like the 20mm are pocketable, as is the amazingly small 14-42mm PZ. But lets face it, a fast 12-35mm zoom is never going to be. Although it is laudable that a 24-70mm F2.8 equivalent is less than half the size of the Canon full frame equivalent lens, I'd have preferred to have seen Panasonic stretch the specs and produce a larger optic to compete with the Olympus Four Thirds 14-35mm F2.
12-50mm F2 would have been really attractive.
Instead we've got a very good F2.8 wide-zoom with a limited reach at the long end. It costs more more than buying an Olympus 12mm F2 and a Olympus 45mm F1.8… The primes seem more appealing to me, but if you really must have a zoom then the 12-35mm F2.8 is now the very best the Micro Four Thirds range has. For those who want a walk-around lens for photography it is perfect.
For most narrative filmmakers, they'll be better off with primes. But documentary shooters and run & gunners will find the video optimised OIS and AF appealing as well as the constant aperture which won't affect exposure during a zoom. The 12mm wide end (24mm equivalent) is far more appealing than just 14mm (28mm). Though I'd have much preferred an aperture of F2, F2.8 is just about suitable for low light shooting and will give a pretty shallow depth of field at the wide end with close focus distances and at the 35mm end in general. It isn't a match for the look of a Canon 24-70mm F2.8 on the 5D Mark III in terms of shallow depth of field, but it is every bit the premium optic.