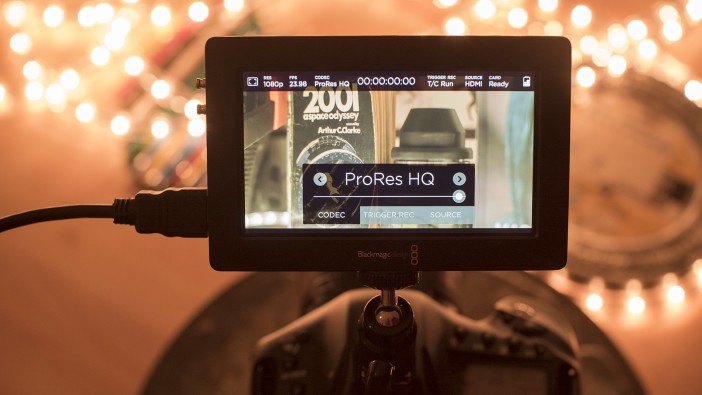 Out of the blue Blackmagic sent me the new Video Assist, which isn't quite yet shipping at B&H (pre-orders are available) or CVP but will be soon.
Here is an early look at the device and what it can do.
Ethics statement: as regular readers will know I always buy my own gear for use in my filmmaking and the EOSHD reviews come off the back of that quite naturally. This is a little bit different as Blackmagic decided to support my endeavours! They sent me a unit for free! I didn't even ask for one! Whilst I am grateful to them for that, be assured this review is in the usual independent mindset. Full Video Assist specs are at Blackmagic here.
Blackmagic seems to have generated quite a bit of excitement with the Video Assist. Not quite as much as with their cameras but it isn't hard to see why it has been well received even before release. This is an extremely capable $495 field monitor for accurate focus and composition. It's also an HDMI ProRes / DNxHD recorder that even takes Ultra HD signals with twin 6G SDI for your $495 – that is insane value for money.
Rather than to large SSDs the device records 10bit ProRes 422 to tiny SD cards, a trick Blackmagic first exploited with the Pocket Cinema Camera. The space saving flavours are also in there not just HQ. There's LT, Proxy and standard. I'm a big fan of the smaller file sizes and I can barely tell the difference between LT and 422 HQ for most stuff.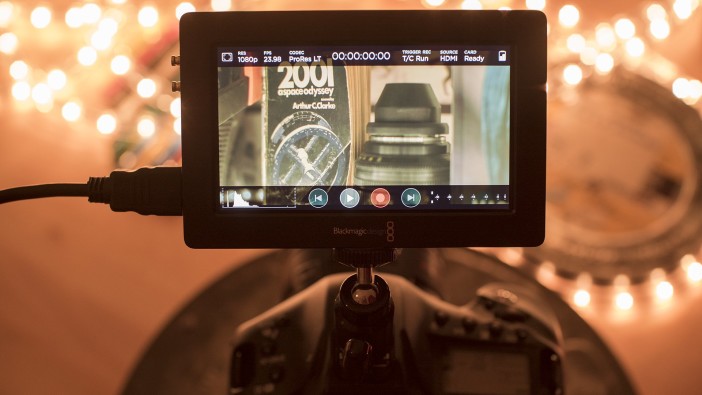 The deck also takes audio from the HDMI connection, adding on-screen meters and a headphone jack, giving those features to users of cameras without decent audio monitoring which is a a surprising number, including the little Nikon D5500.
The full HD 1920x1080p screen is glorious and adds the ability to, erm, focus our images. Quite important this one!! Like the missing headphone jack on so many cameras, manual focus seems to be an afterthought on DSLRs with their 3″ screen and no peaking – I'm looking at you Canon and Nikon!
This magic ability to finally focus our images is done without any distracting manual focus aids like punch-in or peaking. Just look at the shot, be confident then hit record. It is almost like having a proper RED or Cinema EOS monitor on a mirrorless camera, without the expense. Wonderful.
The Video Assist uses the very common Canon LP-E6 batteries of the 5D series and this helps keep the weight down. Much preferred to the bulky Sony NP batteries. However like their cameras it appears to be quite hungry for juice – run times aren't groundbreaking (so far I detect 1 hour per battery) – or maybe it is that my Canon 5D batteries are old since I sold my 5D Mark III years ago!! On the plus side these batteries are so small and cheap you can bring a lot with you on a shoot.
One other issue I've run into is dropped frames, but it's possible my Sandisk Extreme 95Mb/s SD card needs defragmenting or even replacing with the latest model. I've had it 2 years now. You will need the FASTEST card you can lay your hands on for the Video Assist. However these cards are cheap and make carrying numerous ones on a shoot 100x less cumbersome than packing the same number of SSDs. If you're a one-man operator travelling with hand luggage trying to carrying 10x 64GB SSDs and a bulky field monitor/recorder, you will really appreciate the ability to carry 5x 128GB SD cards and the Video Assist, believe me. (I'm not a fan of piling tons of footage onto a single 512GB SSD in case it breaks during a shoot and you lose everything. Better to spread it over more smaller cards).
The Video Assist itself benefits from downsizing. It is a 5″ display yet easily large enough to check focus without magnifying thanks to the extreme DPI. The small size and low weight makes it much more balanced in the hotshoe of a small mirrorless camera like the Panasonic GH4, when shooting bare bones.
The HDMI ports are full sized but unusually on a device this inexpensive there's two 6G SDI ports offered as well. There's a second full size HDMI port for outputting an image to a secondary device (such as an EVF in bright sunlight). For firmware updates there's a USB port on the base.
Plenty of mounting points – 3 threads on the top and bottom.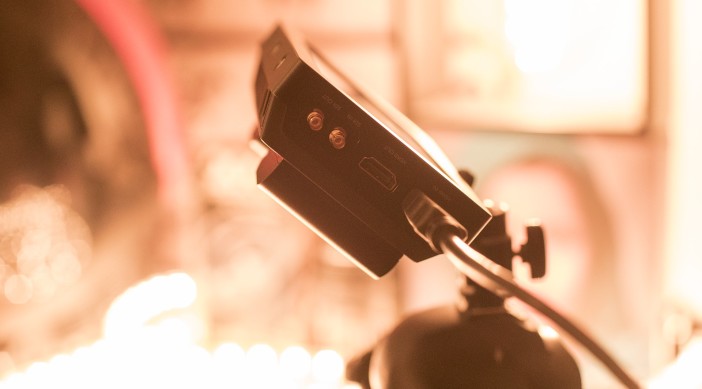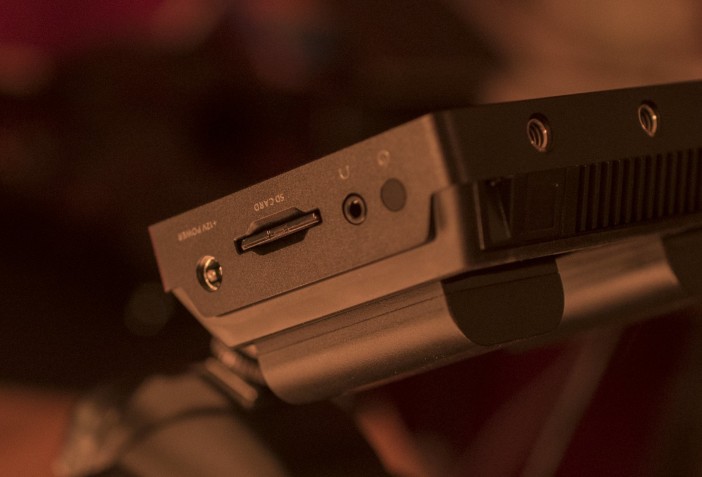 The screen is utterly first rate. It's a high end smartphone class full 1080p touch screen display with useful gestures to control the UI. There are ZERO fiddly physical buttons aside from an on/off. There's also a built in orientation sensor which flips the display when you have the monitor mounted upside down.
Nice gestures
The new UI is gesture based.
A horizontal swipe shows a minimalist settings panel for formatting your card, seeing how much of it is used and the format. Brightness, contact and saturation controls follow on the next tab and the setup tab just has 3 options – device name, date/time and UI language. Swipe again and you return to the monitor.
A vertical swipe clears any information off the display and only shows your image – if the camera is set to a clean HDMI output you will just get a full screen 16:9 1080p image, very nice. With this clean HDMI output recording can be triggered by the camera record button itself or by touch screen controls. The trigger is done via timecode run over HDMI from cameras that support it or via SDI. However I wasn't able to get this to work with my Canon 1D C even though it transmits timecode via HDMI. The Samsung NX1 was another model which didn't trigger.
The Video Assist has a histogram but no waveform and I didn't locate any zebras. If you're recording ProRes, you won't want to use your camera's zebras.
Tapping the information shown above the frame activates other parts of the UI. The battery levels display is nice and intuitive, seems precise. It shows percentages for each cell.
Tap codec and you can instantly swipe between the recording formats as shown below.
It is an extremely quick and direct user interface and nicely refined from earlier efforts on the Blackmagic Cinema Cameras.
Tap the guides icon and you can activate broadcast safe guides, 4:3 framing guides, cinemascope crop 2.35:1 guides and a bunch of others, or just a plain old 3×3 grid.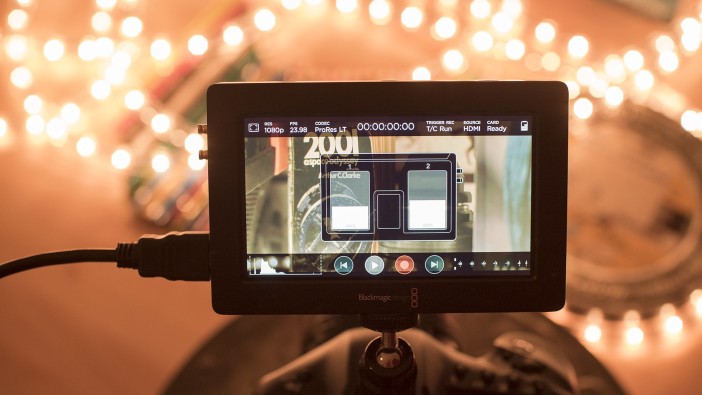 Build quality
For the price you'd expect an all plastic affair – not so. The main body of the Video Assist is aluminium and acts as a heatsink. It doesn't get too hot though as there's a near silent fan on the back to assist it. Blackmagic's build quality for the price is always a league above where it should be.
The back of the Video Assist where the batteries slot in is a grippy rubberised material. It takes a couple of common Canon 5D batteries on the backplate but can run only off one. There's also a 12v tap for powering via the mains or an external V-lock camera battery.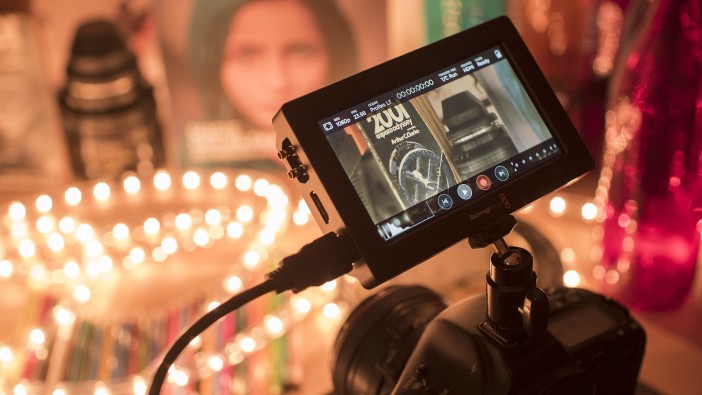 HDMI cables – not my favourite thing
A quick note, on HDMI cables – they're hell. Everyone knows it. Yet manufacturers keep implementing the same old standard.
It's very difficult to find the perfect one. Ideally where the cable connects to the Video Assist and camera it should be very short with angled 90 degree connectors at both ends so that the cable doesn't stick out in the line of danger like this –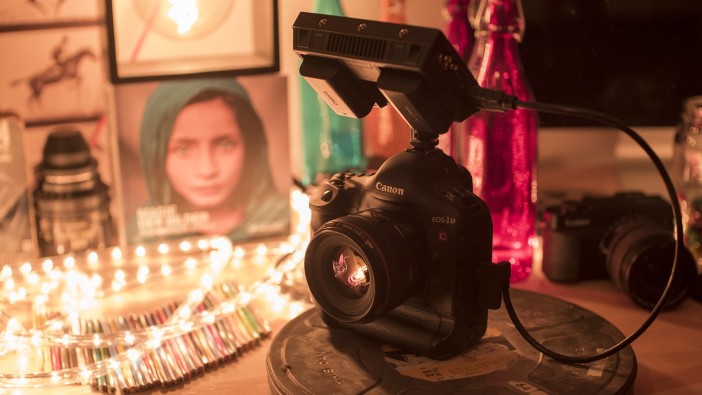 The cable itself should be as light, as thin and as flexible as possible and no longer than necessary to go from camera port to the screen on your rig. Although it doesn't have the angled connector (which sometimes get blocked depending on the physical dimensions of the device it is plugged into) I find the Lindy cables pretty good and thin enough to flexibly wrap around the ball socket adapter or a part of your cage to avoid it flopping around in mid air occupying as much space on the left as the camera body itself. Here it is on the NX1 –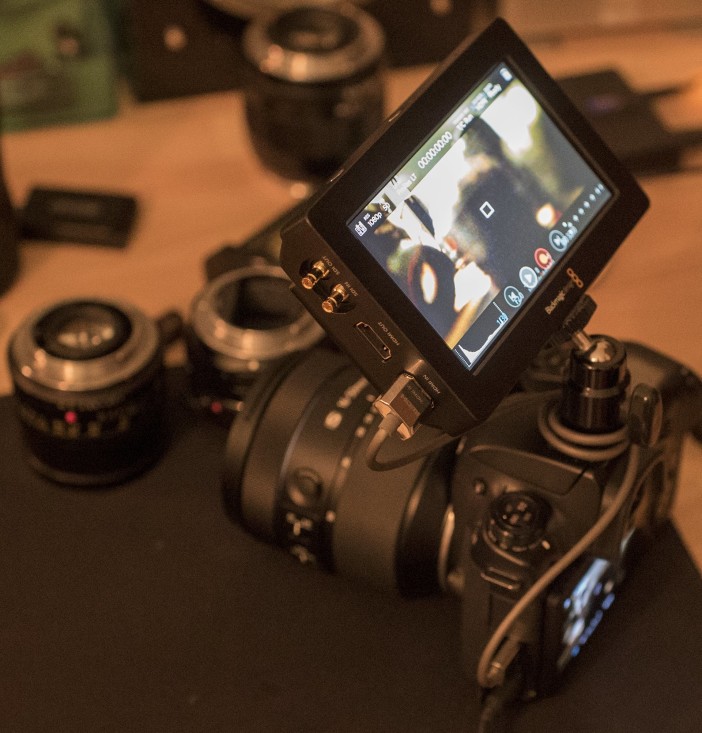 It's just that recently Sony and other manufacturers made the problem worse by swapping from Mini to Micro HDMI ports, which are even more unstable and easier to break.
The usual way for a monitor to be mounted on a professional shoot is via an arm onto an Arri rosetta on your cage.
I have to say I find that almost as bad as the hotshoe ergonomics if you're using a small camera.
Conclusion
It's not a fully featured monitor with peaking, zebra, waveform and all manner of distracting stuff and I for one am fine by that. As well as being quite minimalist and simplicity itself, the Blackmagic Video Assist is the best value for money on the market. It's a superb recorder built into a first rate 5″ monitor. There are specific areas where it goes over and above what is expected for $495. The twin 6G SDIs are one example. The fact it takes a 4K Ultra HD signal and down-convertsit to beautiful oversampled clean 10bit 1080p ProRes is fantastic. The quality of the 1920x1080p display and touch screen user interface are other areas it goes beyond. As a species it seems the affordable field monitor/recorder has reached its zenith with the BMD Video Assist.
Now it needs to evolve into a different concept altogether in the coming years.
First of all we need to abandon cables and have built in wireless video links between camera and screen. This needs the support of the camera manufacturers. The DJI OSMO has shown it is already possible between a sub $1000 camera and a smartphone and we need this (but more robustly) on our field monitors. For the recording part though we still need cabling for the best quality but HDMI isn't the answer. One idea is for the video output to exit through a standardised smart-shoe connector on the hotshoe of the camera directly to the monitor via the articulated hinge itself. The generic ball socket adapters and wobbly micro HDMI cabling on the camera side should be got rid of. A prize to the first one who does this… Sony already have a video interface between their hotshoe and slot-in EVF display on the RX1.
Finally we need a faster SD card alternative to expensive CFast 2.0, or for the latter to come down in price due to greater competition. It is amazing the Video Assist can do 10bit ProRes to SD card but it would be great if it could do 4K ProRes. For that we need the faster media.
Here's a cool challenge to Blackmagic – concentrate on an entirely new concept of monitor next and solve all these ergonomic issues together with the camera manufacturers. A tall order but one I am sure they are capable of rising to.